My kids LOVE to read, but I was actually surprised to discover that some of their favorite books are actually resource books for kids. They love to sit and look through these books over and over again, learning new facts and getting inspiration for deeper study on new topics. These are 12 of our favorite MUST HAVE resource books for kids – ones you'll definitely want to add to your home library!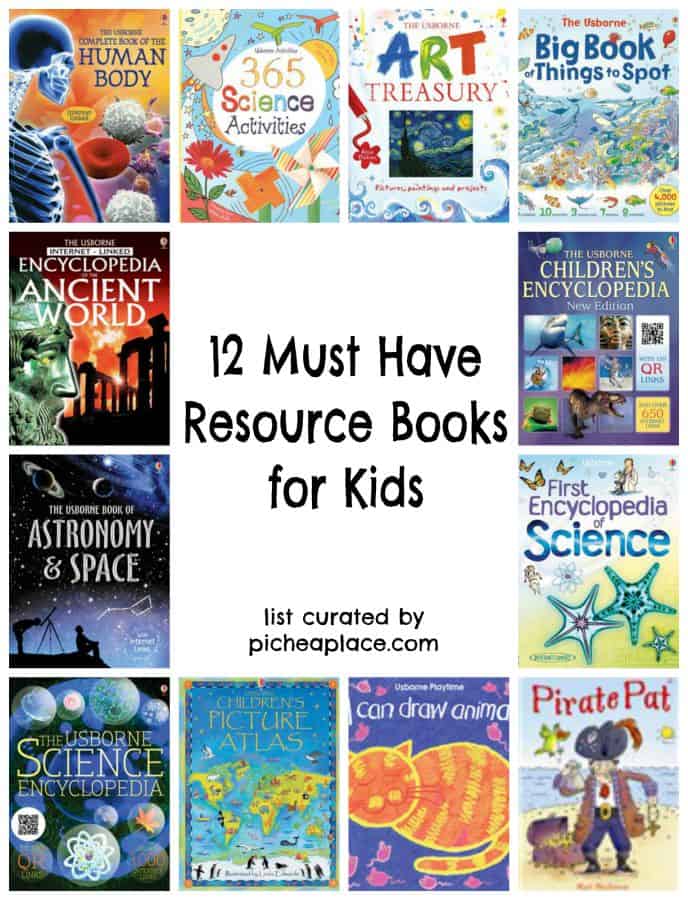 Related: Best Books for Kids
Resource Books for Kids in Preschool & Kindergarten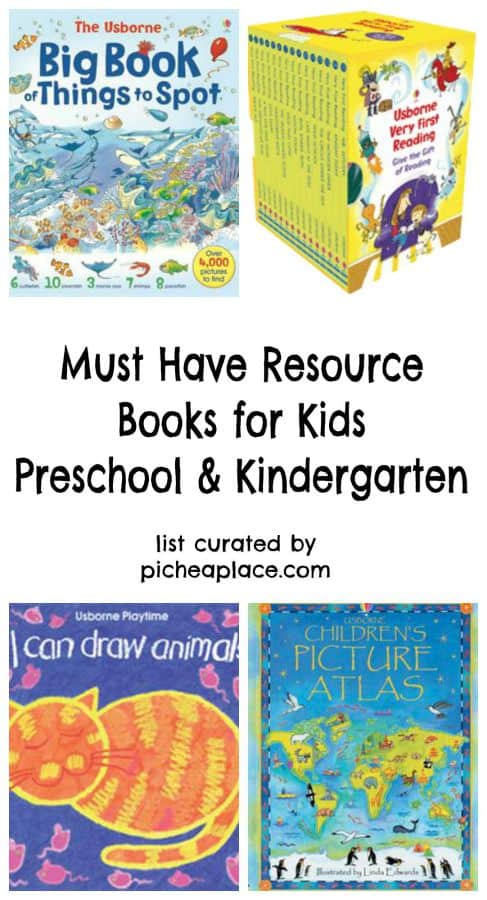 Crammed with thousands of things to find, count and talk about, this bright and busy picture book provides hours of puzzle-solving fun, and also helps develop pre-reading and number skills. There are rainforest animals to search for, a bustling market town to explore, a castle feast to enjoy, and much, much more. This combined volume includes 1001 Animals to Spot, 1001 Things to Spot on the Farm, 1001 Things to Spot in the Town (out of print), and 1001 Things to Spot Long Ago (out of print). This book is featured in My Father's World homeschool curriculum.
Children love drawing, but can become frustrated when their pictures do not turn out how they want. This award-winning book is packed with attractive drawings of animals, with very clear step-by-step picture instructions showing how to do them. Precise hand-control is not required, so even very young children will be able to achieve some delightful results. This book is featured in both Sonlight homeschool curriculum and My Father's World homeschool curriculum.
Usborne Very First Reading is an exciting series for children who are just starting to learn to read. The 15 book boxed set includes a helpful parents' guide. Very First Reading is designed to bring children up to the level at which they can tackle stories in Usborne First Reading (Level One), which is part of the bestselling Usborne Reading Program.
This beautifully illustrated picture atlas takes children on a magical journey around the world. Each map is crammed with fascinating details to pore over and talk about, making this a wonderful book for sharing.
Resource Books for Kids in Elementary School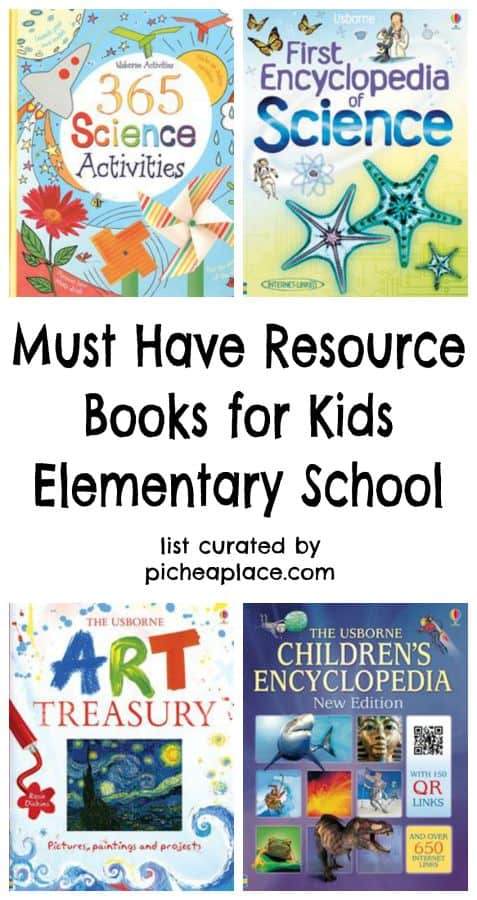 If you've ever wondered why bread is full of holes, what your DNA looks like or how to make a rainbow, then this inspiring book is for you. It's overflowing with easy and exciting science experiments, so you can discover something new every day of the year.
This delightful treasury combines dazzling art from around the world with exciting projects to do that will inspire every young artist. It includes famous European paintings, delicate Japanese prints and traditional African masks, and each work of art is followed by a project influenced by the artist's methods or ideas.
This book explains the most commonly asked questions related to science. Why is the sky blue? Why do things float? Lots more answers are given and you can research them further with the internet links given for each topic. (Also available in the First Encyclopedia Complete Library Collection.)
Jam-packed with information, photographs, charts and maps for additional study and research. This book includes links to over 150 recommended websites through the Usborne Quicklinks Website; downloadable quizzes, word searches and activity sheets; over 1,500 amazing photographs, illustrations and diagrams; up-to-date information on hundreds of topics; lots of free, downloadable pictures; simple, safe activities and experiments; maps of the world and flags of every country; facts and records; and over 150 QR codes allow readers to access carefully selected websites, downloadable pictures and quizzes – straight to a mobile phone or tablet. An additional 750 internet links lead to a hand-picked selection of the best websites available on a desktop computer.
Resource Books for Kids in Middle School & High School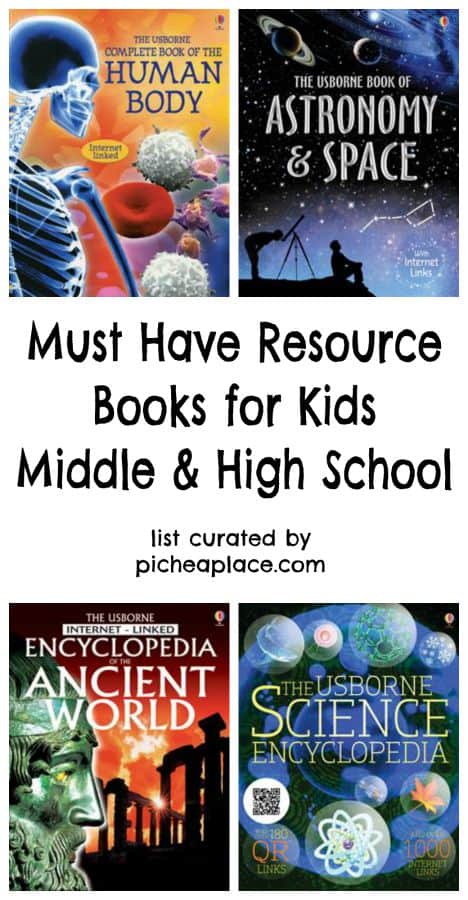 This updated edition shows you the universe, using the latest amazing information from astronomers around the world, and space probes around the galaxy. This book includes practical information on home astronomy and buying and using equipment.
This lavishly illustrated encyclopedia follows the dramatic history of the world's early civilizations, from the first farmers of the Middle East to the rise of mighty empires in Mesopotamia, Egypt, Greece and Rome. Stunning photographs and detailed reconstructions create a vivid picture of life in the ancient world, while the comprehensive factfinders include a time chart, who's who, and lots more about gods and goddesses, mythology and details of recent archaeological finds.
A fact-packed, beautifully illustrated, all-round introduction to the human body and how it works. Full of extraordinary photographs, detailed diagrams and stunning scans, X-rays and microscope images of the human body. Engaging, friendly text and clear, simple explanations. Experiments and activities show you how to take your own pulse, test your reaction time and fool your brain with optical illusions. Amazing facts and world records, including the world's tallest man, the oldest person ever and the longest fingernails on record.
You will find the whole field of science from physics, chemistry, biology, information technology, Earth sciences and astronomy to new fields such a genetic engineering, nanotechnology, telecommunications and the preservation of planet Earth including: clear explanations of over 2,500 scientific terms; over 1,500 illustrations and diagrams; over 140 experiments, activities and observations to carry out; a quick reference dictionary defining over 1,500 scientific terms; and test-yourself revision aids. This combined volume includes: Energy, Forces & Motion, Earth and Space, Human Body, Materials, Mixtures & Compounds, World of Plants, Animal World, and Light, Sound & Electricity.
Want to add these resource books for kids to your home library?
They're only available through Usborne Books & More – visit picheaplace.com/usborne today!