Today, I'm thankful for "random" library finds.
[Yes, I said FINDS, not fines.]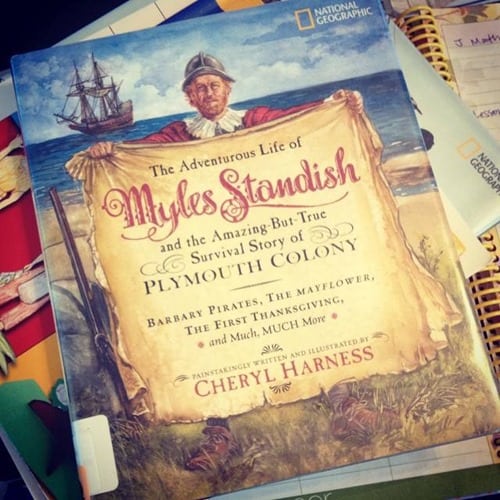 When we were at the library on Tuesday, I took a quick browse through the non-fiction Thanksgiving section in the Children's Department and happened upon a book about Myles (or Miles) Standish: The Adventurous Life of Myles Standish. It looked like it might be a good fit for our current unit study of the Pilgrims, so I added it to my pile.
When I got home, I began to flip through it and verified that it would indeed be a good "extra" for our Pilgrim unit.
And then Jenny and I read chapter one, and I was CONVINCED that it was going to be an INCREDIBLE addition to our Pilgrim unit. The way the book is written, the illustrations, the details about history – everything about the book – makes it an amazing find. I'm going to be searching for other titles in the series to go along with our future unit studies.
I'm thankful for a great find at the library!
—
What are YOU thankful for today?
—