Recently, I've started engaging the kids with three questions each night at bedtime. They're loving the opportunity to recap their day as they think about the answers to these three bedtime questions…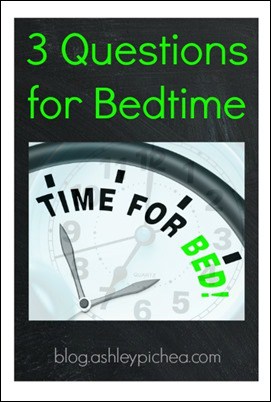 The Importance of One-on-One Time
I've found that it's becoming more and more difficult with three kids ages seven and under to find time during the course of a single day to spend one-on-one with each of my kids. Bedtime is the one time during the day that each kid is in his/her own room, and so I've made it a priority recently to use this time to engage each of my "big" kids one-on-one.
Engaging Questions for Bedtime
I ask three simple open-ended questions to each of my kids once they're tucked in for the night, giving us a few minutes of one-on-one time together.
Share Your Thoughts
What's your bedtime routine look like? Have you found a way to engage each of your kids one-on-one during the course of a "normal" day?