I love Christmas. I mean, I LOVE Christmas. It's a magical time of year, beautiful and joyous.I got married on December 23rd, because that's how much I love Christmas. So now that I'm a mom, I find it far too easy to get carried away making everything magical (or getting stressed out trying to make it magical when I'm really making it, you know, stressful).
Before the season begins I have to center myself and make the conscious decision that the first priority in every decision is Jesus.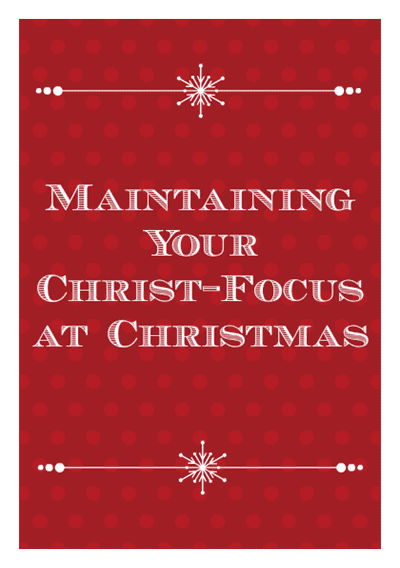 Here are five ways to maintain your Christ-focus at Christmas:
Celebrate Advent
I didn't grow up doing this, but I love the idea of spending the month leading up to Christmas preparing my heart, and as mommy I take my kids with me on that journey. This year I'll be reading The Greatest Gift, and using Truth in the Tinsel with the kids.
Choose Entertainment Wisely
There's a lot of junk out there at the holidays. We enjoy the movies and the books and the music, but we try to do it with discernment. For example, we don't listen to Christmas music on the radio, because 1) most of it is now "holiday" music, and 2) much of it is poor quality. We prioritize the specials that emphasize the redemption story we want to focus on. We still enjoy Home Alone and Elf, but if we had to narrow it down to one Christmas special for our family, it would star Charlie Brown. I try to always consider: are we deciding what we consume, or are we just absorbing whatever is pushed on us?
Serve Others
Serve our family, serve our friends and neighbors…look for ways to serve. This can look different for every family. For our family this year it will mean making and delivering gifts to all our neighbors. As the littles grow older we will add opportunities to serve. Sometimes we have to search out the service opportunity, but many will present themselves to us if we are looking. This is a great way to teach the kids an others-focus.
Read Luke 2
This is it. This is the point. Focus on it. Celebrate it. Our kids are still too young to read, but as they grow we will let each read the Christmas story as they learn to read. It will be a privilege passed around from year to year.
Explain Everything
All of the previous ideas do little good unless we take the time to explain the reasoning. As we move through life together, I try to keep up a monologue (which is turning into a dialogue as my oldest masters more words) about what we are doing and why we are doing it. In simple terms, I explain why the song we're listening to is wonderful, why the second chapter of Luke is our favorite story to read at Christmas, and why we are making gifts for our neighbors. If I want them to absorb it, I have to be intentional about making it real to them. We frame everything we are choosing as fun(!) and while we're having fun we take the time to explain why we love it.
I'd love to learn from you!
What ideas do you have for keeping the focus where it belongs at Christmas?
—

Katy is a hands-on mommy to two kiddos under two (so far). During naptime she moonlights as a marketer for a private university and writes for her blog, Plumfield Dreams. Katy is passionate about Jesus, intentional family life, and healthy and natural pregnancy and childbirth. Connect with her on Pinterest (katyrhobbs) and Twitter (@katyhobbs).