When she is faced with protecting Dr. Wade Savage, Olivia Edwards finds herself needing as much protection as she is providing. The crazy stalker is out for blood – her blood – and won't stop until she (or he?) manages to get Dr. Savage all to herself! While keeping an eye on her client, she finds herself needing to protect her heart as well as his life in Always Watching, the newest title from Lynette Eason.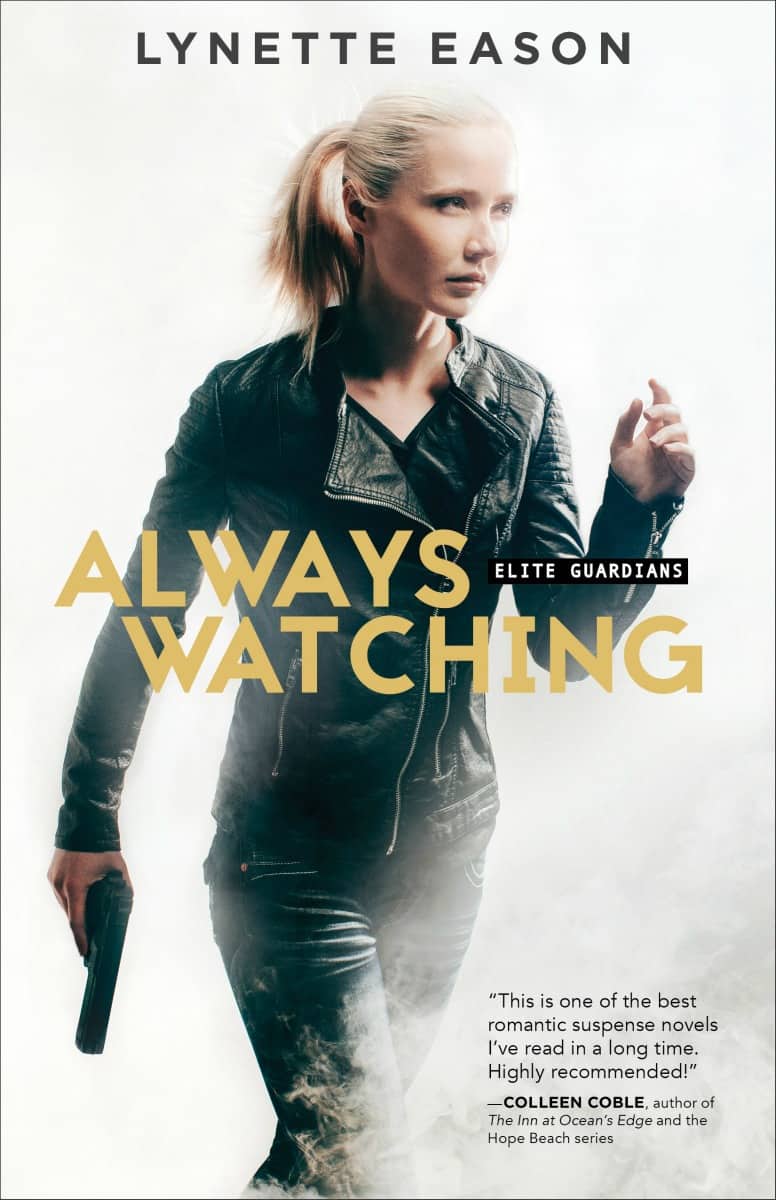 From the Publisher
The bodyguards of Elite Guardians Agency have more than just skill and prowess in common–they're also all women. When it becomes clear that popular psychiatrist and radio personality Wade Savage has a stalker, his father secretly hires Elite Guardians in order to protect his son.
But when Wade's bodyguard is attacked and nearly killed, agency owner Olivia Edwards must step in and fill the gap. Olivia's skills are about to be tested to the limit as Wade's stalker moves from leaving innocent gifts at his door to threatening those closest to him. Olivia has the feeling that she's next on the list. And to complicate things even further, she realizes that her heart may be in as much danger as her client.
Bestselling author and fan favorite Lynette Eason drops readers right into the action in this fast-paced new series with a unique twist. Readers will love these strong female characters who put it all on the line to save lives.
My Thoughts
I've loved reading all of Lynette Eason's previous titles – she quickly became one of my favorite suspense thriller authors – and I was excited to read her newest book, Always Watching. As I read the opening pages, however, I found myself thrown for a bit of a loop as I was expecting (just based on my previous experience with her books – I hadn't read the back cover of this particular title to see what it was about) a strong male character who would be saving a female victim. I'm not sure why, but the flip flop of expected roles threw me off enough that I struggled to connect with the characters in Always Watching, and I honestly wasn't excited about the story as I read.
While the story was well-written with lots of great plot twists and turns – and I expected no less from Lynette Eason – I struggled to lose myself in the book, and when I finished reading it, I didn't have that "I can't wait for the next book in this series" feeling that I often get. That's not to say the writing was less than quality – I just didn't personally connect with the story this time.
That said, I will be looking forward to the release of the next title in the Elite Guardians series, hoping to better connect with the next story that Lynette Eason writes.
Disclosure: I received prerelease access to an electronic copy of Always Watching thanks to Revell, a division of Baker Publishing Group, in order to share my honest thoughts about this book. You can purchase a copy on Amazon or from your favorite bookseller.
Other suspense thriller titles by Lynette Eason you might enjoy…
---