Kate is "forced" to take a month-long vacation to the middle of the Texas hill country with her grandmother, but she never expected to find answers she didn't know she was looking for at Bluebonnet Lake.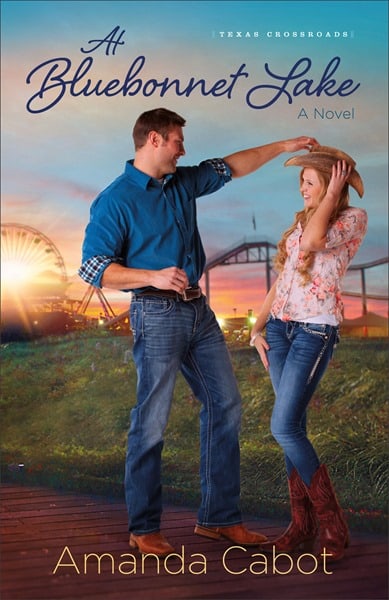 Her life is set to warp speed. His is slowing to a crawl. But love has its own timing.
Marketing maven Kate Sherwood's world is fast-paced, challenging, and always changing. The last thing she wants to do is grind to a halt at Rainbow's End, a dilapidated resort in the Texas Hill Country. Still, she cannot deny her ailing grandmother's request to visit the place where she and her deceased husband spent one glorious week fifty years ago. There, Kate meets Greg, who appears to be the resort's unassuming handyman. But there's more to Greg than meets the eye–billions more, in fact.
Kate isn't looking for romance, but she can't deny the sparks of attraction that fly every time she and Greg are together. Could there be a future there? Or will Kate's long-sought promotion take her back to the big city?
Amanda Cabot invites you to step into a place away from the pressures of the day. You might be surprised by what you find at Rainbow's End.
At Bluebonnet Lake was a light-hearted, quick, and enjoyable read. I enjoyed getting to know Kate and Greg and watch as they worked through some major life issues together. (While this story had three main points of view, I didn't really feel that Sally's point of view was critical to the story.) Each of the characters in this story were given an appropriate depth of back-story, helping the reader to connect with their current situations and personalities.
I appreciated that while At Bluebonnet Lake was a romance, Amanda Cabot didn't rush the romance, but rather allowed it to develop naturally as the main characters work through the unresolved issues of their own pasts.
While At Bluebonnet Lake missed that something that makes it a "must read," I thoroughly enjoyed reading it and am looking forward to reading future titles in this Texas Crossroads series.
I give At Bluebonnet Lake four stars.
—
Disclosure: I received a free copy of At Bluebonnet Lake from Revell, a division of Baker Publishing Group, in exchange for my honest opinion. You can buy a copy on Amazon or at your local bookseller.