It's the middle of the summer and the heat is on! Families and their friends want to enjoy fun outdoor activities together, but humidity and high temperatures can make it difficult to do so. When the temperature soars, don't let the festive mood fall. Backyard water play for family and friends is a marvelous way to beat the heat while having fun!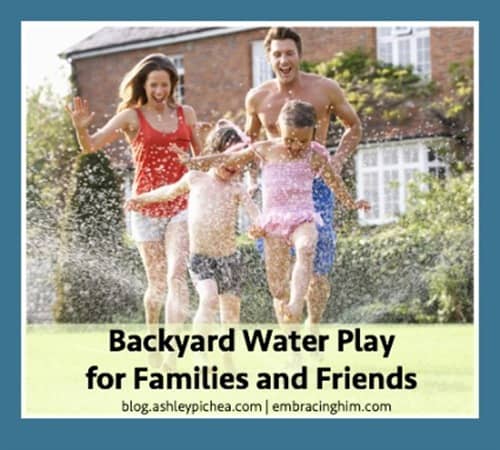 Here is a great list of six, super, soaking suggestions. Gather your family and friends, head out to the backyard, and let the fun begin. Mom and Dad, don't be shy! Adults can (and should!) join the fun too!
Water Hose Limbo:
We're all familiar with the game of limbo. Two people hold the limbo stick and children try to pass under the stick without touching it. With each new round, the stick is placed lower and lower. Children who touch the limbo stick are out. Put a new spin on this traditional game by letting the stream of water serve as the limbo stick. Have one person hold the hose and shoot a straight and steady stream of water. Turn on the dance music and have the children dance under the stream of water without touching it. Lower the hose and repeat until you have a winner.
Big Bucket Splash:
This game can be played in pairs. Have the children face each other standing six to eight feet apart. Give each child a large car wash sponge and a bucket filled with water. Have children take turns trying to toss their wet sponge into the opponent's bucket. Award a child one point for each successful bucket toss. The first child to reach a predetermined score wins.
Bottom Balloon Pop:
This game is a bit more challenging, but it is a fun one because the children get soaked. Separate children into two teams. Assign each team a balloon color. Blow up several balloons and then fill a medium size inflatable pool with water. Toss a few balloons into the pool. Set a timer for two minutes and let each child try to pop as many balloons as possible just by sitting on them. Award teams a point for each popped balloon. After each child has had a turn, the team with the most points wins.
Sprinkle, Sprinkle, Splash:
Many of us grew up playing Duck, Duck, Goose. Just add a large car wash sponge and a bucket of cold water to adapt this childhood game into a fun water activity. Have children sit in a circle and chose one child to be It. She dips the sponge into the bucket of water and walks around the outside of the circle. As she passes over each person, she lightly squeezes the soaked sponge onto each head and says, "Splish!" Once she decides whom to tag, she stands over the child's head and yells, "Splash," while squeezing the rest of the water onto the person's head.
Sprinkler Freeze Dance:
Set up a twirling sprinkler in the yard, but begin the game with the sprinkler turned off. Turn on some music and let the kids dance around the yard. When the sprinkler is turned on, kids must freeze in place and get a good soak until the sprinkler is turned off again. Repeat for several minutes or until the children are drenched.
Water Balloon Dodge Ball:
Divide the children into two equal teams and give each team a bucket of water balloons. Set up a dividing line between the teams and yell, "Go!" Children will attempt to slam their opponents with water balloons. If a child is hit with a balloon, he must leave the game. The last child standing wins.
What water games do you like to play as a family?
---
About the Author: Andrea is a life long Jersey girl, blessed wife, and mom of three young daughters. She's also an enthusiastic blogger, former public school teacher, passionate homeschooling mom, and self proclaimed "Word Nerd". Most importantly, she's a follower of Jesus Christ, the King of Kings! Over at her blog, Embracing Him, Andrea writes about food, faith, family, and homeschooling.