We live in Georgia, and it is hot, hot, hot during the summer months. So hot at times that it is unbearable! Where we live we can not have a pool, so we have to find other creative ways to beat the heat.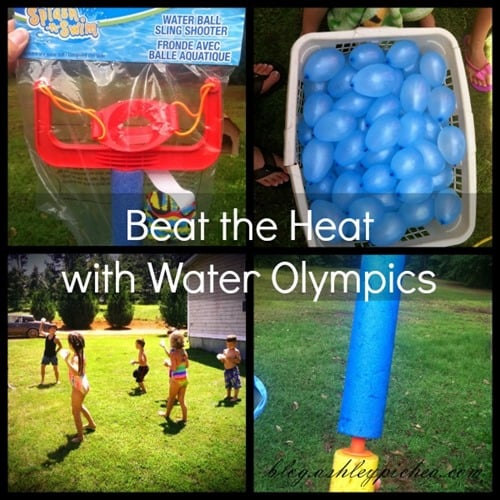 Beat the Heat with Water Olympics
One of our favorite things to do is make our own Water Olympics outside. We usually take a trip to the dollar store to get some affordable water toys.
This year we found these fantastic slingshots!
We love them because they are so much easier to clean up than water balloons! We have been using them a lot!!
We have also used these water gun toys for tag and target practice.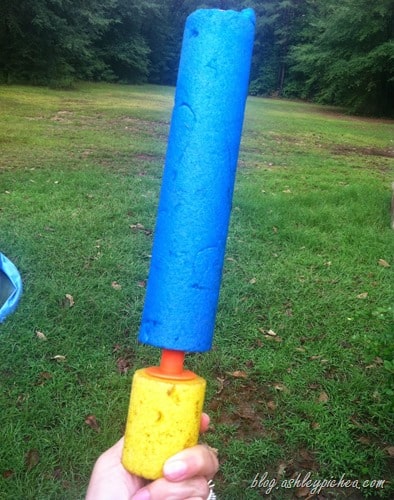 Probably one of our favorite things is target practice with water balloons.
We draw a bulls-eye on the concrete and then see who can get the closest to the bulls-eye! I have seen people do this with chalk paint as well. There are many versions of it out there.
Another fantastic activity is water balloon toss.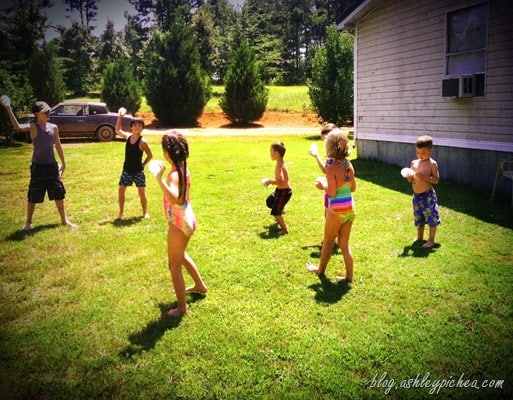 We have done this with the cousins a good bit and it is always a hit:
Everyone stands in a straight line with their partner across from them.
You start off very close and toss the water balloon to your partner.
If it busts then you are out. If not then you take a step back (each person at the same time with the same distance apart) and do it again.
The team who lasts the longest gets a prize!
Another one that the kids love is "How low can you go" with water.
We just take a pool noodle and poke holes in it and then attach the water hose.
Then (of course) there are the ever classic water balloon fights!
The way we make this fair (since we have kids of varying ages) is that each kid is assigned a color of water balloons and can only use those. If we have so many kids participating that we have to repeat the colors then each person gets their own basket and can only use those.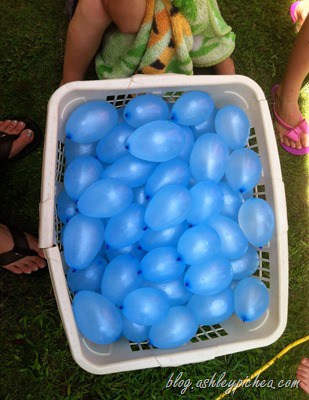 What are some ways you beat the heat?
Do you have any water sports you would add to this list? I would love to hear from you in the comments below!
---
About the Author: My name is April. I am obsessed with all things photography. I am a Christian wife and homeschooling Mom of 4. My favorite color is purple. I love boots, dresses, skirts, sandals, and shiny things. I am frugal and enjoy fixing hair, board games, a good book, candles, traveling, and a good Cheesecake. So we are friends now, right? :)