Resigned to live a life of singleness and solitude, Anna O'Brien never expected to find love in the Library of Congress. Beyond All Dreams weaves a beautiful story of two seemingly opposites coming together to overcome obstacles and find true love.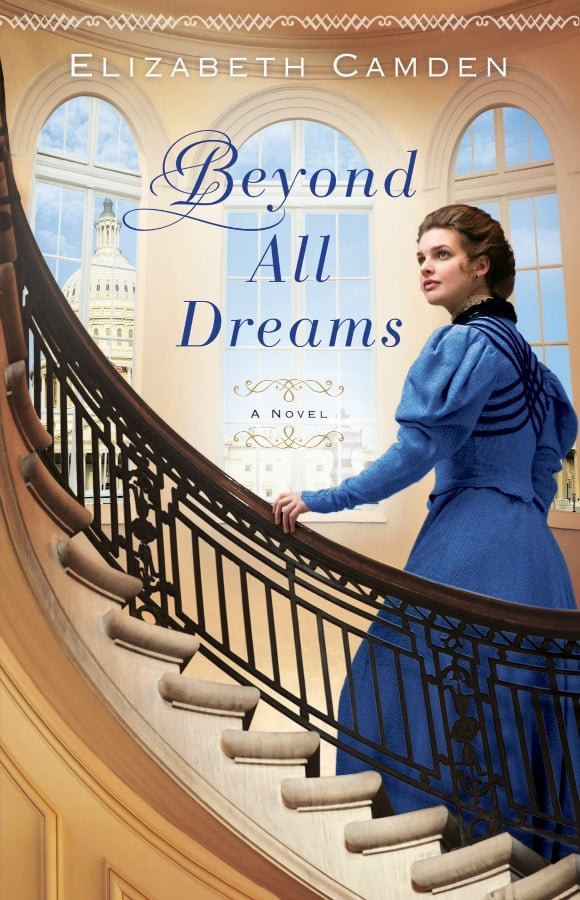 Anna O'Brien leads a predictable and quiet life as a map librarian at the illustrious Library of Congress until she stumbles across the baffling mystery of a ship disappeared at sea. Thwarted in her attempts to uncover information, her determination outweighs her shyness and she turns to a dashing congressman for help.
Luke Callahan was one of the nation's most powerful congressmen before his promising career was shadowed in scandal. Eager to share in a new cause and intrigued by the winsome librarian, he joins forces with Anna to solve the mystery of the lost ship. Opposites in every way, Anna and Luke are unexpectedly drawn to each other despite the strict rules forbidding Anna from any romantic entanglements with members of Congress.
From the gilded halls of the Capitol where powerful men shape the future of the nation, to the scholarly archives of the nation's finest library, Anna and Luke are soon embroiled in secrets much bigger and more perilous than they ever imagined. Is bringing the truth to light worth risking all they've ever dreamed for their futures?
I found myself eager to read Beyond All Dreams due to the time period and setting – set in the turn of the 20th century in Washington, D.C., this book gives readers an insight into the goings on in Nation's capital.
Within the first few pages, I was drawn into the story and found myself connecting with the main character, Anna. Carrying guilt over her uncle's untimely death and the scars of childhood trauma, she has resigned herself to being single for life, finding her main joy in her job overseeing the map room at the Library of Congress. Watching her story unfold was inspiring and an eye-opening experience in seeing the beauty within a person's soul.
Elizabeth Camden did an excellent job of telling Anna's story, keeping the reader entranced throughout the book. The mystery and intrigue woven through this story of discovered love helped to set a bigger stage for the two main characters to live out their lives.
I give Beyond All Dreams four stars.
—
Disclosure: I received a free copy of Beyond All Dreams from Bethany House Publishers in exchange for my honest review.