I finally finished watching the show I'd been binge-watching on Netflix for the last several months, and I turned my attention back to the queue of books in my Kindle app. From books I'd borrowed from our local library, to the free Amazon Prime library books I'd downloaded months ago, to the books I'd recently received from publishers to review, I've enjoyed getting lost in the "pages" of some great books this past month…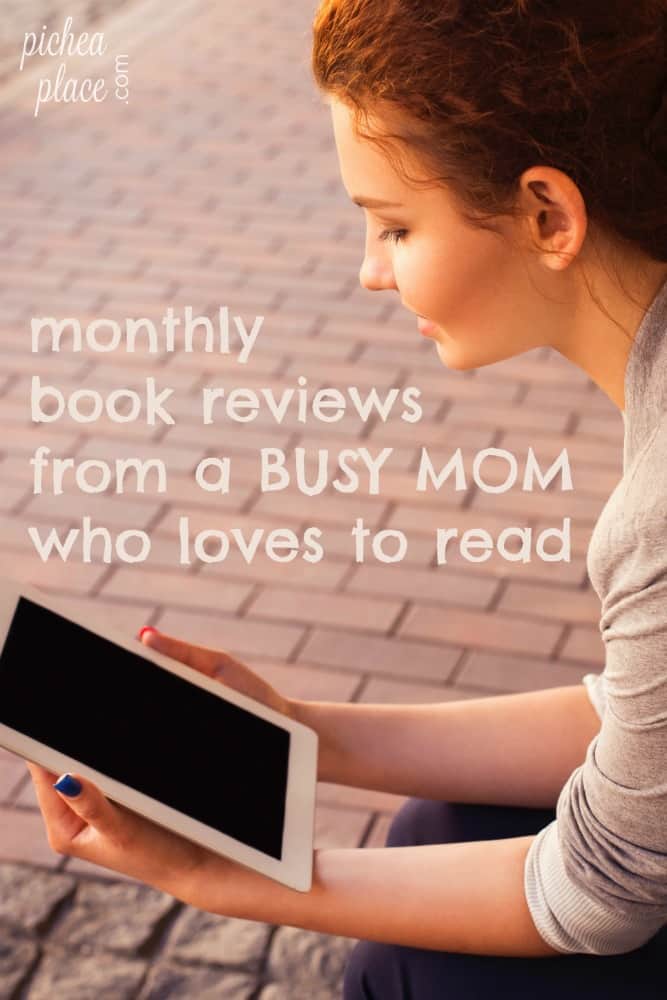 You can't help but smile…
I picked this book up on a whim, not really sure what it was about. It didn't take long, however, for me to get engrossed in the plot. Pages turned quickly as I anticipated what might happen next.
A fun story with appropriate depth of characters, Cinder and Ella kept a smile on my face. It was a quick read, and I look forward to reading future titles in this series.
I really wanted to "love" this book, but I found myself only "liking" it (and rolling my eyes in some parts due to forced dialogue and rough writing).
The premise of the plot was good, and there was definitely an intriguing storyline, but it felt like the writing had been rushed and the editing was lacking in spots (including the use of the same sentence at two different points in the book).
I am struggling to say that I'd recommend this one, even though I've really enjoyed others in the series (though this one didn't necessarily fit with the rest of the series but seemed more to be a spinoff).
I struggled with this book from the beginning. The writing didn't flow well and there were several times when the author seemed to have forgotten that time had passed (or where in the story he was).
The plot itself had a sinister-ness to it that I hadn't expected and that was uncomfortable at times.
This story might make for a good movie (though I'd guess it to be highly graphic in nature), but as a book it lacked attention to detail.
I finished reading it if only to say that I gave it a chance, but it's not one I enjoy reading or that I would recommend.
It's hard for a story not to move too quickly in as short a book as this was, but all the pieces were there: relatable characters with depth, suspense, and romance.
I enjoyed this quick read and look forward to digging into other books by this author.
While I prefer a longer story with more time for the plot to develop, the author did a good job of creating relatable characters and a solid storyline full of intrigue, suspense, and romance. I definitely look forward to reading some of her longer novels.
An intriguing story and powerful message of God's healing redemption…
When tragedy strikes, Katherine and Larson each find themselves alone and in danger of having everything they've worked for stripped away.
The more I read of this book, the more the details struck me as being familiar. At a certain point, I realized that I had read this book previously, though long enough ago that I couldn't remember any specifics of the story or the plot.
Rereading it was a joy, and I found myself anticipating each page turn, eager to discover what would happen next.
When you find yourself grinning the entire way through a book and hate to put it down, you know it's a good one!
I've been a fan of Julie Lessman's books for years, and this one did not disappoint. Full of romantic tension, this prequel to her newest series has me on edge, waiting for the series to be released.
As much as I enjoy Julie Klassen's novels, this one seemed to miss the mark slightly in my opinion. There were times I forgot the setting wasn't modern-day America, and the story seemed to drag on in spots.
That said, I did enjoy visiting Ivy Hill once again, seeing how the characters' lives had changed since book one in this series. I thought the story believable and the characters relatable.
Although this wasn't my favorite title by this author, I am eager to read the next book in the series.
I give this book 3.5 stars.
---
*Disclosure: I received access to pre-release digital copy of this title in order to write my unbiased reviews.