There are several "what I wore" linkups around the blogosphere each week, and I'm joining in at What I Wore Wednesday for accountability with a weekly post of what I wore, sharing some casual mom outfits for fall.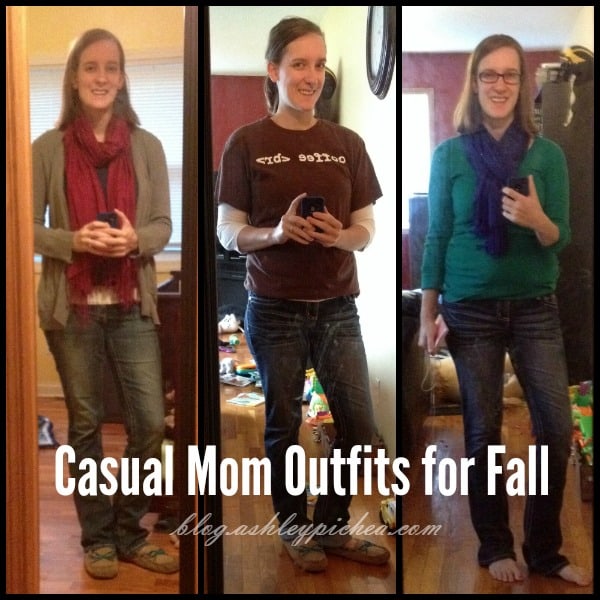 Tuesday
Tuesday found me driving around town, stopping at Jenny's piano lessons, the library, and Aldi, before heading home to do school with the kids. I think I finally sat down around 7:45pm that night, exhausted but feeling productive.

Wednesday
Wednesday was a homeschool and work day. I got the kids started and once David was done, I settled into my "office" (i.e. the living room recliner) to get some work done while keeping an eye on the kids and keeping Jenny focused on her school work. We headed to church for kids' choir and prayer meeting in the evening.
Thursday
I don't really remember much about Thursday – must be I didn't do anything too exciting.
Friday
I woke up a bit later than I would have liked on Friday, and thus got a late start to the day. Once I got started, however, I got to work on planning out the rest of our school for this calendar year (through Christmas break). It was a LONG day of planning with lots of little interruptions from the kids, but by dinner time, I was done!
Saturday
We headed to Grand Rapids on Saturday morning and spent the day with J's family. I dressed in clothes that allowed me to be warm enough for the cool morning but cool enough for the warm afternoon. We visited an apple orchard in the afternoon and by the time we were done walking around the orchard (and through the corn maze), my feet were a bit sore and I ditched the boots.
Sunday
A full day of church, small group, choir practice, and a meeting had me dressing comfortably on Sunday.
Monday
After a busy weekend, we decided to spend the day at home on Monday (my kids were disappointed because they wanted to head to a local forest) so I dressed "whimsically casual" with a Dr. Seuss t-shirt and jeans. I spent most of the day standing next to the deep freezer in my kitchen as I'd set up my "office" on it for the day.
—
Being a stay-at-home mom doesn't mean you have to live in sweats and/or pajamas all the time. I try to get dressed every day as it helps me set the tone for myself and the whole house – I'm just more productive when I'm dressed.