We love to watch our favorite TV shows, but when I realized we were paying more than $80 a month JUST FOR CABLE TV, and we weren't watching much of it "live" (we used on-demand and/or our DVR a lot), I brought up the topic of cutting the cord again with my husband. His biggest concern was that he wouldn't be able to watch his favorite sport events live, but when I showed him a way to do so (that cost a fraction of what we had been paying for our sports broadcast channels), he was on-board with cutting the cord to cable TV – to watch TV without a cable box.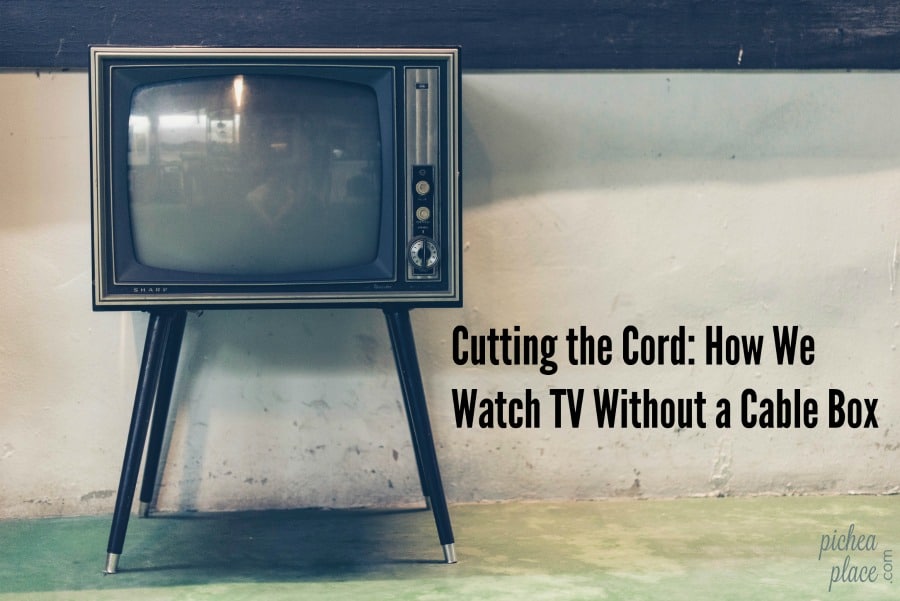 Now we can watch whatever we want, whenever we want, wherever we want. And it only costs a fraction of what we had been paying to watch TV in our living room.
Devices for Streaming Video Content
We have a Smart TV and a Blu-ray DVD player with internet access, but we found that the apps on them were really slow and very limited, so we wanted to purchase a device that would allow us faster access to our favorite streaming apps.
Apple TV: We have a first generation Apple TV on our main TV. While we're happy with the speed and the ability to access the music and movies we've purchased through iTunes, the fact that we can't add apps is a bit of a bummer (newer generation Apple TV boxes can). If we had to do it again, we probably would have either purchased a newer generation or gone with a ROKU or Fire TV device instead.
Fire TV: We recently purchased a Fire TV Stick when we were gifted a TV for our master bedroom. Having streaming services on a TV is definitely a bonus when there are six of us and we can't always agree on a single show. So far, we've enjoyed the capabilities of the Fire TV Stick, and I love how portable it is (we can literally plug it into any device with an HDMI input). Since we are Amazon Prime members (get a 30-day free trial), we're able to access our Prime Music and Prime Video through the Fire TV Stick.
Other TV-based streaming devices: ROKU, Google Chromecast
We're also able to login into most of our streaming accounts through our iPhones and Chromebook laptops, which means we have access to our shows whether we're at home or traveling.
Sources for Streaming Video Content
Currently, our most watched streaming sources include:
The only basic cable channel we haven't been able to access without having to pay an additional streaming fee is CBS. It's a bit of a bummer as we watched a lot of CBS shows in the past, so we've been talking about adding it to our monthly streaming budget.
We've also been investigating Sling TV as an alternative to be able to access the cable channels we want at a fraction of the cost of having a cable box.
Don't overpay for cable TV. Do some research and see if a combination of these options (or others) might work with your TV viewing habits and save you money!