This shop has been compensated by Collective Bias, Inc. and its advertiser. All opinions are mine alone. #DIYOilChange #CollectiveBias
Busy parents can struggle to find time to get away for a date night, which can often lead to a lack of quality time together. And in order to stay connected in a marriage relationship, quality time together is necessary! My husband and I have found a solution for our lack of date nights – we find ways to connect over the every day tasks in life. Recently we were able to spend some time connecting as a couple while we changed the oil in our van – not your normal date night, but it was a great opportunity to spend quality time together.
Related: Perfect Date Ideas for Busy Parents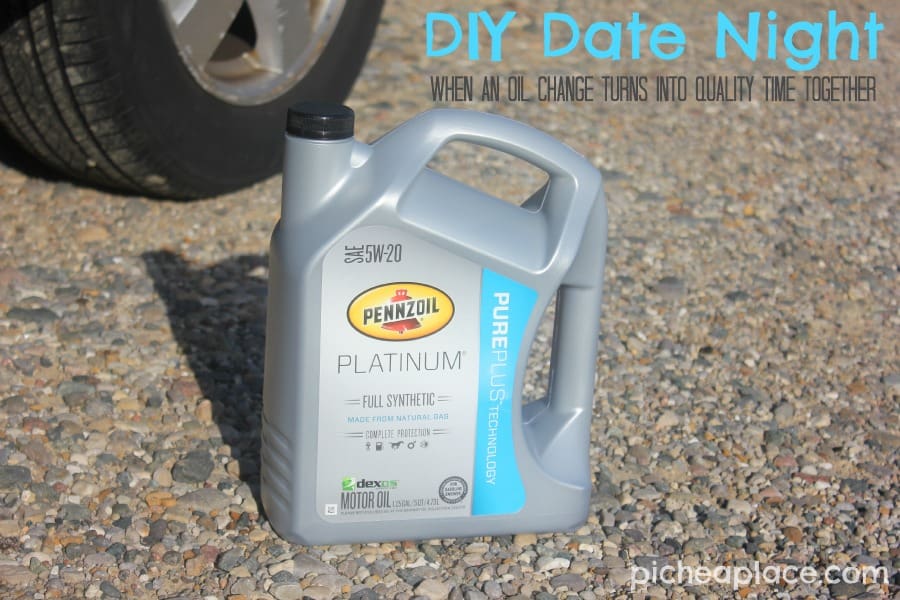 Knowing that our van was due for an oil change last week, I asked my husband if he'd be interested in doing it ourselves. We'd done it ourselves in the past, but it had been awhile. I knew that doing it ourselves would save us money, allowing us to use a better oil in our engine – something I was very interested in since our van is now ten years old and we're hoping to get at least another five years of life out of it.
After doing a little research, I decided to go with Pennzoil Platinum Full Synthetic motor oil. I learned that Pennzoil Platinum Full Synthetic motor oil will help to keep the pistons up to 40% cleaner, increase our fuel economy, protect our engine from loss of power, better protect from friction, and keep the oil flowing faster in the upcoming colder temperatures. It is also backed by a 10 year/300,000 mile Lubrication Limited Warranty.
I stopped by Walmart to pick up the oil and an oil filter, and this is where the communication started… I was a bit lost in the motor oil aisle. I knew what I needed, except I didn't. The oil filter was "easy," since there was a parts book sitting in the aisle – I was able to find the correct size for our make and model year.
The motor oil, however? I found the brand I was looking for, but then I was faced with three different choices – 5W20, 10W30, or 5W30. I had forgotten to check the cap under the hood before I went into the store.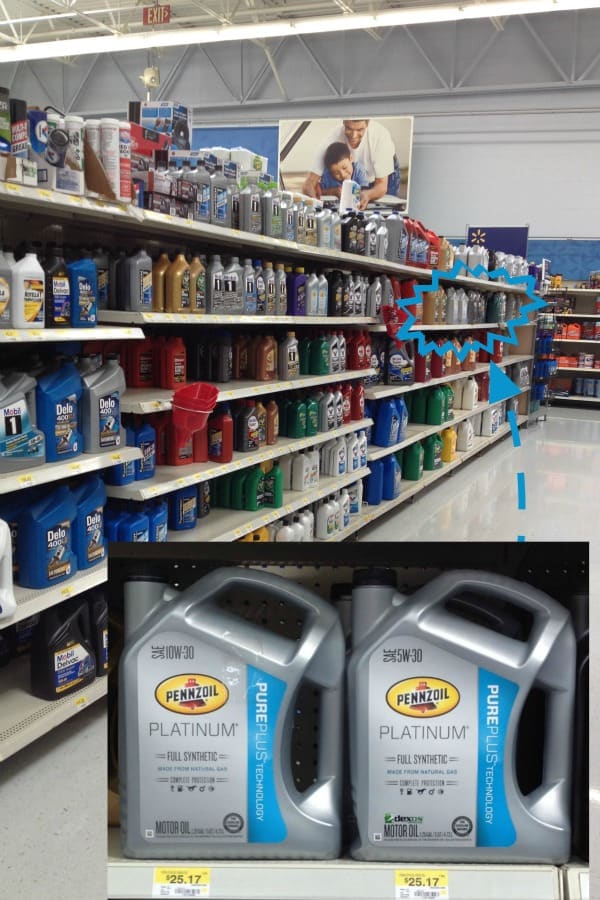 I sent my husband a desperate text, hoping he knew the answer off the top of his head, because I really didn't want to have to leave the store (with my toddler in tow) to go find out. Thankfully he knew and was able to immediately respond to my text!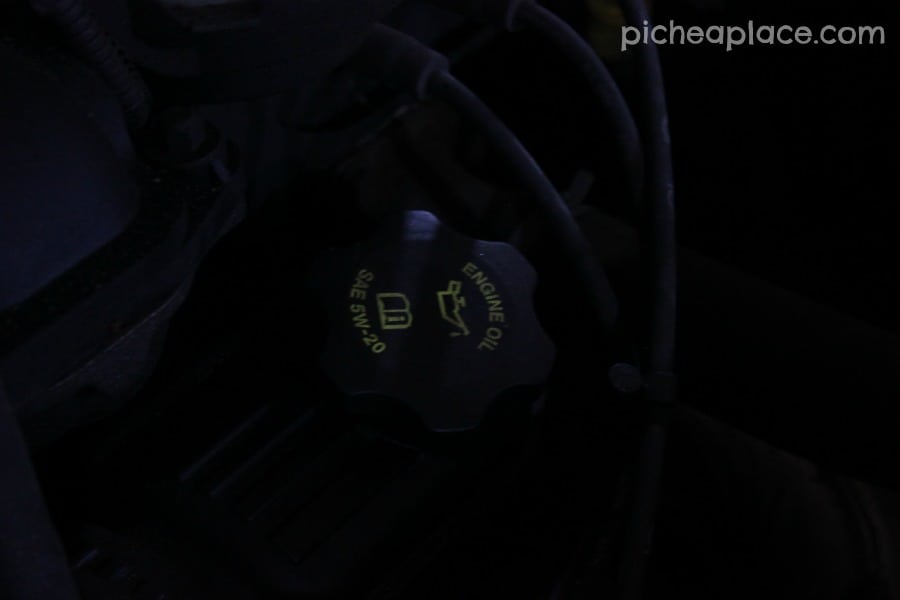 When he got off work that evening, Grandma came over to watch the kids for an hour, and we headed out to the barn to work on the van.
How to Change Your Own Oil
[the following is a very rough overview tutorial – if you are new to changing your own oil, please be sure to watch the in-depth video tutorial below]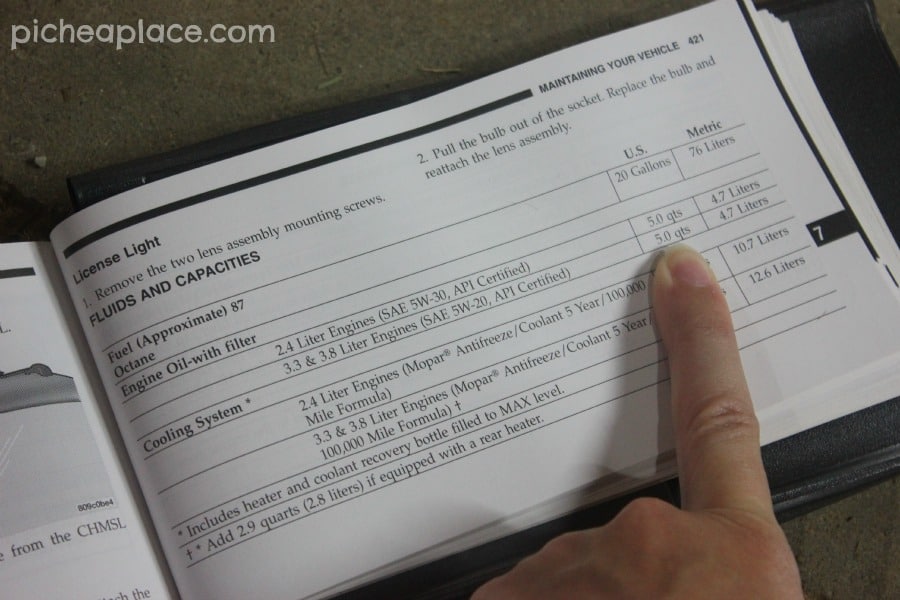 Please use standard safety procedures when changing your oil. You should always refer to your own car's manual before changing your oil.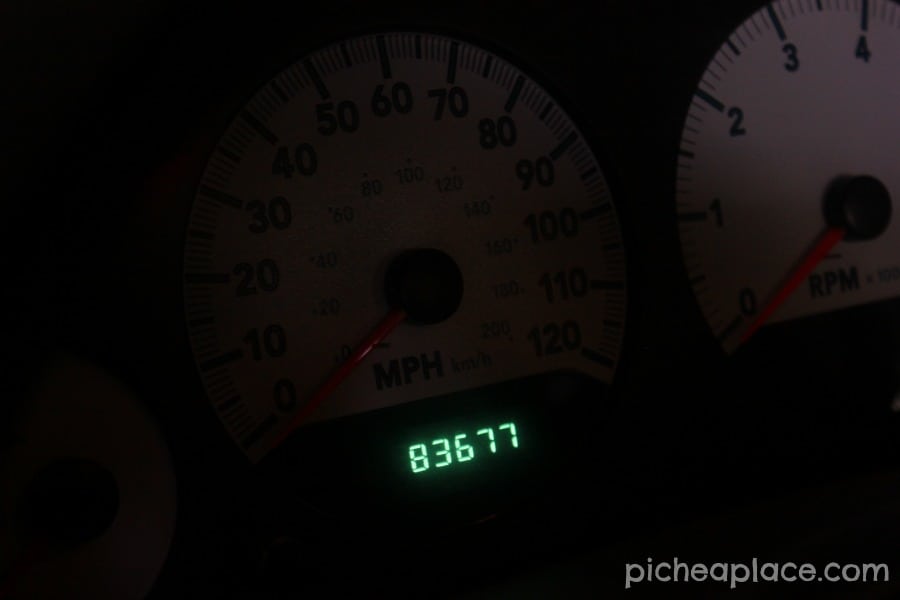 Be sure to note the mileage before changing your oil. It's recommended that you should change it every 3000 miles or 3 months.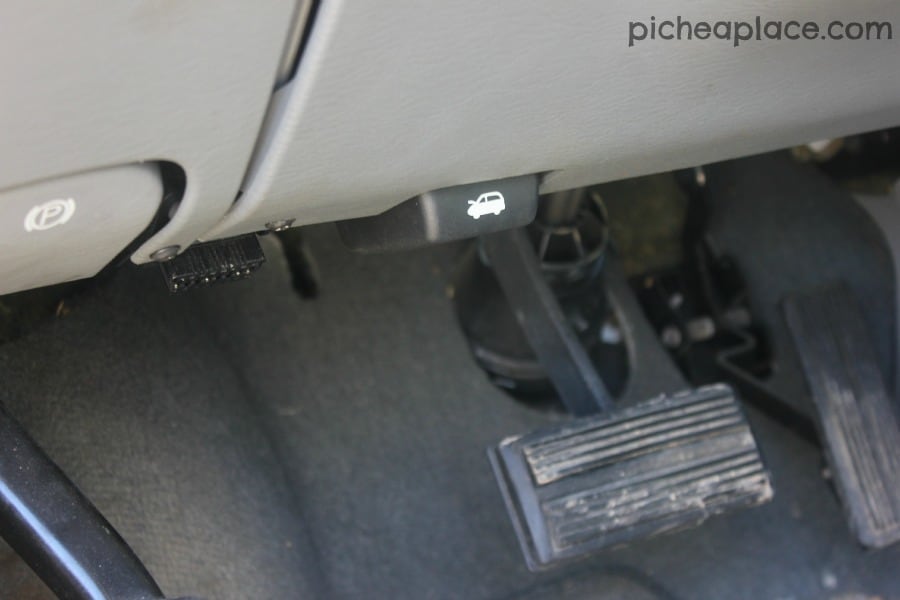 Pop the hood – you should be able to find the lever under your dashboard on the driver's side.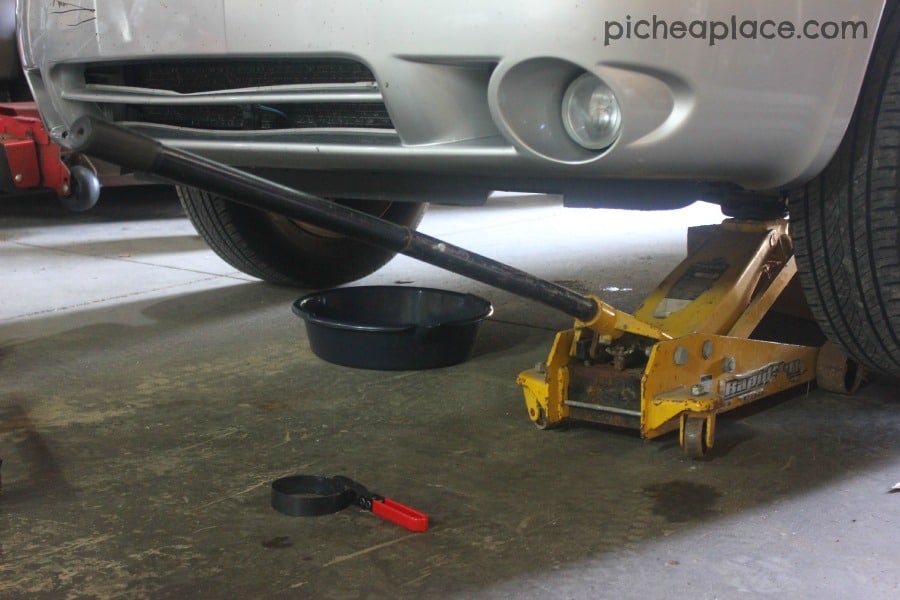 Jack your vehicle (or use ramps) and secure it.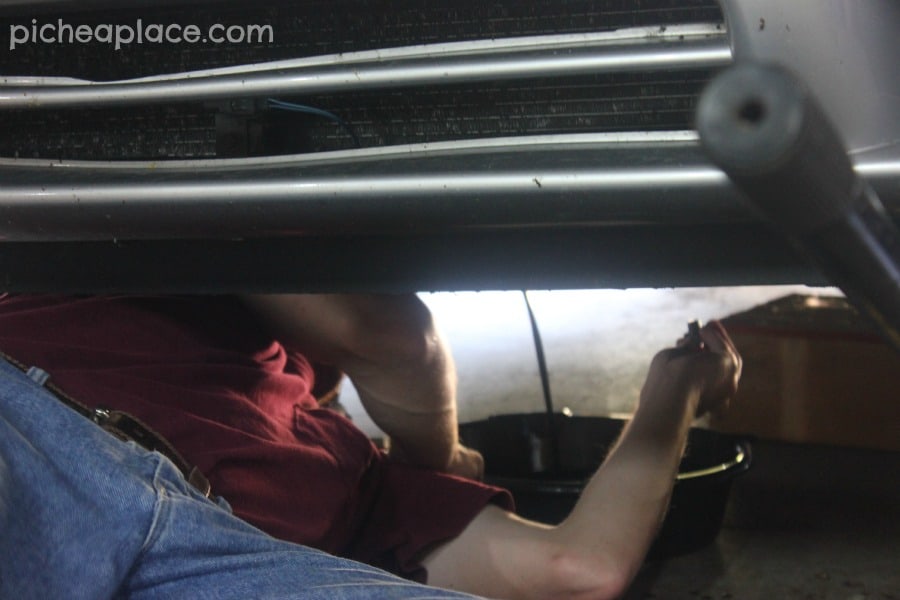 Drain the old oil – this takes a while. We made the most of the time by talking and connecting about life.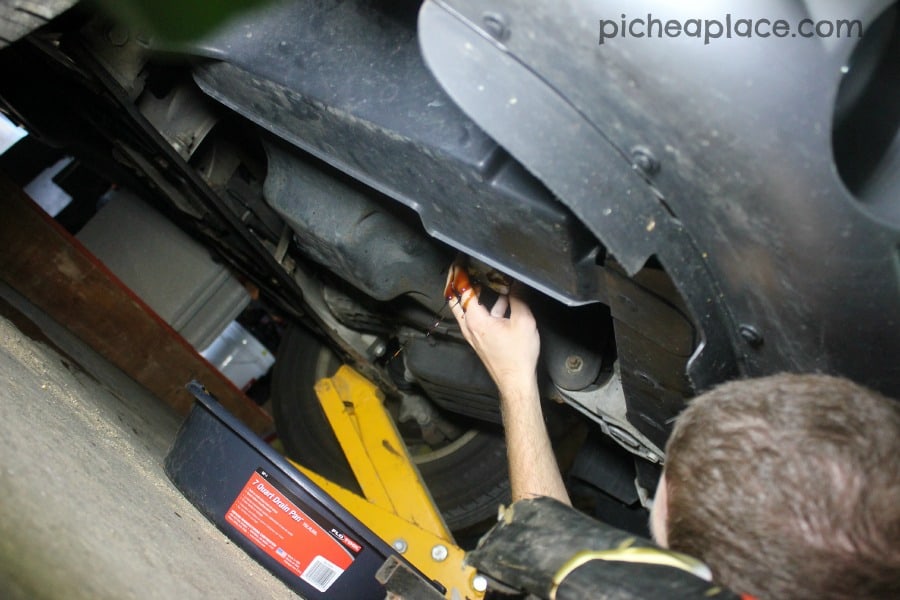 After the old oil has drain, replace the plug, and change the oil filter. (Be sure to lube the seal on the new filter before screwing it in.)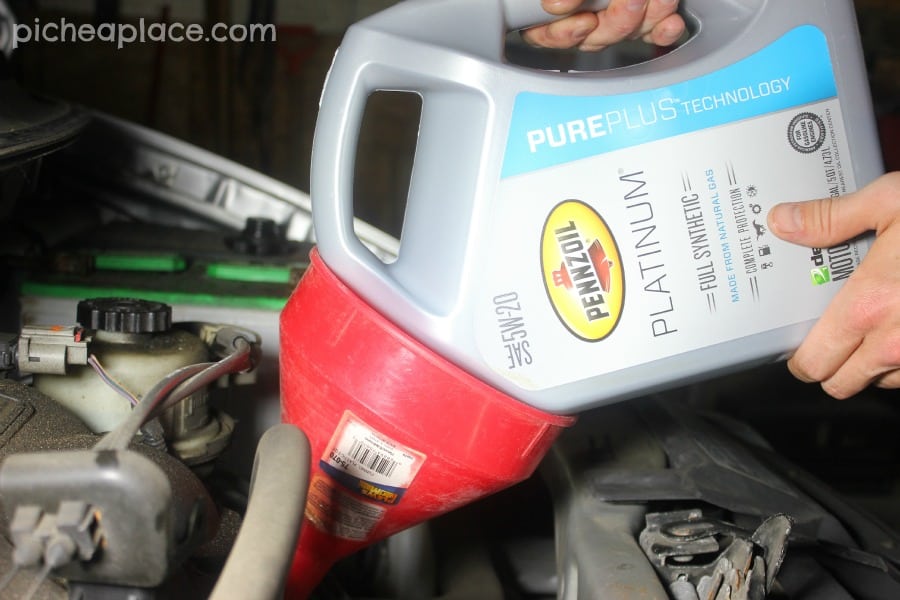 When everything under the vehicle is all sealed up, it's time to add the new oil. Use a funnel to avoid spills.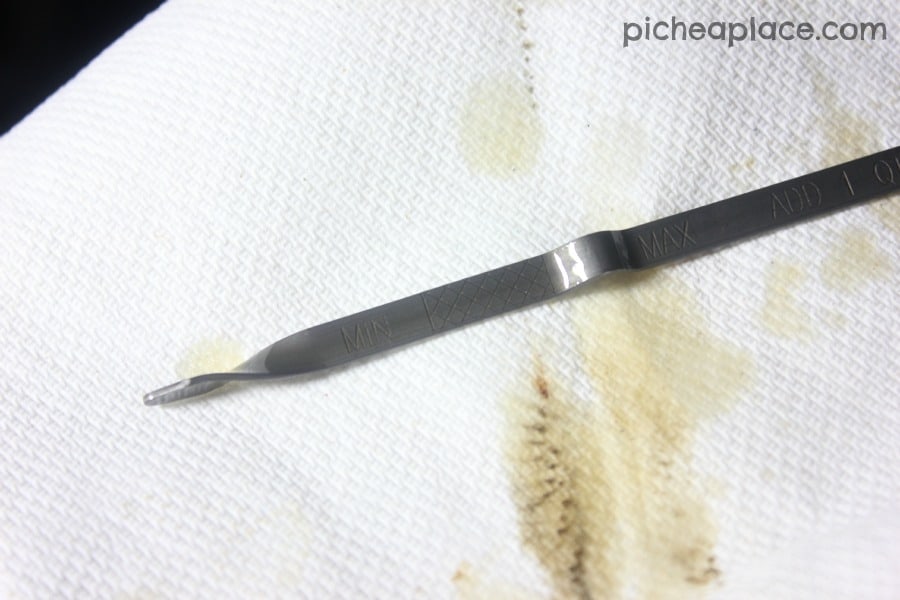 Give the oil a few minutes to settle before checking the dipstick to make sure you've added enough oil.
It took us roughly thirty minutes to change the oil in our van, most of which was spent waiting for the old oil to drain out. It gave us a great opportunity to talk about life and connect as a couple, plus it gave us a chance to work together to complete a project. It may have not been the most romantic date night ever, but I came away with a new appreciation for my husband and feeling bless to be doing life together with him.
How do you connect with your spouse in the every day things of life?
What out-of-the-box date nights have you enjoyed together? Have you ever considered doing "chores" together as a way to spend quality time?