When it comes to getting dinner on the table, the less time I have to spend in the kitchen, the better. I'm a busy mom with young kids, so I'm always on the lookout for quick and easy dinner ideas that keep me out of the kitchen and yet put a hearty meal on the table for my family. Here are some of our favorite quick and easy chicken dinner ideas…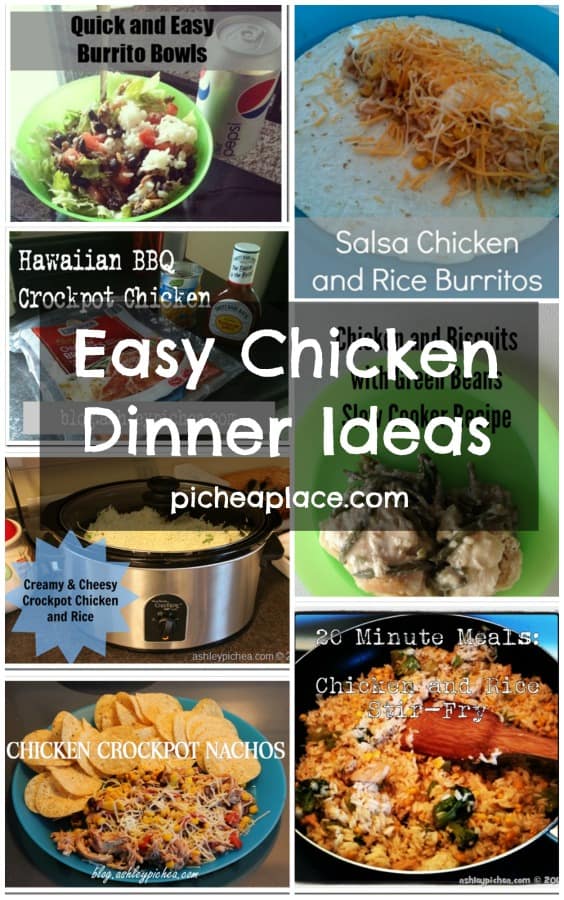 I like dinners that are simple in terms of ingredients and instructions. Dump-and-cook slow cooker meals are some of my favorite meals to make and eat. This slow cooker chicken and biscuits with green beans recipe is so simple that my six year old can make it in under two minutes. And it's so yummy that the leftover don't last long in the fridge!
I love to experiment with my slow cooker, and recently I threw a bunch of "random" ingredients in and came out with an amazing recipe for salsa chicken and rice burritos. This recipe is seriously delicious.
I can't resist this Creamy & Cheesy Crockpot Chicken and Rice recipe! A few more ingredients than some of my other crockpot creations, this Creamy & Cheesy Crockpot Chicken and Rice recipe still takes less than five minutes to prepare and is ready to serve when you are ready to eat.
This is seriously one of the easiest "dump" recipes for your crockpot, and it can be completely tailored to your family's taste preferences.
When it comes to crockpot meals, I'm a big fan of "dump and let cook." The less prep I have to do before putting the food in the crockpot the better, and this Hawaiian BBQ Crockpot Chicken recipe is one of my favorites.
Need a quick and easy, yet tasty meal for dinner tonight? This yummy meal takes about 20 minutes and is made with a few basic staples: frozen chicken breasts, rice, and frozen veggies.
Our family LOVES eating at Chipotle, but the closest one to our house is over an hour away, so when I was craving a Chipotle burrito bowl, I came up with this quick and easy burrito bowl recipe. Our family LOVES this quick and easy burrito bowl recipe. It's become a regular addition to our menu plan!
---
Looking for a great deal on farm-fresh chicken? Check out Zaycon Fresh – quality foods at an unbeatable value, direct from the farm to your family table!