I thought I'd take a moment to reflect on the past month in blogger-land. I'm grateful for each of you, my readers, as well as having the opportunity to share my thoughts and empty my brain clutter onto this blog.
Top Ten Posts for February (based on pageviews):
* WFMW: Rubberband Edition
* WFMW: Homemade Sticker Fun
* WFMW: On Drinking Milk
* Time to Tackle These Tasks
* My Job
* I'm Grateful For
* Online Money Making Resources
* Super Savings Sunday
* Milk on the Floor (a song)
* MIA for the Weekend
Top Ten Referrers for February:
* We are THAT Family
* Money Saving Mom
* Home Sanctuary
* The Youngman Family
* Heavenly Homemakers
* Savvy Blogging
* Blog Tour Spot
* My Blogs Mentor
* Amy's Finer Things
* Oh Amanda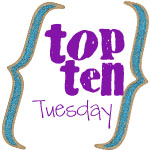 This post is linked to Top Ten Tuesday and Gratituesday.