While I love to read fiction (who doesn't love getting lost in someone else's life and story for awhile), I also read my fair share of non-fiction books. It just takes me a LOT longer, since I generally only read a chapter at a time in order to digest, ponder, and apply the truths I'm learning from the books I'm reading.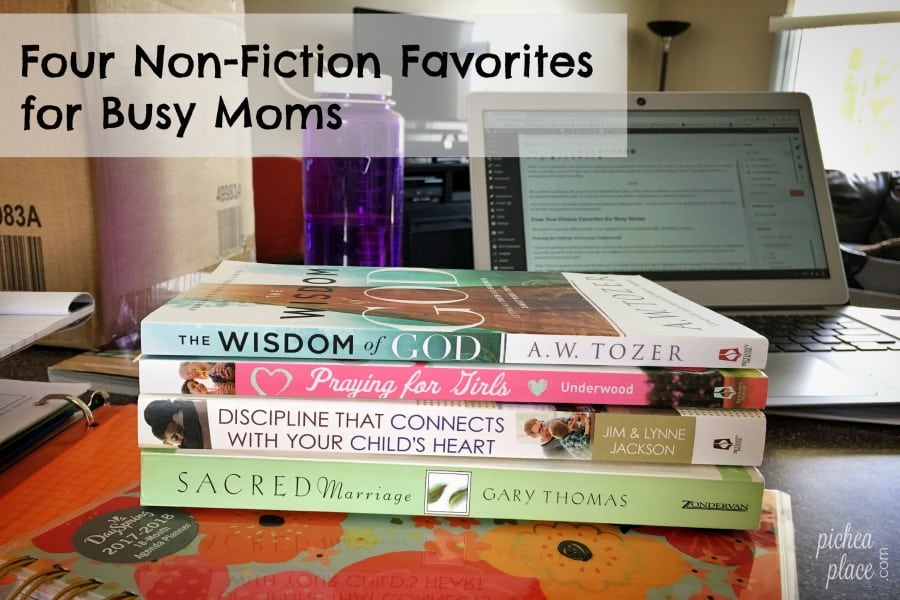 My non-fiction reading mostly comes from the Spiritual Life section of the bookstore (though I occasionally throw a business or personal development book into the mix). As such, I do most of my non-fiction reading during my daily(ish) quiet times.
I try to select one or two books a month to read during my daily quiet time – one that grows me in my spiritual journey and one that grows me in either my parenting or marriage journey.
Four Non-Fiction Favorites for Busy Moms
This month I've got four different books on my nightstand that I'm reading through, one chapter at a time…
I've had the privilege of getting to know Teri Lynne for the past several years, and I absolutely love her heart when it comes to helping busy moms like myself find the words to pray for our daughters. I'm so excited to have a book in my hand full of her years of wisdom and experience in praying for girls.
While I haven't made it very far into the book yet, I've already had to grab a pen to highlight text that jumped off the page and spoke to my heart: "Rather than trying to reason with her, I've learned to reach out to the God who loves her far more and far better than I do… my words to her are far less important than His words about her."
I can't wait to read this book in its entirety and apply the lessons I learn to my own prayer time for my daughters (and sons)!
Over the past year or two, Bethany House has been releasing collection of A.W. Tozer's sermons in book form, and I've had the privilege of reading and reviewing several. The Wisdom of God is the latest collection they've released, and it has not disappointed.
One of the things I love best about Tozer's sermons is their timelessness – it doesn't matter that they were preached up to a hundred years ago, the biblical truths they proclaim are still applicable today.
Reading Tozer always challenges me to think and live biblically, and this book is no different.
This is a book I come back to time and time again – every couple of years, at least. The challenge to consider that perhaps God didn't intend marriage to make me happy but to make me holy is one I need to be reminded of as the world continually bombards me with a different message.
It always amazes me… no matter how many times I read this book, I always come away with a new or different challenge. Something I read hits me in my current situation, and I find a new way to apply the truths explained from God's Word to my life.
I had the opportunity to review this book several months ago, and since that time, I've begun reading it thoroughly, soaking up all the amazing wisdom it contains.
To say this book has changed my philosophy of parenting would be accurate… it has helped me to better understand why I struggle to connect with certain children of mine on disciplinary issues as well as how to avoid raising people pleasers.
This book has been thoroughly highlighted, and I am looking forward to reading it again in the near future, to dig even deeper and better apply the tips and tools I've gleaned from it.
What non-fiction books have you been reading lately?
Join the conversation on Facebook…