Do you need a date night, but life has gotten too busy to escape the house? I recently discovered Night In Boxes – a company that sends subscribers a box every month full of all the items they'll need for a fun and easy date night at home.
Check out what was in my February "Date Night In" box…
Included in February's Date Night In Box:
a step-by-step tutorial for making Oreo Pops + all the ingredients we'd need
a disposable camera for an "all about us" photo scavenger hunt
a fill-in-the-blank "all about us" booklet + a pen to write with
links to a music playlist and suggested dinner for two (complete with shopping list and recipes)
and more!
Date Night In Box is perfect for busy parents who want to connect but can't manage to fit a night out on the calendar.
Complete with all the supplies you'll need for an easy date night at home, the monthly "date night in" box will help you connect with your spouse, and you won't have to leave the house even to prep!
Learn more and start your subscription here –> PicheaPlace.com/NIB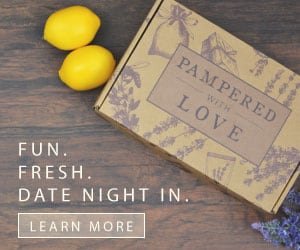 Other Easy Date Night Ideas for Busy Parents
DIY Date Night
19 Free or Inexpensive Spring Date Ideas
Perfect Date Ideas for Busy Parents