It's Tuesday night, and it's been a long day. Honestly, it's been a long 48 hours, and last week was long, too. I'm tired, and I need a break. At 31 weeks pregnant, I'm low on energy and running on fumes at this point in the day, even on the best of days, and while today has been "good," it's been full of activity, and I'm exhausted. I just need the next hour to be over – the kids fed and in bed – so I can "clock out" and relax before heading to bed myself.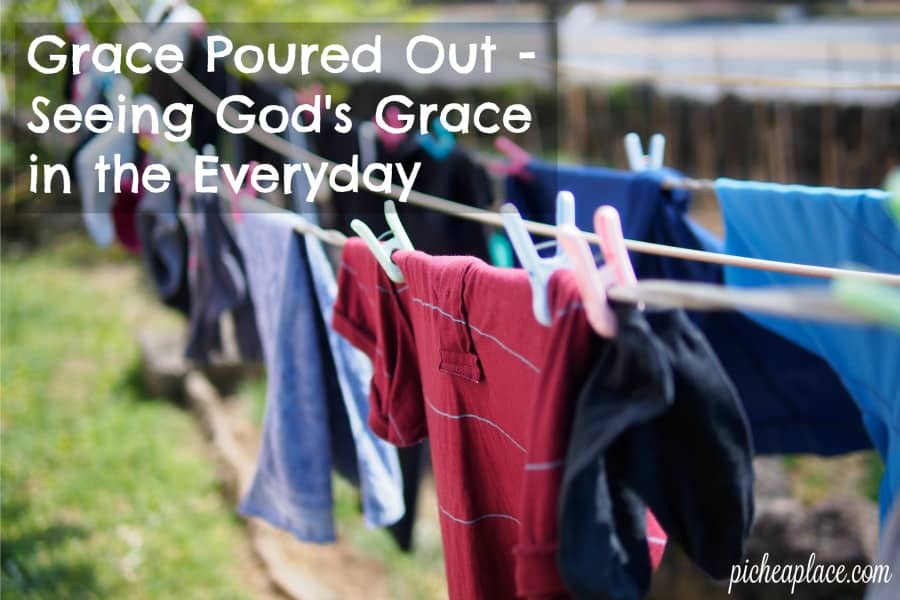 I walked in the door from taking my 7yo to basketball practice beyond thankful that my mother-in-law had chosen tonight to bless us with Chinese takeout for dinner. Within minutes of walking in the door, I'm able to dish out the kids' food and serve them dinner, no prep required. Grace poured out – I notice.
While the 7yo and I were gone to basketball practice, the 9yo was "babysitting" the almost-3yo. She was supposed to have been working on her AWANA sections that were due the following night, but she "forgot" and spent the hour playing on the iPad with her younger brother. I guess I should be grateful she is responsible enough to watch him for an hour, but I'm frustrated that she failed to complete the additional assignment I'd given her. Tempted to yell, I somehow manage to "scold" her without raising my voice and then leave the issue alone for the rest of the night – there is not much she can do to correct it at this point. Grace poured out – I fail to notice.
As I finish serving dinner to the kids, I notice that the piles of dirty dishes on the counter next to the sink are still sitting there. I'd reminded the 7yo & 9yo earlier in the evening that they needed to be sure to take care of the dishes tonight – it's one of their daily responsibilities. It seems like they've been failing to complete this task a lot lately – between extracurricular activities, homework, and other various distractions, I seem to be doing the dishes for them more frequently than I'd like. Knowing that they are not going to have time to complete the task yet this evening, I begin to empty and load the dishwasher – sometimes it's just easier to do it myself, even though I know they need to learn responsibility. There just isn't time to learn that lesson tonight. Grace poured out – I notice.
After the kids are done eating dinner, I ask my 9yo to clean up the kitchen and dining room – specifically to wash the table and pick up the pieces of food I know her brothers dropped under it while eating – while I help her brothers get ready for bed. It appears that she makes an attempt, but when I walked through the room a little while later, the only spot she managed to "clean" was the one where she sat. There is still soup on the table and rice under the table. I call her attention to the problem, but then I lower my very pregnant self to the floor and begin to pick the pieces of rice out of the carpet, trying to ignore the discomfort it's causing me, while sending her to get ready for bed. Grace poured out – I fail to notice.
The kids are finally in bed, and I sit down on the couch with my phone in hand to relax at the end of this long day. As I begin to aimlessly scroll through my social media accounts, I notice my husband (who has had an even longer day than I) putting a load of laundry in the washer – a load I had intended to start early this morning but had forgotten in my hurry to get out the door and had since forgotten needed to be washed. Grace poured out – I notice.
I was too caught up in my own selfish desires and frustrations at my wants not being met to notice that God was blessing me in the everyday activities of serving my family – during one of my least favorite hours of the day. I just wanted that hour to be over so I could "clock out", and yet, God was showing me His grace over and over again as He gave me opportunities to serve my family.
In less than a matter of an hour, God's grace had been poured out time and time again. Sometimes it was poured out into my life, while other times He used to me to be a vehicle of His grace in the lives of others.
What if I'd been looking for His grace all along? How might my attitude in serving my family have been different? Might I have looked for additional ways to show His grace to each of the members of my family?
How have you seen God's grace poured out in the everyday?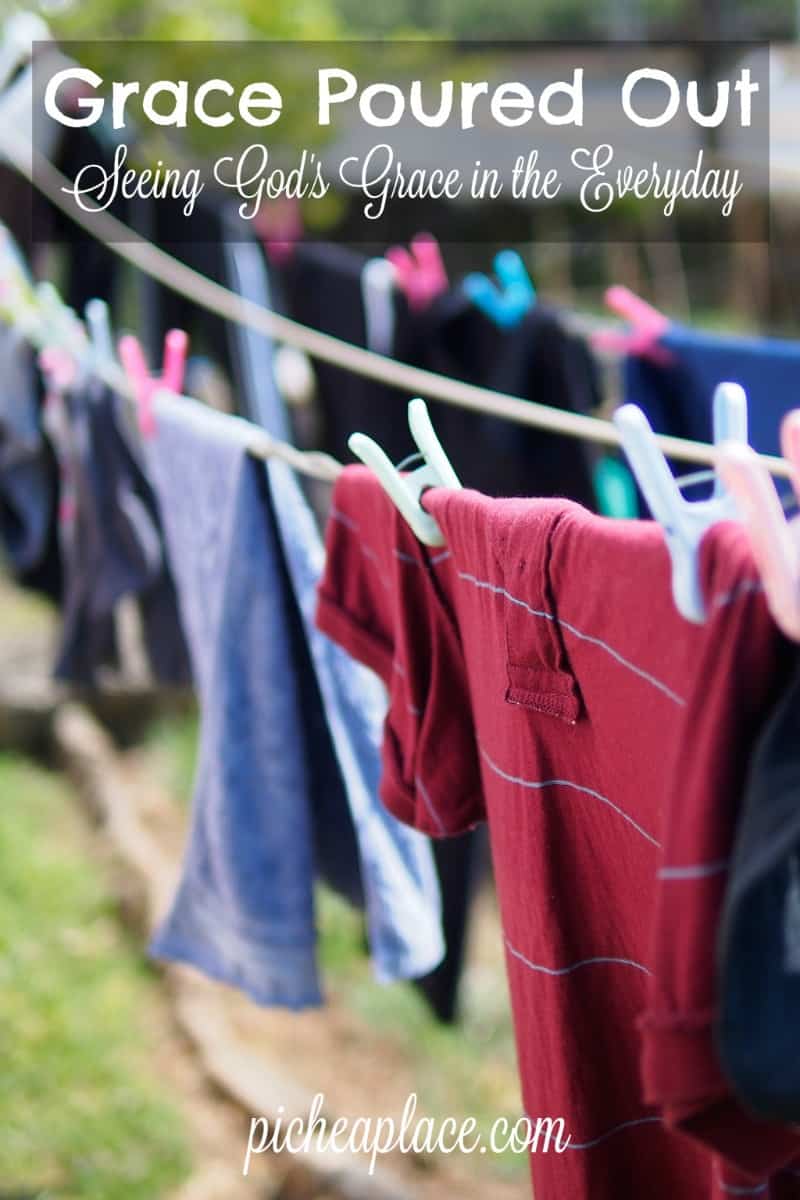 original image credit: https://www.flickr.com/photos/funcrush/8698205081