When life throws two people together who are both broken by the past, they must each seek God before finding love with one another in Hearts Made Whole, the newest title in the Beacons of Hope series by Jody Hedlund.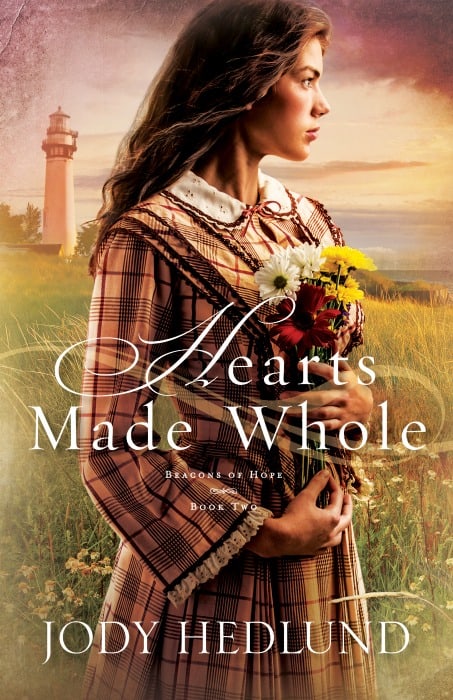 From the Publisher
After her father's death, Caroline Taylor has grown confident running the Windmill Point Lighthouse. But in 1865 Michigan, women aren't supposed to have such roles, so it's only a matter of time before the lighthouse inspector appoints a new keeper–even though Caroline has nowhere else to go and no other job available to her.
Ryan Chambers is a Civil War veteran still haunted by the horrors of battle. He's secured the position of lighthouse keeper mostly for the isolation–the chance to hide from his past is appealing. He's not expecting the current keeper to be a feisty and beautiful woman who's angry with him for taking her job and for his inability to properly run the light. When his failings endanger others, he and Caroline realize he's in no shape to run the lighthouse, but he's unwilling to let anyone close enough to help. Caroline feels drawn to this wounded soul, but with both of them relying on that single position, can they look past their loss to a future filled with hope…and possibly love?
My Thoughts
I have loved reading this Beacons of Hope series from Jody Hedlund. Reading about historical Michigan has been such a fun treat for me, and as I love lighthouses, this particular series has thoroughly grabbed my attention.
In Hearts Made Whole, Jody Hedlund wove a tale of grace and mercy that doesn't often appear in historical fiction. Both of the main characters are deeply developed and have intriguing backstories that draw the reader into the plot. The twists in this story kept me turning the pages late into the night.
Well-written and thoroughly researched, Hearts Made Whole was a great read and a great addition to the Beacons of Hope series. I give it four stars.
---
Disclosure: I received a free electronic copy of Hearts Made Whole from Bethany House Publisher in exchange for my review.