This week has brought spring-like temperatures to Michigan – a drastic change from last week's piles of snow and layers of ice! While I'm not fully convinced that spring is here to stay, it's time to start thinking about packing up winter in order to prepare for spring. Here are some tips to help you do the same…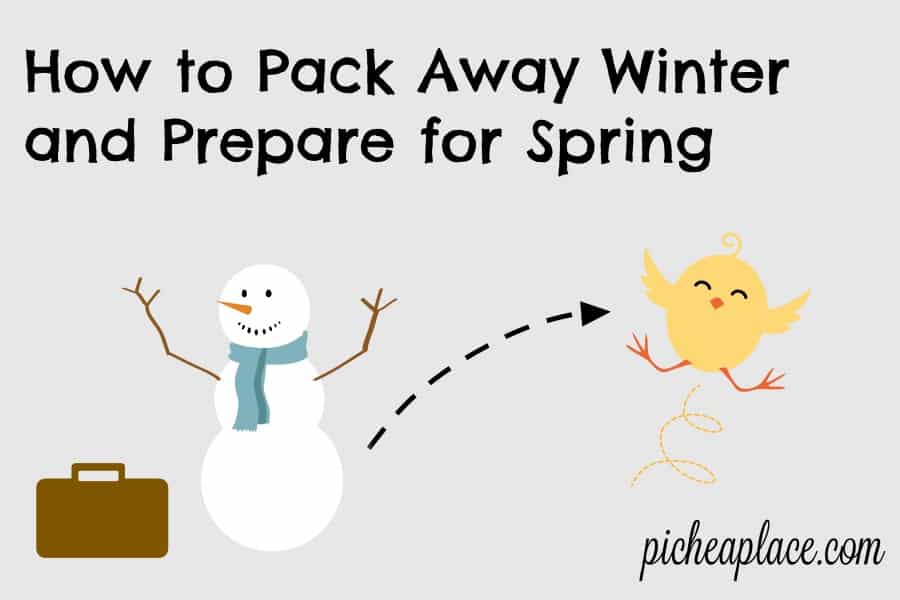 It's time to put away the seasonal items all around your home and in your wardrobe that you won't use again until next winter. To make sure those items don't get musty in storage and to help organize your home, here are some tips on how to pack away winter and prepare for spring.
1. Sweaters
One of the keys to packing away sweaters properly is to make sure they are clean first. Bacteria and mold will grow on those sweaters all summer, especially if you live in a hot and humid area. So:
Wash (and dry) your sweaters.
Pack your sweaters in cedar storage bags or in plastic bins with vents for air circulation.
Wrap sweaters in tissue paper and old sheets if you do not have containers – this allows for air circulation but keeps dust, pet hair, and dirt off.
To prevent moths from damaging your wool or wool-blend sweaters, add some cedar chips, blocks, or even cedar essential oil to the container.
2. Heavy Curtains
Did you have heavy curtains to keep out drafts in the winter? Now is a good time to take them down and get them cleaned. When you pack them away, use similar methods as with the sweaters. If you have a cedar chest, even better!
3. Throw Blankets
Many of us have blankets over chairs and couches during the winter. It looks cozy and provides a ready source of comfort for chilly days and nights in the living room or den. Now is the time to take these out and clean them, then pack them away to be used next year. A good place to store them is under the couch in the living room, preferably in vented plastic tubs that fit underneath.
We store our throw blankets and pillows in an ottoman with built-in storage for easy access any time of the year.
4. Heavy Coats
Heavy winter coats are often dry-clean only, and they should be taken to the cleaner's before being put away at the end of the season so they are ready for use at the first sign of cold weather next fall or winter.
5. Bedding
It's time to take the heavy comforter, extra blankets, and/or quilts off the bed. Like all other fabric items, they should be washed and thoroughly dried before putting in storage. Comforters can take up a lot of room when they are folded up, but using a space saver bag can reduce its size in order to store it under your bed and protect it from dust, dirt, and insects.
6. Boots and Heavy Shoes
Leather boots and shoes can get moldy over the summer if not properly treated, and non-leather footwear can begin to stink if not properly aired out before being stored. Use a good saddle soap or leather cleaner to go over your leather shoes and boots. It doesn't take long, and it can make a world of difference when fall comes around again and you want to put those boots and heavy shoes back on. Launder shoes that are not leather, and store them in plastic bins.
This is also a great time to see what shoes your kids have grown out of and make a list of the shoes you'll need to buy next fall. If you can guess what size they'll be wearing in the fall, you might even be able to get a great end-of-season clearance buy now!
How do you pack away winter and prepare for spring?
Packing away winter and getting ready for spring will not only clear out some space in your closets, but it will allow you the opportunity to purge your stuff. If you have items you didn't use this winter, now is the time to take them to the consignment shop or your local charity collection center.
It's also a great time to make a list of items that will need to be replaced before next winter and even possible purchase them on clearance before the stores clear their shelves for the season.