I recently had the opportunity to get my hands on a brand new book from Julie Lythcott-Haims, How to Raise an Adult: Break Free of the Overparenting Trap and Prepare Your Kid for Success. I knew just from the title that I was going to like the premise, as I'm constantly fighting the battle between letting my kids be kids and yet raising them to be responsible adults.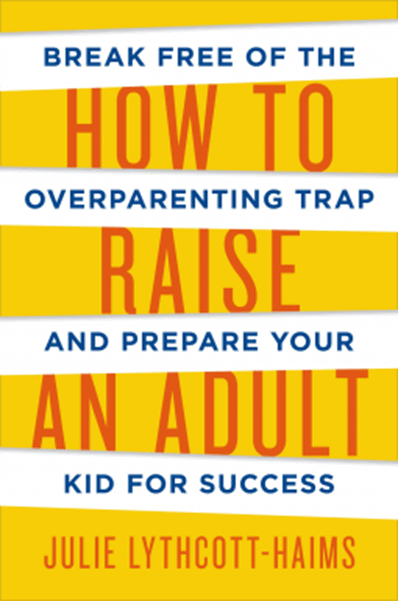 From the Publisher
In How to Raise an Adult, Julie Lythcott-Haims draws on research, conversations with educators and employers, and her own insights as a mother and student dean to highlight the ways in which over-parenting harms children and their stressed-out parents. She identifies types of helicopter parents and, while empathizing with parents' universal worries, offers practical alternative strategies that underline the importance of allowing children to make their own mistakes and develop the resilience, resourcefulness, and inner determination necessary for success.
Relevant to parents of toddlers as well as of twentysomethings, this book is a rallying cry for those who wish to ensure that the next generation can take charge of their own lives with competence and confidence.
My Thoughts
I thought How to Raise an Adult was well-researched and well-written. Julie Lythcott-Haims is a dean at Stanford University and not only uses her own experiences and observations, but shares those of others who work with Millennials around the country. She supports each of her arguments with numerous facts and presents a thorough defense of her thesis.
As I read How to Raise an Adult, I found myself nodding a LOT… and highlighting a LOT. I couldn't help but agree with so much of what Julie Lythcott-Haims was saying about the way that children are being raised today, and how so much of it is actually causing them to be incapable of functioning as adults in society. The way that Julie Lythcott-Haims purported that children ought to be raised reflects so much of my own philosophy of childrearing.
Here are several quotes that I highlighted as I read:
"Raising a kid to independent adulthood is our biological imperative and an awareness of the self in one's surroundings is an important life skill of a kid to develop."

"Taking the long view, we need to teach our kids street smarts, like the importance of walking with a friend instead of alone, and how to discern bad strangers from the overwhelming majority of good ones. If we prevent our children from learning how to navigate the world beyond our front yard, it will only come back to haunt them later on when they feel frightened, bewildered, lost, or confused out on the streets."

"'When you intervene on behalf of your child, your child becomes the victim. You're expressing the message "You're incapable, you're not sturdy enough to resolve this yourself, you need me to come in and take care of this for you."' You are, in essence, disempowering your child."

"Children who have figured out a problem, concept, or idea for themselves can talk about the why and how of the matter rather than the mere fact of its existence, and can apply what they've learned to new situations."
Through reading this book, I've been encouraged to let my children do more for themselves and to provide opportunities for them to learn new life skills.
I'd encourage you to get a copy of How to Raise an Adult and break away from the helicopter parenting model that our society seems to have embraced, allowing your children to grow as independent individuals who have the ability to make a difference in society.
I was selected for this opportunity as a member of Clever Girls and the content and opinions expressed here are all my own.