As a book-a-holic, I could easily spend days on end reading book after book (and I have), but as a busy mom of four who is self-employed and works from home, it's often difficult to find time to sit and read. So I have to carve out reading time, often after my kids have gone to bed. As such, I find it helpful to keep track of what I'm reading, logging the books I read and jotting down my thoughts about them before they vanish from my memory (hello, mom brain).
I can't tell you how often I search the blog to remember if I liked a particular author when a new title is released or to remember which books in a series I've already read. Having an easily searchable reading log is a great way to track my reading, and now I'm tracking it in multiple ways as I've started adding my reviews to goodreads (friend me here).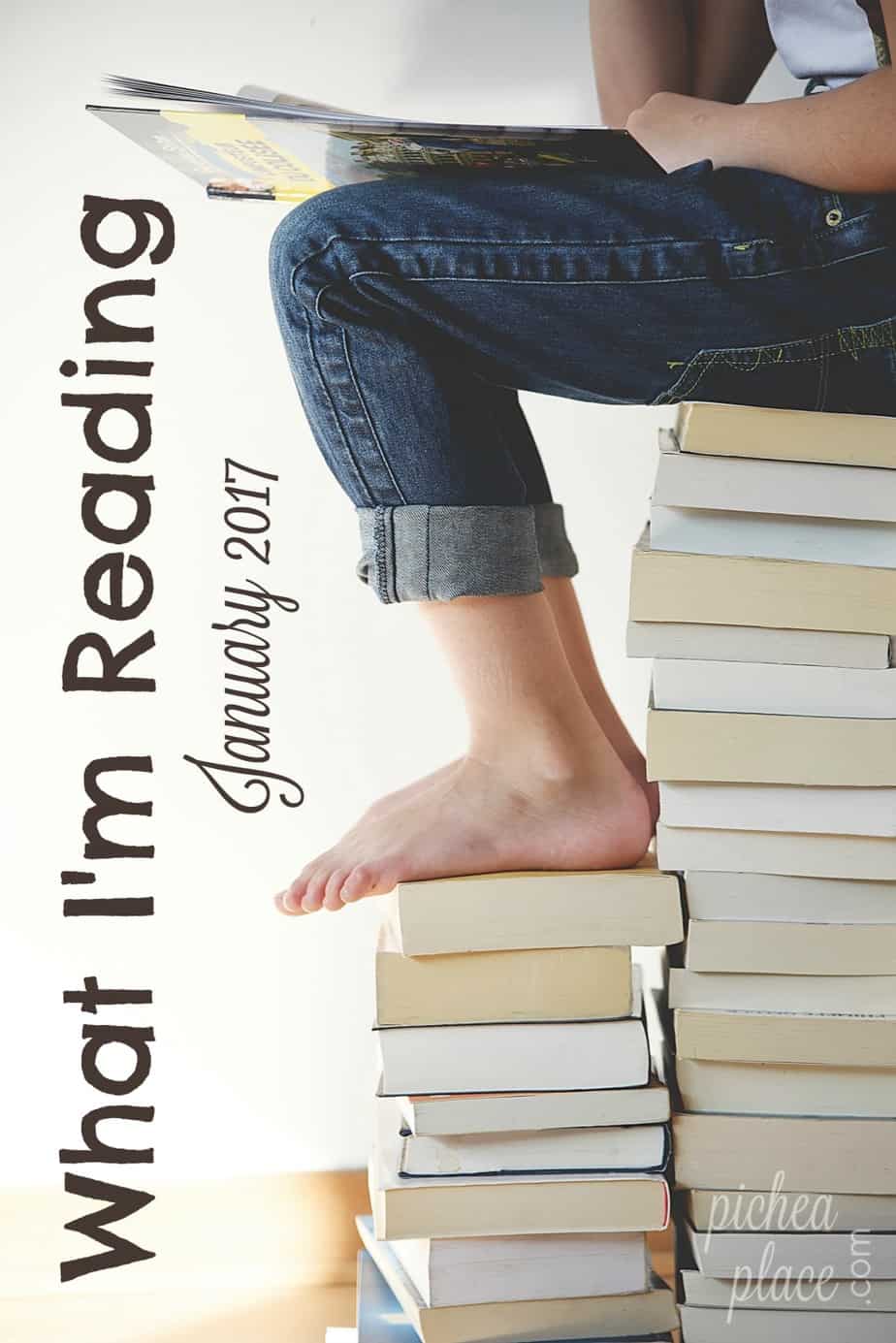 Here's what I'm reading in January…
Having read all the books in the Harry Potter series twice (once in 2007 and then again last summer before my then-8-year-old started reading them), and being a big fan of all things Harry Potter, I was eager to get my hands on a copy of The Cursed Child. I'm not a big fan of buying books for myself, however, so I added my name to the waiting list at the library. Towards the end of December, I finally got the notification email that I was next on the list and had three weeks to read the book before my turn was over.
(Side note: I had actually purchased the book for my now-10-year-old for Christmas, and she was eager for me to read it, but I didn't want to steal her copy to do so. She was as excited as I was when my turn came for the digital copy from the library.)
Harry Potter and the Cursed Child by John Tiffany
My rating: 3 of 5 stars
Perhaps because it is a play and not a novel, this book was a quick read in spite of its length. I enjoyed the story and found the plot very intriguing, I found it lacking in depth, unlike its predecessors. It reads more like the length/depth of one of the movies, missing out on the intricate details that I've come to expect (and love) in the other Harry Potter books.
Disclosure: I received a free copy of this book from Bethany House Publishers in exchange for my honest review.
The Innkeeper of Ivy Hill by Julie Klassen
My rating: 4 of 5 stars
Fans of Jane Austen, Downton Abbey, and the like will fall in love with Julie Klaussen's writing. The time-period, the setting, and the characters are beautifully woven together and invite the reader into the story.
As a fan of Klaussen's other novels, I had high expectations for "The Innkeeper of Ivy Hill," and while most were met, I did come away feeling slightly wanting.
Perhaps it was the broken up periods of time in which I was able to read the book (I prefer to read cover to cover in one sitting but was unable to do so this time, instead reading a few chapters at a time over the course of several days).
Or perhaps it was the lack of a "neatly tied bow" at the end of the book as it was only the first in a series and left many loose ends to be continued in future books.
Either way, I definitely enjoyed the book, and I look forward to reading future titles in this series.
Disclosure: I received an ARC of this book from Revell, a division of Baker House, in exchange for my honest review.
Justice Delayed by Patricia Bradley
My rating: 4 of 5 stars
Starting this book late at night was a mistake. Several hours later, I had to put it down as I could no longer force my eyes to stay open. Three nights of late night reading later, and I am breathing a bittersweet sigh – relief that my late nights are over, but regret that the story has come to an end.
Well-written with characters that were relatable and well-developed, Justice Delayed by Patricia Bradley grabbed my attention early on and had me guessing what suspense-filled twist would come next. Chapter after chapter the plot thickened, and even as I solved the mystery, I was left to guess how it would all come to light in the end.
I'm excited for future titles in this series, and I definitely recommend Justice Delayed to anyone who loves a good, clean suspense novel!
I received a free digital ARC of this title in exchange for my honest review.
A Note Yet Unsung by Tamera Alexander
My rating: 5 of 5 stars
When I picked up "A Note Yet Unsung," I wasn't sure I was going to be easily hooked. It took me a chapter or two to engage with the story, but once I was engaged, I had a difficult time putting the book down!
It isn't often that a book not only draws me into the story but actually engages my emotions. As I read "A Note Yet Unsung," I found my gut twisting, tears welling up in my eyes, laughter on my lips, and at times, I even caught myself holding my breath in anticipation of what the next page might reveal. To say I got caught up in the story is an understatement and is testimony to Tamera Alexander's excellent writing.
I did find a few subplots in the book where I felt as if I was missing a resolution or where a resolution was reached too quickly, but all-in-all, I was pleased with the speed of the progression and resolution of the story and found myself content with how the book ended.
I will definitely keep an eye out for future titles from Tamera Alexander, and I'll be looking for the previous titles in this series to add to my reading queue.
I received a free digital ARC of this title in exchange for my honest review.
Moving Target by Lynette Eason
My rating: 4 of 5 stars
Moving Target was a fast-paced thriller that held my attention from page one and had me not wanting to put the book done. Lynette Eason did a great job of writing twists and turns that kept me guessing until the very end (which isn't often easy to do).
I did feel that the characters were a bit unrelateable as they found themselves the target of a literal manhunt – not your everyday people – but I enjoyed "getting to know" them as their stories were played out. The plot would make for a great date-night action movie.