A few weeks ago, I shared a photo on Instagram of David working on my iPad, and instantly everybody wanted to know what app he was using. I shared the name of the app, and then a friend asked if I would put together a "must have" apps for homeschool list, so here's my list of "must haves" and others that we love…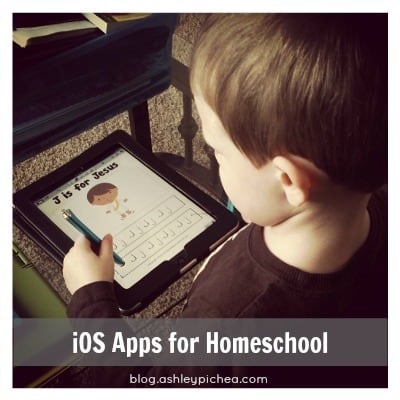 Notability
*Thanks to Amanda of The Pelsers for telling me about this amazing app!
This is one of the iOS apps that gets the most use in our homeschool. Notability has so many uses, it's difficult to list all the ways we use it.
reading eBooks– Notability allows you to keep your place and take notes/highlight on PDFs. (We use this feature with our Grapevine Bible Study eBooks!!)
preschool traceables – I open PDF traceables that I've saved, and David can use a stylus to do his worksheets.
graph paper – Notability has several different options of "paper" backgrounds you can use, and I've started using the small squares paper as graph paper for math projects with Jenny.
Notability cost me $1.99, but I have gotten my money's worth and so much more out of it… I *highly* recommend it for homeschoolers and non-homeschoolers alike!!
Dropbox
I absolutely LOVE my Dropbox.
Dropbox is a FREE cloud storage app that works online (via your computer), on your desktop (I have it on my desktop computer AND my portable hard drive for my laptop), on your smart phone (it's on my iPhone 3GS), and on your tablet (it's on my iPad).
The great thing about Dropbox is that you can save a file on one device, and it is available on any device (or online). I have over 18GB of data currently stored on my Dropbox account.
I save all sorts of PDFs and printables in my Dropbox – eBooks, preschool traceables, teachers' guides, Grapevine Bible Study eBooks, etc. Thanks to the Dropbox app, I have easy access to all of these files via any of my devices when I need to reference them in our homeschool.
Sign up for your FREE Dropbox account here: http://db.tt/s5EdkRY
Evernote
While the kids aren't allowed to touch my Evernote account, I consider it a "must have" app for homeschool.
I have a folder in my Evernote account entitled, "Homeschool," where I store ideas for unit studies, teaching tips, inspiration for rough days, and other homeschool-related content.
YouTube
The kids love watching pre-approved educational videos on YouTube via my iPad. I have started collating playlists for them to watch. One of their favorite playlists is my Musical Math playlist – Jenny has used it a LOT this year as she's learned to skip count and do multiplication.
We've used YouTube videos as an incentive many times in the past several months to encourage one or both of the kids to complete their school work in a timely manner!
PBS Kids
My kids love The Cat in Hat Knows a Lot About That, Sid the Science Kid, WordGirl, and Super WHY! from PBS, so having the PBS Kids app on my devices comes in handy when I want to do "video school." Each of these shows is not only entertaining but also educational, so I consider the PBS Kids app a great app for homeschool!
Disney Junior
Although I don't consider the Disney Junior app to be "educational," it comes in handy for the times I need to keep David distracted while I'm working one-on-one with Jenny. He loves watching some of his favorite shows on-demand on the iPad.
Kindle
I haven't used my Kindle app much in our homeschool yet, but I know as Jenny gets older, I'll be more likely to allow her to read books via the Kindle app on the iPad. This is definitely a great free app for homeschool!
Pinterest
Like my Evernote account, the kids aren't allowed to touch my Pinterest app, but I consider it a must have iOS app for homeschool. I store lots of great homeschool ideas on my Pinterest boards, and I often reference the blog posts I've pinned when we're working on a particular topic or are in need of a creative springboard.
Follow me on Pinterest: pinterest.com/apichea
The Kids' Favorites
I asked Jenny what some of her favorite "educational" apps for homeschool are…
Your Turn
What iOS apps for homeschool are "must haves" in your opinion? What are some of your favorites?