Forgiveness and healing are never easy to come by, especially when the hurts go this deep. Will Lacey be able to face those she has wounded? Will she be able to make this place her home once again? She discovers that this place truly is an Isle of Hope.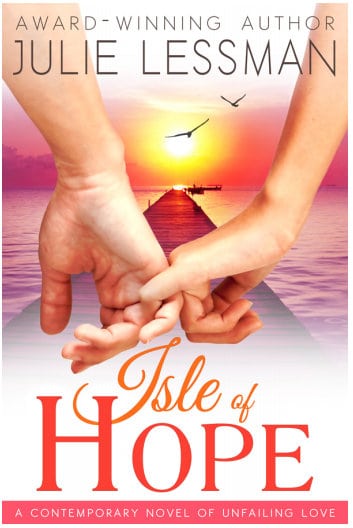 Synopsis from the Publisher
She stole his heart.
He stole her peace.
Can hope steal their pain?
At the age of eighteen, Lacey Carmichael was a wild girl bent on fun, promised to Jack O'Bryen, a straight-and-narrow pastor's kid bent on the seminary. When her father kicks her out of the house, she runs away from Isle of Hope, turning her back on everything she loves. Now, eight years later, she's back as a woman of faith, hoping to make amends to the father she defied, the boyfriend she deserted, and the best friend she denied. Only the bridges she's burned are still smoldering, kindled by an adulterous affair by Jack's pastor father that damaged his son's faith. But can a turning of tables—and hearts—lead the way back to "hope" for them all?
My Thoughts
When Julie approached me about reading her newest novel, I knew it was one I was going to read. There was no question, because I have LOVED everything that I've ever read from her, and I knew this book was not going to disappoint. My only question was, "When will I have the time to read it?" Being pregnant with a busy toddler at home, two kids in school, and trying to work from home part-time, my life is a little bit full at the moment, and most of my "down time" is spent in front of the TV, avoiding the use of my brain. But I knew it was a book I wouldn't want to miss out on the opportunity to read, so I agreed to receive a review copy, and I started looking for an opportunity to read it.
I started the book while traveling for a conference – several solo hours in the airport and on a plane gave me just the opportunity I needed to be able to dive into this story. And dive I did! From "page one," I found myself completely immersed in Lacey's story, frantically "turning the page" to see what would happen next – how God would show up in Lacey's life.
Just as is common with all of her novels, Julie has woven real-life into Isle of Hope. The characters' struggles are not "surface" or "churchy," but they are deep sin issues (and their consequences) that real people face. This is one of the things I appreciate most about Julie's writing – her ability to write about the real life issues that we all face in a way that doesn't celebrate the sin but celebrates God's grace and mercy in the aftermath.
I could tell you so many things that I loved about this book, but I'm afraid I would spoil the story, so I'll leave it at this: Get a copy and read it, today!
I give Isle of Hope five stars!