July was a busy month for me (aren't they all, though?!?), and I didn't prioritize reading as much as I have in the past few months. I only managed to completely read four books. (Although I did start a fifth, but I was so bored in the first two chapters that I gave up.) Here are the books that this busy mom managed to read this month…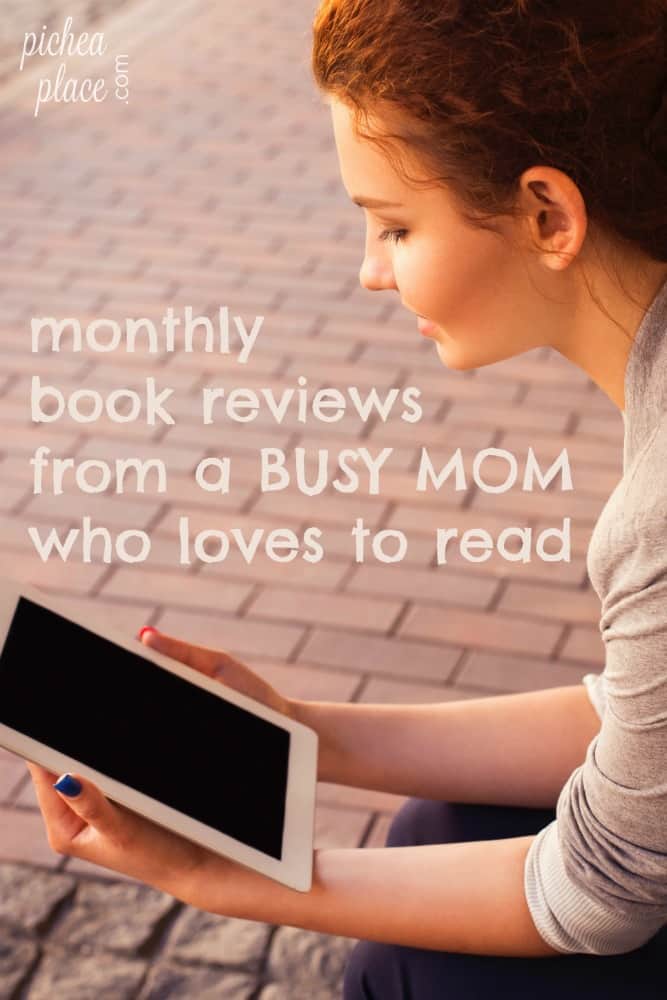 You can see what I've read in previous months here –> A Busy Mom Read: Book Reviews
My rating: 5 of 5 stars
Eek! I was so excited when Julie emailed me to see if I'd like an advanced copy of her newest book… I couldn't wait to go back to Isle of Hope and read Cat's story.
Like all of her books, "His Steadfast Love" was full of depth and color, and most importantly, real and raw emotion and struggle. This was not a "churchy" story, but Julie dealt with the very real struggles that even Christians have as they face life's circumstances.
I always love a "happily ever after," but even more so, I enjoyed the way Julie didn't glaze over the "hard" parts of the characters' story. Their struggles and emotions were real and raw. At times they failed. But through it all, God's grace and love was present and readily available to them if only they'd accept it.
I thoroughly enjoyed this entire series, and "His Steadfast Love" was the perfect ending to the O'Bryen Family's story.
My rating: 5 of 5 stars
When I add books to my Kindle queue and then choose one to read at random, I never quite know what to expect. At first glance, "On Love's Gentle Shores" didn't necessarily grab my attention, but it didn't take me very long to become completely absorbed in the story, turning pages as quickly as I could, and looking for every opportunity to pick it back up throughout the day.
The characters were well-developed, and I quickly found my favorites to cheer for and my not-so-favorites to root against. The tension and drama was real throughout, and the author did an excellent job of building the tension throughout the story.
I wondered a few times if this book was a part of a series (it was), but I never felt as if I was missing any details or history. It definitely could be a stand alone title. But now I also want to read the other titles in the series!
Side note: Fans of "Anne of Green Gables" will love the varied references to her throughout the book as it takes place on PEI.
My rating: 4 of 5 stars
From its opening chapter, A Matter of Trust grabbed my attention and kept me wanting to turn pages. Fast-paced and well-written, I was eager to see how the story resolved.
High adventure, real danger, pasts colliding with the present, and learning that God doesn't love you based on your worth made this book a great read.
My only real "qualms" with the book were the fact that it was definitely a part of a multi-book series. At one point, I felt like a guest at a party where all the other attendees already knew one another as all of the main characters from the series were briefly introduced. And I struggled with the lack of solid ending as the book definitely laid tracks for the next in the series.
I'll definitely be looking for the other titles in this series to help fill in the gaps and continue the story.
My rating: 3 of 5 stars
The first couple chapters had me rolling my eyes due to the predictable set-up… the characters were staged in such a way as to alert the reader what was coming. But then it got interesting.
As I kept reading, I found myself guessing and re-guessing as to "who done it," and even up until the very end, I couldn't put all the pieces together.
Not having read the previous books in this series, I may have been missing some of the more subtle details that tied the series together, but I didn't realize it was part of a series until I was done reading. This definitely could have been a stand-alone title.
While I enjoyed this quick page-turner, I did feel it was missing some depth. I also felt it was too predictable in places while unbelievable in others. I got that the author was trying to introduce enough plausible plot possibilities, but sometimes I think it was more distracting than suspenseful.
My rating: 3 of 5 stars
Unfortunately, I picked up this title before reading book one in the series, and it was not meant to be a standalone title. I struggled through chapter one (very dry and felt forced), and halfway through chapter two I gave up trying to finish the book.
Since I wasn't able to finish reading the book, I have no idea if the story was any good. I never made it to the actual plot because the first chapter and a half that I read were all recapping the previous book (which didn't really help, and if you'd read the previous book would have been unnecessary to re-read).
Having read other books by Tracie Peterson, I am going to give her the benefit of the doubt and give this book three stars… I'm guessing it got better. It just wasn't a book for me, a busy mom with limited time to read.
---
*I received access to pre-release electronic copies of these titles for review purposes.