June was seriously a blur of chaos. Between school ending for the big kids, a last-minute road trip to Mackinac Island, a week of basketball camp during the day and VBS in the evenings PLUS intense house-hunting (we looked at eight houses in five days before making an offer on the first one we toured – and how we survived that crazy week, I'm not sure), I'm honestly surprised I had time to read at all. But when I checked my Goodreads account, I found that I'd finished eight books during the month!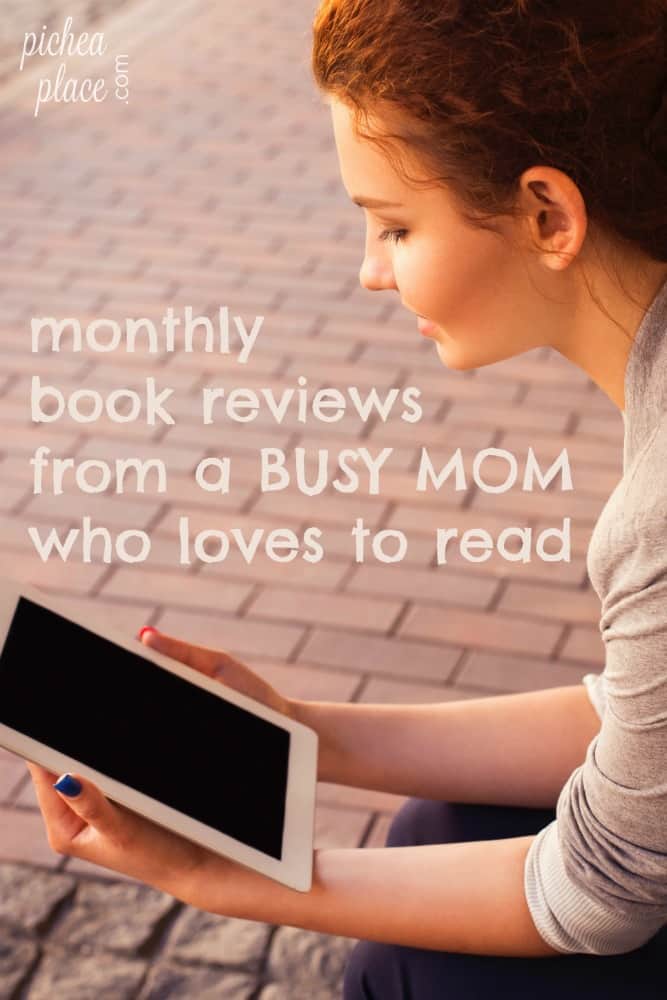 Here's what I read during the month of June… for previous months' books and reviews, visit A Busy Mom Reads: What's on My Bookshelf.
Truly Madly Guilty
[rated R for language and descriptions of intimate moments]
I had fairly high hopes for this title having enjoyed Big Little Lies, but I found myself disappointed. The first half of the book, I was wishing the author would hurry up and tell me what had happened. The second half of the book, I was wishing the author would hurry up and resolve the matter.
It was NOT a fast read, and I felt it dragged quite a bit.
Naomi's Hope*
As I first starting reading this book, I thought it was going to be an interesting but predictable plot. I was right on interesting but not so much on the predictability of the plot.
I didn't realize this book was part of a series until I reached the end and saw the notes from the author. That speaks highly to its ability to stand alone. And yet, there were times when I got a small glimpse into the lives of the supporting characters and wished I had the opportunity to learn more. I guess I'll have to go back and read the first two books in this trilogy!
The time period and location definitely drew me in, having lived in northern Indiana for several years and worked with many people who came from the Amish families who settled there. I've read many books about the Amish before, but not in a historical setting. It was interesting to read of their lifestyle in this earlier time period.
If you're a fan of historical fiction and/or are intrigued by the lifestyle of the Amish, you'll want to add this title to your summer reading list.
Under a Summer Sky*
When I saw this book was by Melody Carlson, I knew I needed to adjust my expectations. Unlike a lot of the authors I regularly read, her books tend to be a "lighter" read. And while it was definitely a lighter read, it was more substantial and enjoyable than I'd anticipated.
The characters felt like they were real people – they had depth and wee relatable. The circumstances they found themselves in seemed believable.
My one "complaint" is that the characters who professed faith were almost apologetic about their faith – as if they felt they needed to defend the fact that they wanted to pause and pray before a meal.
Overall, though, I enjoyed the story and would recommend it as a good beach read this summer.
Freedom's Price*
From England to Louisiana, Catherine Haynes finds herself on a journey to reconnect with her mother's estranged family who she's not sure even knows she exists. Along the way, God causes her path to cross several individuals who will change the course of her life.
Anytime I pick up a book by a new-to-me author, I find myself overly critical during the first couple of chapters – as of daring the author to entice me to keep reading. Christine Johnson met the challenge and immediately drew me into the story through her descriptive details and well-developed characters.
Every time I thought I'd figured out part of the plot, it would take a sudden (but believable) turn, and I'd be turning pages faster than before. I couldn't wait to find out how the details all played out!
I'm excited to have discovered a new author to read, and I'm looking forward to checking out the previous books in this series!
Ladies' Night
[rated R for language and descriptions of intimate moments]
I enjoyed getting lost in the mostly realistic but slightly embellished world of blogger Grace Davenport. When her picture-perfect life explodes in the blink of an eye, she is forced to take a real look at what her life had become and decide what is truly important in life.
As a blogger myself, I found myself able to relate to many of her work-related life challenges, and I enjoyed seeing "how she works," even if it was a fictional account.
Spring Fever
[rated R for language and description of intimate scenes]
Mary Kay Andrews is quickly becoming a favorite author as she does a great job of creating mostly realistic plot lines and characters with depth and relatability.
This was a super cute story, and I loved seeing how all the pieces fell together. When her ex-husband gets ready to tie-the-knot, Annajane thinks she's happy for him… after all, she's engaged to be remarried herself.
As the truths of the past are revealed, the characters find themselves seeing things in a different light. And as the secrets of the present are revealed, situations aren't always as they seem.
Grab a cherry-cola and enjoy this fun and easy read… perfect for your summer beach read!
A Family Shaped by Grace*
Though my own family is functional, I've seen the effects of dysfunctional families through my extended family and friends. It breaks my heart to see families that can't get along, for whatever reason, and when offered the chance to review "A Family Shaped by Grace," I jumped at the opportunity to (hopefully) learn how to prevent dysfunction in my own family.
Gary doesn't hide the family dysfunction he has experienced and caused. As he shares his own story of family redemption, he shares tools and truths that the reader can use in his/her own life.
One of the things that struck me as I read this book was the emphasis on personal responsibility. At one point, Gary boldly states, "We don't 'work on' people." All of the tools he shares are focused at the individual wanting to affect change, helping him/her to readjust his/her own behaviors and attitudes in such a way as to affect change in others.
Disclosure: I received a free copy of titles marked with an asterisk from Revell, a division of Baker Publishing Group, in exchange for an honest review.