Let's be honest – summer can be a crazy time of year. It can be difficult to balance daily schedules and routines each summer – to determine how much time your kids will spend outside playing versus inside staring at a screen. Getting a handle on kids' summer screen time can be a challenge, but when you've got a plan, you can make most of the screen time your kids get this summer!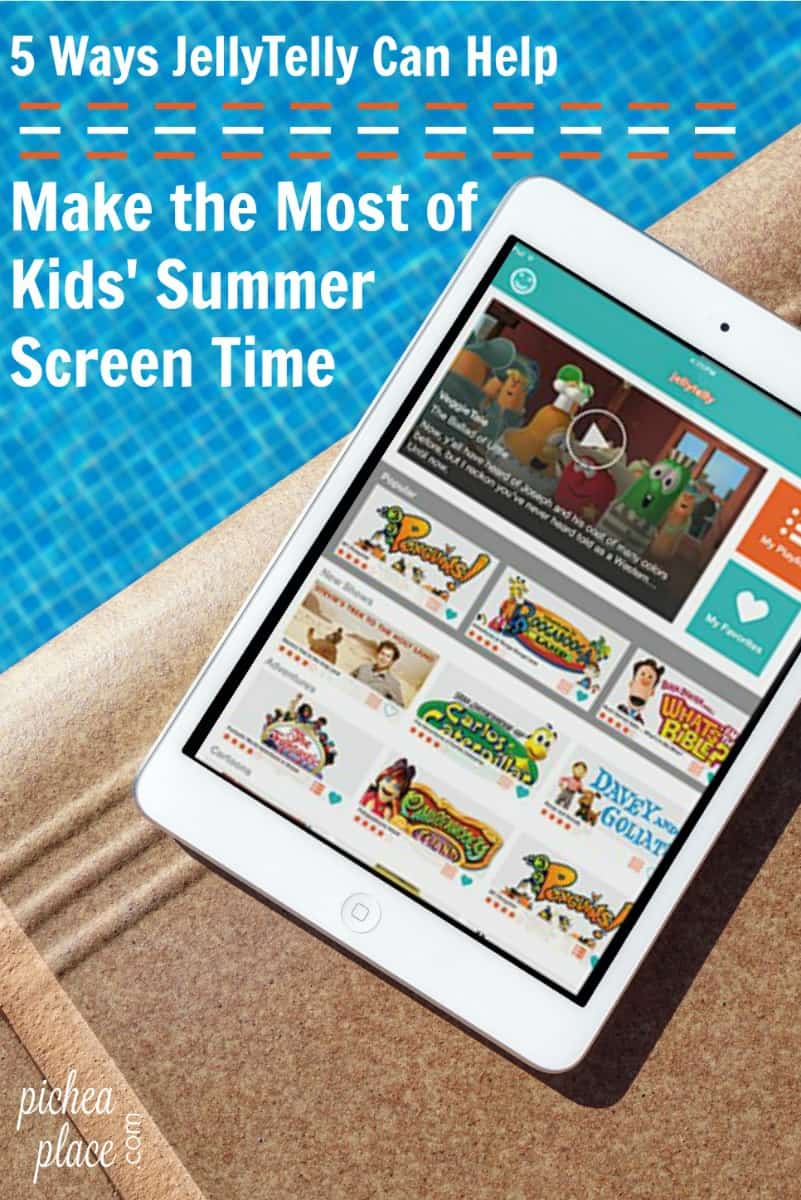 There are a lot of options when it comes to streaming shows for kids, but our family has come to love and appreciate the faith-based shows on JellyTelly. JellyTelly is a great resource to help families come together and have shared experiences, making the most of their kids' summer screen time.
5 Ways JellyTelly Can Help Make the Most of Kids' Summer Screen Time
1. With JellyTelly, kids' summer screen time can be faith-building time…
JellyTelly is an easy way kids can continue growing in their faith over the summer. Here's a great tutorial on how to use the 5 Minute Family Devotionals this summer.
2. With JellyTelly, kids' summer screen time can be character-building time…
Shows and movies on JellyTelly can jumpstart conversations about values you long to develop in your kids, like kindness. Over the summer, the JellyTelly blog is sharing a blog series of 3 Bible Stories centered around one character and sharing JellyTelly shows and movies based on the blog.
3. With JellyTelly, family road trips can be more enjoyable…
This is the year of road trips for our family, and JellyTelly has been a life-saver for passing time in the car. Especially the What's in the Bible? series! (Plus, the fact that Michael is on a road trip in the series? My kids love it!)
Allowing limited screen time in the car on long trips helps the time to pass more quickly. We try to keep the Kindles charged and packed in our travel activity totes.
4. With JellyTelly, kids' summer screen time can be cool-down time…
Have you spent the afternoon running around outside? Escape the heat for a bit, take a snack break indoors, and watch a show or movie together.
5. With JellyTelly, kids' summer screen time can be a reward…
One blogger has created a summer ticketing system where her kids get an allotted amount of tickets to put toward screen time over the summer. As a bonus, they get to earn extra screen time for reading or doing chores.
I need to implement a similar system with my kids – one where they have some freedom over their summer screen time but with a positive effect around the house. It's a great way to teach them to budget their time/money!
How can JellyTelly help you make the most of your kids' summer screen time?
To celebrate the beginning of summer and JellyTelly's recent Amazon app launch, I'm partnering with them for a giveaway! One lucky reader will win an Amazon FireTV Stick and a 6-month subscription to JellyTelly!!
[enter the giveaway using the rafflecopter form below]
This giveaway is being hosted by Pichea Place in partnership with JellyTelly. Giveaway entrants must be 18 years or older and have a mailing address within the 48 contiguous states. Winner will be drawn at random from all entries received and notified via email on 06/28/17. Winner will have 48 hours to claim his/her prize or the prize will be forfeited and a new winner will be drawn. By entering this giveaway, you agree to have your email address added to the Pichea Place mailing list.