Keyboard Classroom is no longer available. Visit Free Learn to Type Resources for Kids for a list of online typing resources for kids.
---
Having excellent keyboarding skills is a must in today's world. Without the ability to type well, individuals are going to struggle economically and (most likely) socially. Learning to type is an important part of every child's education, and I am excited to get Jenny started with Keyboard Classroom.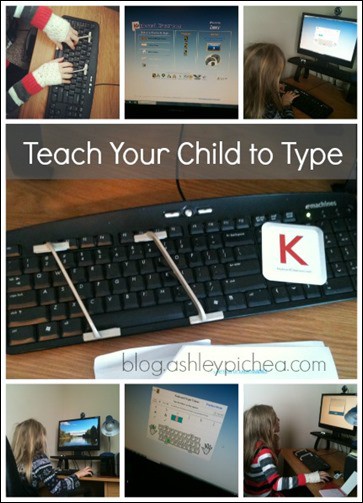 [Disclosure: I was sent a free copy of the Keyboard Classroom software and finger guides in exchange for my honest review.]
Searching for a Typing Software
I've been on the lookout for a typing software to use with Jenny for a few years. I knew I wanted something that wasn't online based (for internet safety reasons), as I wanted a program that she could do independently. I wanted a software that she would want to use, something that not only taught her how to type, but that had a built-in incentive and reward system that would encourage and excite her.
Discovering Keyboard Classroom
When I first learned about Keyboard Classroom, I was intrigued. The program was not internet based, it had a teaching system that rewarded with games (instead of using games to teach), and it included a set of finger guides to help the student keep his/her fingers on the home keys.
Having never used a finger guide, I was curious as to how it would work and if it was worth the investment.
I decided that this software was worth a closer look, so I agreed to do a review of the product to see if it would be a good fit for Jenny (and hopefully David and Christopher as when they are a bit older).
Teaching Typing with Keyboard Classroom
Jenny was so excited when I told her that she was going to be learning how to type this year. I got the finger guides set up and software installed on the computer, and she was off to the races.
The Keyboard Classroom software is easy for Jenny to navigate with the mouse, and once I showed her where to rest her fingers, she didn't need any help figuring out how to work her way through the program.
Jenny demonstrates her keyboarding skills and shares her thoughts on Keyboard Classroom.
There aren't "lessons" in Keyboard Classroom, which I thought was a bit "odd," but after watching Jenny work through the various levels of fluency (she's mastered several levels in just a few days), I'm really liking the setup.
There are three parts to each level of mastery that the student can access on day one – finger positioning (learning which finger to use to strike the key), word typing (combining several keystrokes into a 'word'), and typing sentences (typing longer sections of 'text' at once).
When a student completes an exercise in a set amount of time with fewer than the maximum allowed errors, they earn tokens. Jenny LOVES to earn tokens – she thinks it's "awesome." They can then use their earned tokens to play "games" in the arcade. This built-in incentive and reward system has been a great motivator for Jenny to do well in the various exercises.
Final Thoughts
I'm honestly really impressed with the Keyboard Classroom software. I'm surprised at how quickly Jenny has learned to type with the finger guides (they really work!) and that she is still wanting to "do keyboarding" several days later – the incentives are keeping her coming back for more!
I would highly recommend Keyboard Classroom for any student who is just getting started with learning to type or who is struggling with their typing skills. It's not just a typing software for elementary-aged kids – it's attractive keyboarding curriculum for all ages.