Teaching David often looks a lot less like doing school and a whole lot more like playing games. This was the case this morning as we worked on learning the names of the letters of the alphabet.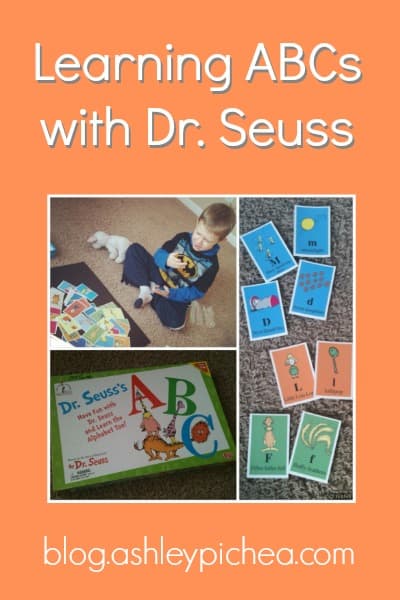 Related: Dr Seuss activities for kids
This morning, David asked me if I had time to play a game with him. Since I had Jenny already started on her schoolwork for the day, I was "free" to play with him. He grabbed one of his favorite games – Dr. Seuss's ABC Board Game.
We started by playing a few rounds of ABC Go Fish with the deck of cards included with the game, matching little letters and big letters in pairs.
It was fun to see how much he's progressed in his letter recognition over the past few months, as there were very few letters (little and big) of which he did not know the names.
We then moved onto the board game, taking turns moving our Seuss-creatures around the ABC maze, picking up cards along the way.
I had laid out the cards in pairs, and David often had to remember what the opposite letter (big or little) looked like in order to find the letter he had landed on.
As we played, I used a Now I Know My ABCs free printable checklist to make a note of the letter names/sounds that David knew. I've been worried that David wasn't learning the names and sounds of the ABCs, but today's game time proved me wrong!