Jenny and David have both become avid Lego fans in the last year, and we have loved learning with Legos this school year. As life has become less "stable," building with Legos has become a staple in our "intentional unschooling" season of life.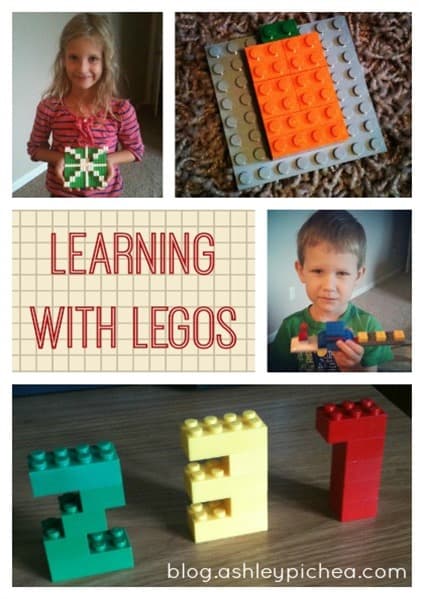 Learning with Legos: Following Directions
At first, our Lego learning was mostly focused on being able to follow the directions to build various sets of Legos. Jenny did well with this, but David would become frustrated when he couldn't figure out what piece to put where, and I would end up having to finish building his sets so that he could play with them. After watching Jenny and me put together several sets, David is beginning to be able to follow the directions to put together some of the more basic sets on his own.
Learning with Legos: Story Telling
The kids both love to use their Legos to tell a story. The minifigs are like dolls around our house – constantly "changing clothes" and playing different roles in the various stories the kids use them to act out. From superheroes saving the day to family members sharing a meal together, the minifigs and bricks have become a great way for the kids to stretch and grow their imaginations.
Grab a free "Create Your Own LEGO Mini-Fig" printable from Homegrown Learners!
Learning with Legos: Replication and Design
Last month, my friend Stef and her son Jake released an eBook, Fall Brick Activities. I grabbed a copy, thinking it might be fun for the kids to check out and try to replicate some of Jake's designs with their Legos. Little did I know that it would not only become one of their favorite eBooks on my iPad, but it sparked a brand new dimension of learning with Legos at our house.
After mastering each of Jake's designs in the eBook, Jenny and David began to dream up ways to improve on the designs and then began to design their own fall-themed creations. I could not believe the details and creativity that they came up with after looking through the Fall Brick Activities eBook.
This week ONLY, you can grab the Fall Brick Activities eBook for ONLY $.99! And while you're there, use "BeMerry" to save $1 off Stef and Jake's new eBook, Winter Brick Activities!!
Learning with Legos: On the Road Again
Thanks to our handy-dandy Lego traveling totes, we're able to take all of our Legos on the road with us as we travel back and forth to Michigan each week, getting some learning in even when we aren't working in our textbooks and workbooks!
Do you use Legos for learning at your house?