I had gotten a "sneak peek" of Love Unexpected by Jody Hedlund a few weeks ago when I read the prequel, Out of the Storm (FREE at the time of publishing this post), on my Kindle app, and I was eager for the book to arrive. It didn't disappoint!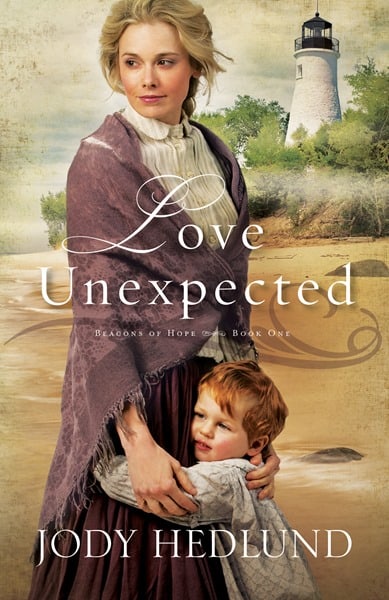 What Is the Secret That Could Shipwreck Both of Their Lives?
All Emma Chambers ever wanted was a home, but when her steamboat sinks just outside Presque Isle, she's left destitute and with no place to stay.
An unlikely solution arises when the lighthouse keeper arrives in town. He's just lost his wife and is having a difficult time caring for his child. So a traveling preacher gets the idea that the keeper and Emma might be the answer to each other's dilemma. After a hasty marriage, she finds herself heading to the lighthouse with this handsome but quiet stranger. Nothing in her aimless life, though, has prepared her for parenting a rambunctious toddler, as well as managing a household.
Emma soon suspects Patrick may be hiding something from her, and then she hears a disturbing rumor about the circumstances surrounding his late wife's death. It seems as if her wish for a home and family of her own could end up leading her once more into turbulent waters.
Jody Hedlund has become one of my favorite authors, and Love Unexpected (book one in the Beacons of Hope series) did not disappoint. It was easy for me to "get lost" in the story, relating to the main characters and cheering them on as they found themselves falling in love despite the circumstance in which they found themselves.
One of my favorite parts about reading a new book by Jody Hedlund is that I get to learn something new about my favorite state – Michigan! This book is set in 1859 on Presque Island. The main male character, Patrick, is a lighthouse keeper on Lake Huron. I love learning new facts about the history of Michigan, specifically the east side of the state (as most of Jody's books are based on that side of the state).
If you enjoy historical fiction and quality romance, you will love Love Unexpected!
—
Disclosure: I received a free copy of Love Unexpected from Bethany House Publishers in exchange for my honest opinion. Get your copy from Amazon.com or your favorite bookseller today!