As Christmas approaches, the age-old debate of whether or not to include Santa Claus in the celebration of Jesus' birthday comes to the forefront once again. Should we be saying "Merry Christmas," "Happy Birthday," or "Season's Greetings" on December 25th?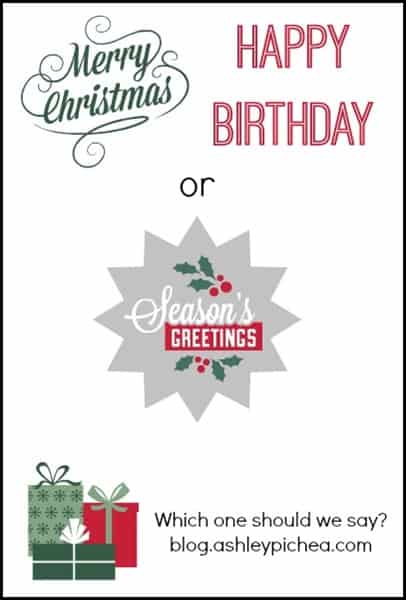 Right up front, I want to be clear: I am not judging you nor will I allow you to attack our decision – this is simply what our family has chosen to do in regards to Christmas. I believe that each family must make a prayerful decision about how they will deal with this age-old question.
Merry Christmas
Not having grown up with Santa, it was a bit of a no-brainer for me that my kids weren't going to believe in Santa. I honestly didn't feel like I'd missed out. My husband had grown up with Santa, but he and I were in agreement that we didn't want the focus of December 25th to be a jolly fat man dressed in red.
We don't hide Santa from our kids – in fact, he is regularly a part of our holiday conversations – but we don't focus on him and our kids have never believed that he is real or received gifts from him.
[If you are looking for a way to introduce your kids to the "real Santa," I recommend reading, "Santa, Are You For Real?" to them.]
Happy Birthday
Even though we know that December 25th is not the actual date of Jesus' birth, we choose to join with the rest of the world in celebration of His birth during this time of the year.
One way that we do this is by throwing Jesus a birthday party. Each year, we make a cake and sing "Happy Birthday" to Jesus on the Wednesday prior to Christmas – this is a tradition that my family started when I was young, and I've enjoyed passing it along to my children (and they eagerly look forward to it every year)!
Another way that we celebrate Jesus' birth is through studying the passages of Scripture that talk about the birth of Jesus.
We love Grapevine Studies for kid-friendly Bible studies, and the five-lesson study on the Birth of Jesus is perfect for this Advent season…

We recently worked our way through the traceable edition, and both Jenny and David enjoyed the "early" start to the Christmas season as we reviewed the Birth of Jesus and built on the foundation from years' past.

I loved that the study was only five lessons… this allows me to have some extra flexibility during this busy time of year. We can devote one week (five days) to doing the study, or we can spread it out over a five week period!

Download your copy of the Birth of Jesus study from Grapevine today!
Season's Greetings
Anticipating the celebration of the greatest Gift ever given to mankind… that's what we try to make the holiday season about at our house. Even Santa [St. Nicholas] understood that without Jesus there is no Christmas.
So we say, "Happy Birthday, Jesus!" and "Merry Christmas to You!", remembering that our "Season's Greetings!" are meaningless without the Reason for the Season!