When a trip to the grocery store requires me to take all four of my kids (from 16 months to 10 years) with me, I prefer to do it as infrequently as possible. That's why I try to do most of my grocery shopping in bulk. My once-a-month grocery shopping trips at Aldi do a pretty good job of keeping our family of six fed for 4-5 weeks at a time.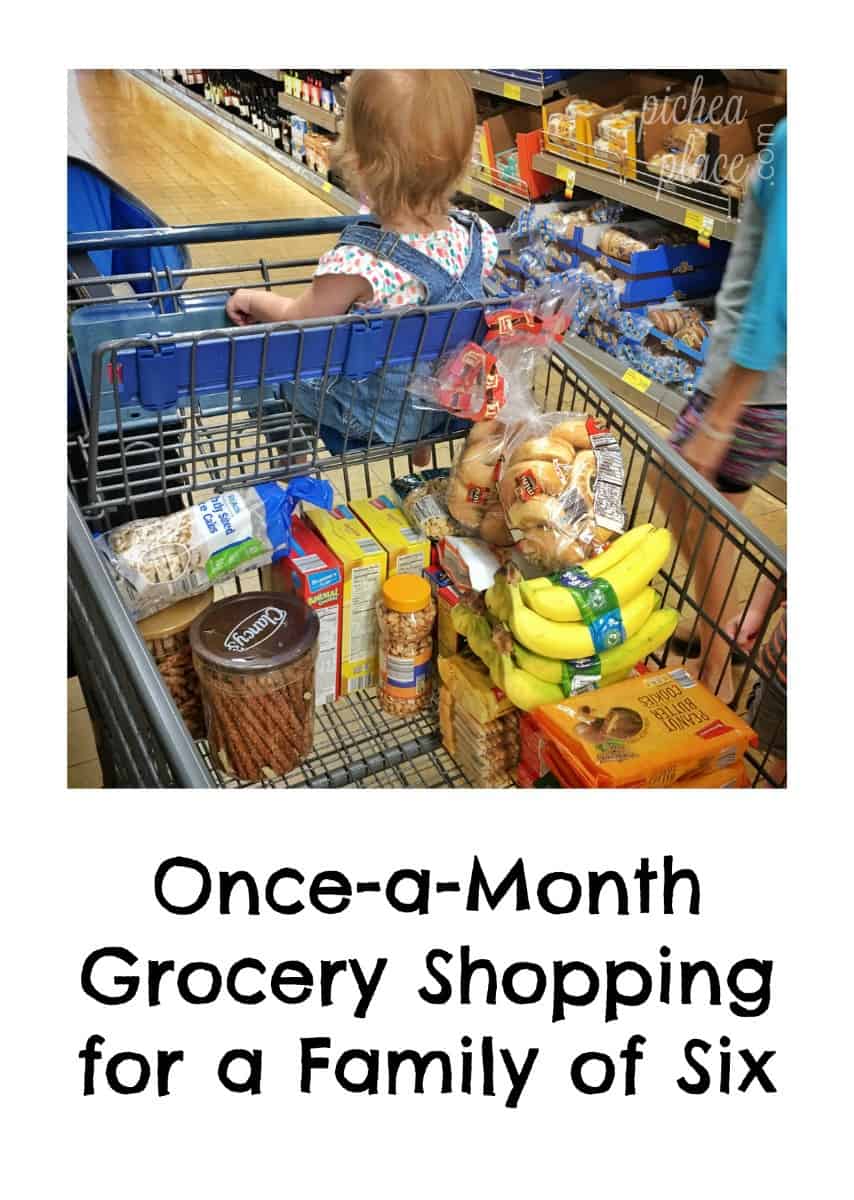 After I posted a photo of my recent Aldi grocery shopping trip, I was asked why I love Aldi so much. It was difficult to choose just one reason, and I was glad when my friends jumped in and shared their love of Aldi, too!
"You'll save LOTS of money. We do 80% of our shopping there. Their own brand of items are wonderful. The store in [our local town] only has 5 aisles and once you learn where things are you can get in and out in a jiffy. Just make sure you keep a quarter in your car for your cart!"
"My biggest draw is the prices – I get the same prices (or better) than if I spent hours couponing.
"And it's SO much faster! Without the 6 options for every item you really can get in and out in 30 mins."
It's true – I save time and money every month by purchasing the bulk of our groceries at Aldi!
Once-a-Month Grocery Shopping Trip for a Family of Six Recap
One of the "perks" of being a work-at-home, homeschooling mom is that all my kids are with me all day every day. Since we're already out of the house two mornings a week, I try to schedule all of our errands during those days. Thus, all four kids get to join me at Aldi.
Last month, we were smart and grabbed two carts. This month, I didn't think we were going to need a second cart, but halfway down the first aisle, I wished we'd grabbed one. By the time I reached the checkout, my cart was overflowing and stuff was hanging off it!
Here's what I bought this month…
The kids went a little crazy on the snack aisle, but it was almost lunchtime, so we were a bit hungry. Thankfully, I've been able to keep their consumption of the snacks "normal," and we hopefully won't need to purchase nearly as many snacky foods next month.
This (plus what was left in our pantry/freezer) should feed our family of six for about four weeks. My husband doesn't eat lunch at home during the week, but otherwise, we generally feed six people three meals a day, seven days a week (with an occasional meal out). We'll make a couple quick stops at Meijer throughout the month to grab fresh produce and whatnot.
For previous months' grocery shopping trip recaps, click on the links below:
And be sure to check out Easy Meals for Busy Families to find lots easy recipes and meal planning resources for feeding your family!