There's a coveted recipe that has been handed out at every bridal shower in my family for years… it's one that each woman in the family has "altered" to make her own, and it's one that makes her cookies famous and much desired.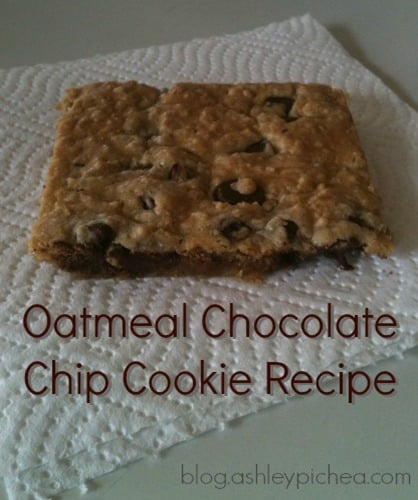 I grew up knowing it to be called, "Aunt Joan's Chocolate Chip Cookies Recipe," as that was the title handwritten on the recipe card in my mom's cookbook that she had received at her bridal shower.
At my bridal shower, I got my very own copy of this famous family recipe, and I quickly set out to make the recipe "famous" among my friends. There's just something about this recipe for chocolate chip cookies that sets it apart from all other chocolate chip cookie recipes.
About a year ago, I realized that the recipe was missing. I searched high and low for it, but it was nowhere to be found. Thankfully, I had a copy of "Esther's Chocolate Chip Cookie Recipe" which was one of the alterations of the original (Esther is Aunt Joan's daughter), so it became my new "go-to" recipe when I wanted chocolate chip cookies.
Funny Fact: This recipe has been the demise of many a hand-mixer in our home. I have probably burnt out half a dozen low-budget hand mixers since we got married. I finally found a hand mixer that can stand up to the task of mixing the ingredients in these cookies… and even my kids can use it without trouble!
Well, last month when I was packing up our kitchen to move, I decided to thin out my recipe collection since I rarely ever use most of the books I've collected over the years. As I was sorting, I found several recipe cards tucked into a folded sheet of paper… and one of those cards contained Aunt Joan's Chocolate Chip Cookies recipe!!
So this morning, when I decided that it would be a great day to make cookies with the kids, I pulled out my copy of Aunt Joan's Chocolate Chip Cookies recipe and began to concoct my personal alternative recipe: Oatmeal Chocolate Chip Cookies.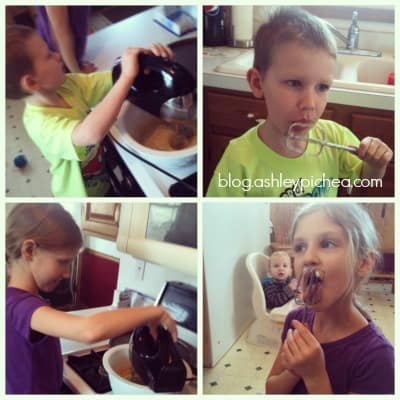 Oatmeal Chocolate Chip Cookies Recipe
Beat together the following ingredients in a large bowl:
3/4 c sugar
3/4 c brown sugar
1 c shortening
3 Tbsp water
3/8 tsp vanilla
3 eggs
Add and mix well:
1-1/2 tsp baking soda
1-1/2 tsp salt
1-1/2 c chocolate chips (semi-sweet)
Mix in:
1-1/2 c oatmeal
2 c all-purpose flour
Drop by teaspoon on ungreased cookie sheets about 2 inches apart. Bake in 375 degree (Fahrenheit) oven for about 10 minutes, or until very lightly browned on top. Yields 3-4 dozen cookies.
**I'm lazy and like to speed up the baking process, so I make cookie bars by dividing the dough between two cookie sheets (I use coconut oil to grease the pans) and spread it thin. Then I bake it for 12-15 minutes at 350 degrees, or until lightly browned on top.**
Do you have a special family recipe that gets handed down through the generations? Do you enjoy cooking with your kids?