At least once a week, I meet my kids at the bus stop and whisk them off to an extracurricular activity. This means that they don't have a chance to stop at home for an after-school snack, so I decided to make a #SnackAndGo box to keep in the van: a box full of car-friendly snacks to hold them over until we get home and I can make and serve dinner. #CollectiveBias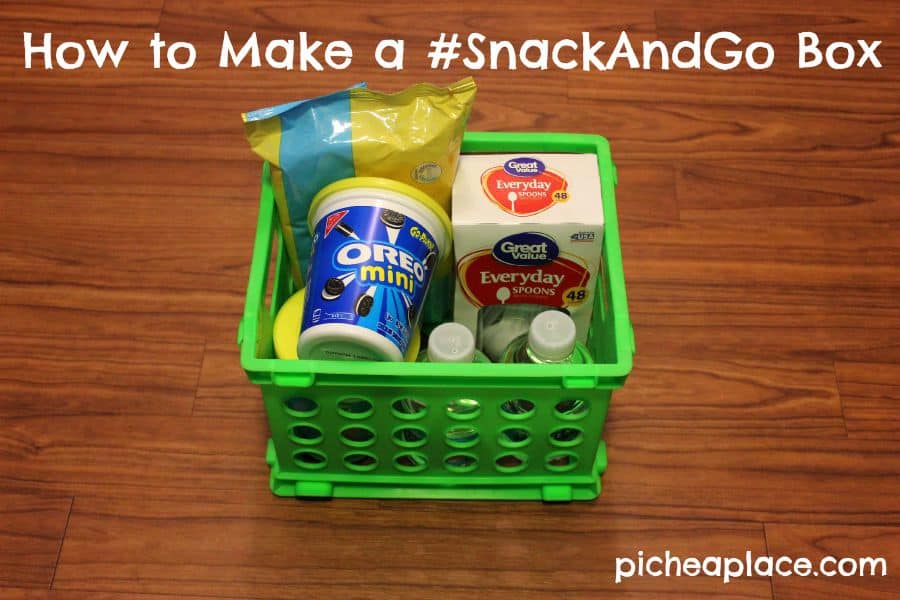 Making an on-the-go snack box wasn't too difficult. I simply looked around the house to pull together items I already had, and I made a quick stop at Walmart to pick up a few additional car-snacking essentials.
How to Make a #SnackAndGo Box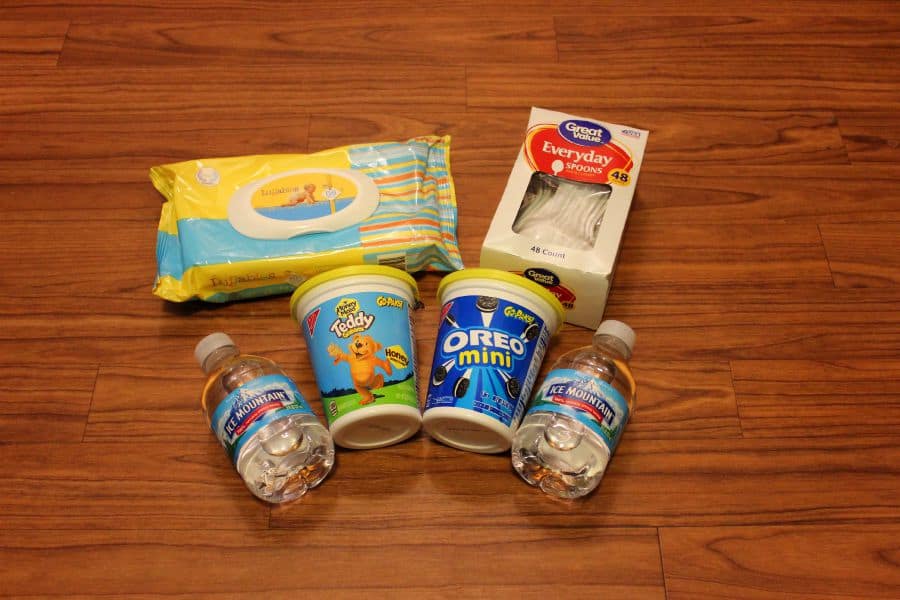 1. Find a box to hold your items.
I had picked up a few extra cube totes for $1 each at Walmart when I went back-to-school shopping last month. It's the perfect size for keeping in the car with a few on-the-go snacking options for after school.
2. Gather your non-food items.
In our #SnackAndGo box, I included a pack of baby wipes (to wash hands before snacking and in case of a mess) and a pack of disposable spoons.
3. Pack some hydration essentials.
While the kids each carry a reusable water bottle with them, there are many days when they get off the bus with an empty bottle. I picked up a case of disposable 8oz water bottles to have on-hand when they need a drink and are out of water.
4. Grab some yummy snacks.
I found these NABISCO Go-Paks! in the checkout lane for only $1 each while I was at Walmart last week. With their re-sealable plastic packaging and multiple varieties, they're the perfect car-friendly snack for after school snacking:
NABISCO Go-Paks! TEDDY GRAHAMS Honey Graham Snacks
NABISCO Go-Paks! RITZ Bits Cheese Cracker Sandwiches
NABISCO Go-Paks! Mini NILLA Wafers
NABISCO Go-Paks! Mini OREO Chocolate Sandwich Cookies
NABISCO Go-Paks! CHIPS AHOY! Mini Chocolate Chip Cookies
NABISCO Go-Paks! NUTTER BUTTER Bites Sandwich Cookies
NABISCO Go-Paks! Mini OREO Golden Sandwich Cookies
I grabbed several of the Mini OREO Chocolate Sandwich Cookies Go-Paks! as well as some TEDDY GRAHAMS Honey Graham Snacks Go-Paks! for our #SnackAndGo box.
5. Toss in a trash bag.
I forgot to add these in before I took pictures, but you can throw in your plastic Walmart shopping bags as a convenient option for disposing of any trash when you get to your destination!
Getting Creative with Go-Paks!
While the Go-Paks! are perfect for snacking in the car, I decided to grab a few additional supplies to turn them into a fun after-school snack at home, too!
While I was at Walmart, I grabbed some Snack Pack® Pudding Cups (in chocolate and vanilla) and Reddi-wip Original to create some "on-the-go" dirt cups that are perfect for snacking at home or on-the-go.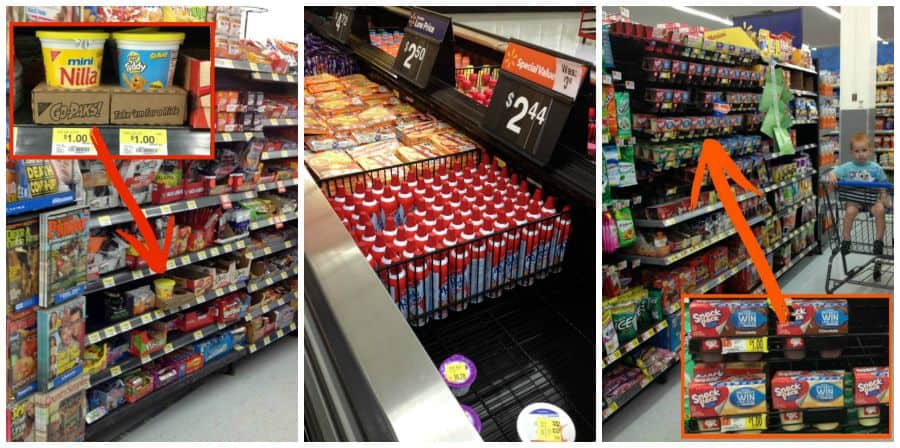 [I found the Snack Pack® Pudding Cups in the candy aisle, and the Reddi-wip Original was in a "featured item" cold case in the dairy section.]
How to Make Dirt Cups
1. Gather your ingredients.
I used Chocolate Snack Pack® Pudding Cups, NABISCO Go-Paks! Mini OREO Chocolate Sandwich Cookies, Reddi-wip Original, and some sour gummy worms I had on-hand.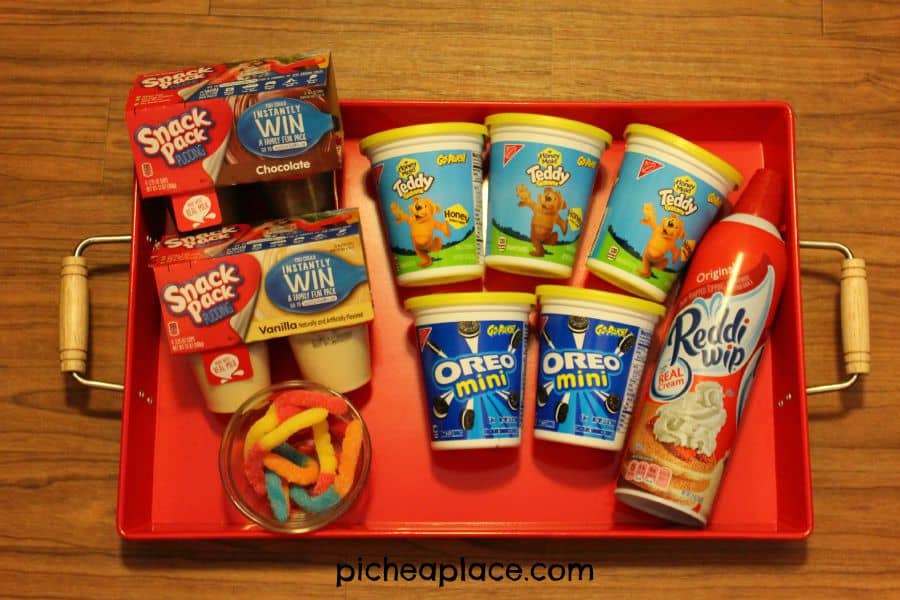 2. Open the Go-Paks! and stir in the chocolate pudding.
Thanks to the plastic container, it's easy and fairly mess-free to combine the pudding and mini OREOs together in the Go-Paks!
3. Now that you have your "dirt," add your "extras."
I added a few sour gummy worms to my dirt cup, and topped it off with Reddi-wip Original.

4. Eat or refrigerate.
If you're serving your dirt cups right away, just add a spoon and enjoy! If you need to wait to enjoy your special treat, you can put the lid back on the Go-Paks! and store your snack in the fridge for later.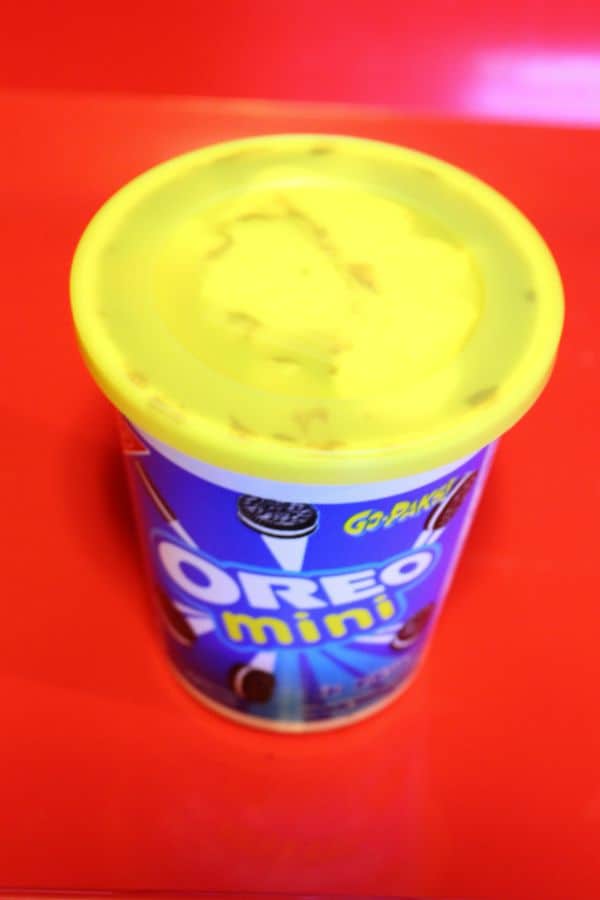 What fun mix-it-up creations made with NABISCO Go-Paks! would your kids like?