Living in an apartment complex means we can't plant our favorite garden vegetables in the ground, but my kids LOVE gardening (and it provides so many great learning opportunities), so we're growing a garden in containers on our balcony this year. If you're new to container gardening, here are the top ten plants that grow well in containers and are kid-friendly…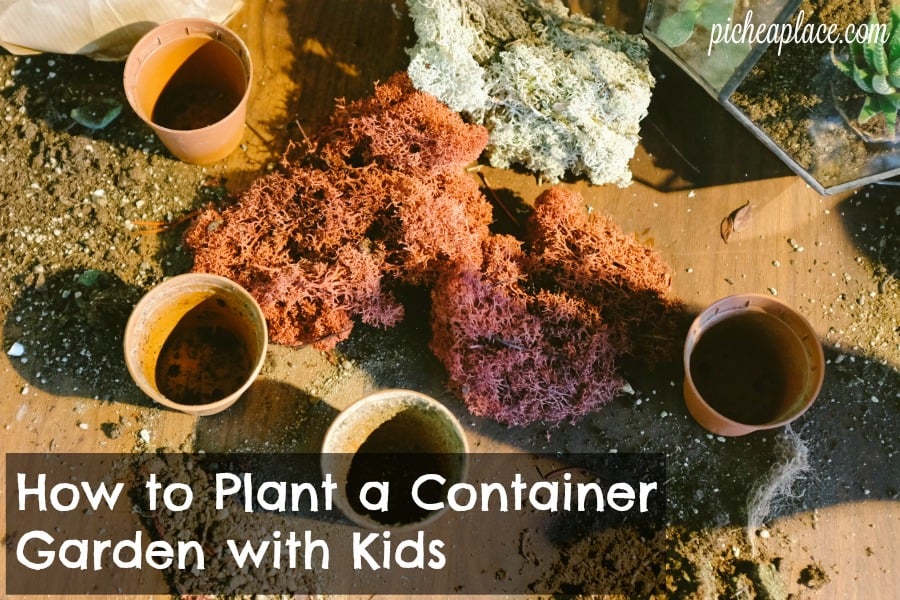 10 Plants to Grow in Containers with Kids
Tomatoes
Tomatoes are probably the most popular choice for growing in containers. Tomatoes are easy to grow – they can even be done from a hanging container and grown upside down. Using good soil and the right amount of water is all that's needed to make tomatoes grow well in containers.
Potatoes
You can grow a large amount of potatoes in containers like compost bags or a large tub. I love this idea for easy access for harvesting potatoes without disturbing the plant itself –> How to Make a Potato Pot.
Cucumbers
These are easy to grow in containers, but they need the right conditions. They grow best in warm temperatures so don't plant them until early summer for best results.
Carrots
Carrots are so simple to grow and do really well in containers, making them a great starter vegetable to grow with children. Just be sure to space the plants out in the container to allow room to grow.
Blueberries
Blueberries grow well in containers, but only with the right conditions. They ripen best in higher temperatures so save them for the warmest summer growing season. Blueberries require rain water, so grow them outdoors unless you are able to collect the rain water in something – they won't do well with tap water.
Parsley
Parsley is great plant to grow in a window box. It takes a while to germinate and requires heat, so be sure to take this into account when determining if it's a good fit for your kids to grow. Also, be sure to use a rich soil.
Basil
Put basil in the window box with parsley, but be warned: this does not do well at all with cold. Basil has a few weeks' germination time, so it grows quicker than parsley.
Growing both basil and parsley together can create a fun science experiment for your kids – have them make predictions about which will grow faster, and have them record plant growth over time!
Radish
This is probably the easiest vegetable to grow in a container. Most kids (at least mine) have never had a radish before, so growing them will be a great way to introduce this root vegetable into their diets.
Lettuce
Lettuce is a great plant to grow in containers. Water it in the morning, make sure it is kept in the shade, and you'll have a quick and easy plant in a container in no time.
Flowers
It doesn't have to be just fruits and vegetables that you plant in containers. Potted plants such as geraniums, petunias, mums, and sunflowers are great in a pot and something kids will love to help cultivate.
Have you planted a container garden with your kids before?
Planting anything with kids can be a lot of fun and very educational. Planting a garden together can also be a great way to get kids to eat more vegetables. Letting kids get their hands dirty and eating the food they grow is a huge incentive for even the pickiest of eaters.
Start simple – just pick one or two plants to grow – and don't let a lack of space keep you from planting a garden with your kids this year!