This shop has been compensated by Collective Bias, Inc. and its advertiser. All opinions are mine alone. #SummerCarCare #CollectiveBias
I'm not one of those "minivan moms" who lets her vehicle become a mess. I'm pretty anti-mess, actually… which, when you have four kids, isn't an easy thing to be. But I am, and my minivan is no exception. So when it becomes a mess (because, with four kids, it's just a matter of time before it does), I need to have a plan to keep my car clean without spending a ton of time and energy to do so.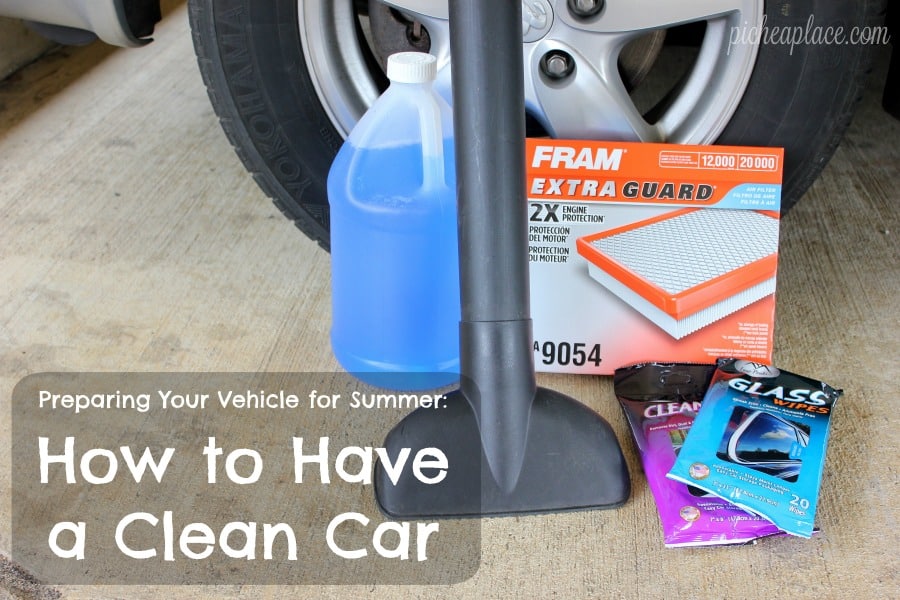 With summer coming soon, I know we'll be spending a lot of time in the van as we drive around town and go on fun day trips (like to the zoo or the beach), so I spent an hour or so a few weeks ago getting my van cleaned up and ready for the summer.
Step One: gather your supplies
I made a quick stop at Walmart to pick up some supplies for both cleaning the inside of my van as well as making sure I was prepared for a summer of road trips under the hood, too:
windshield washer fluid
cleaning wipes
glass wipes
small plastic tote
Step Two: change the air filter
Did you know? A clean air filter improves airflow and prevents dirt and dust from entering and damaging the engine! Having a clean engine is even more important to me than having the inside of my van clean and tidy – it means increased acceleration, horsepower, and improved overall engine performance.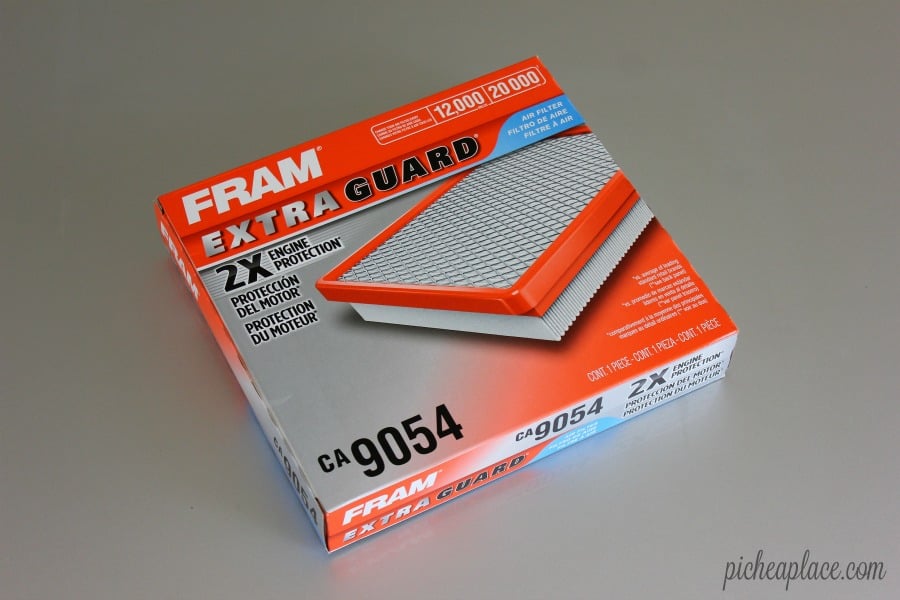 Don't be overwhelmed by the air filter aisle at Walmart – it's actually quite simple to navigate. If you know the make and model of your vehicle, as well as your engine type, you can easily identify the compatible FRAM Extra Guard Air Filter for your vehicle using the catalogs in the aisle. Then it's just a matter of finding the correct package.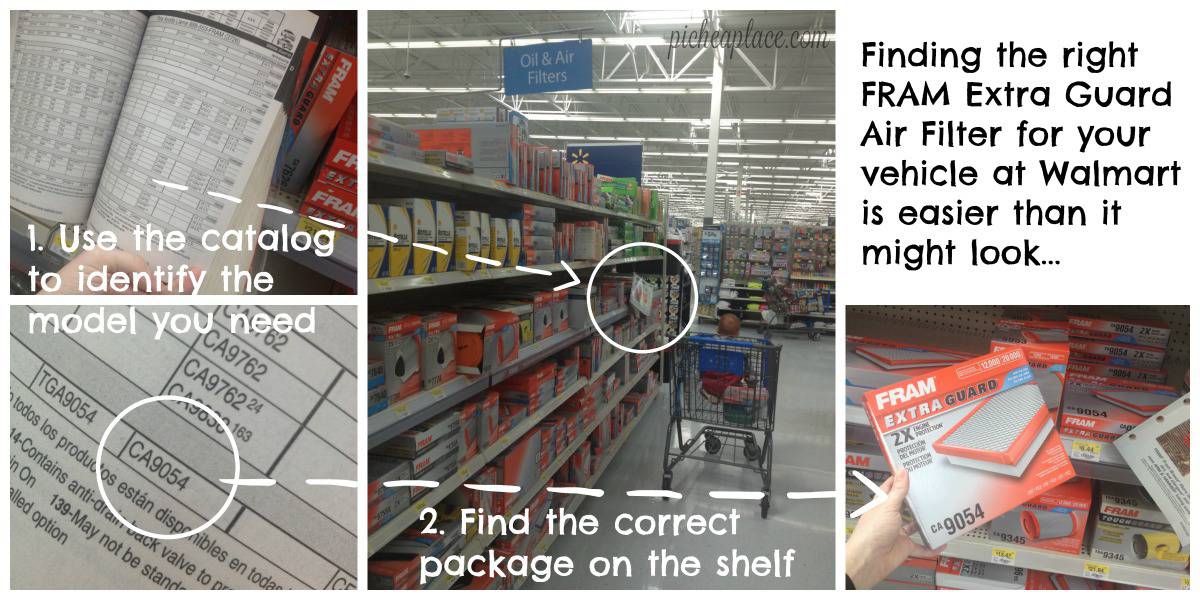 And changing your air filter is a simple task that even a busy mom who knows very little about vehicles can do – it took me less than five minutes!
Identify where the air filter is located under the hood of your vehicle.
Open the compartment (using tools if necessary) and remove the old air filter. [My vehicle had two metal clasps holding the compartment together, and I was easily able to unhook them by hand.]
Remove the old air filter and replace it with the new air filter.
Close the compartment.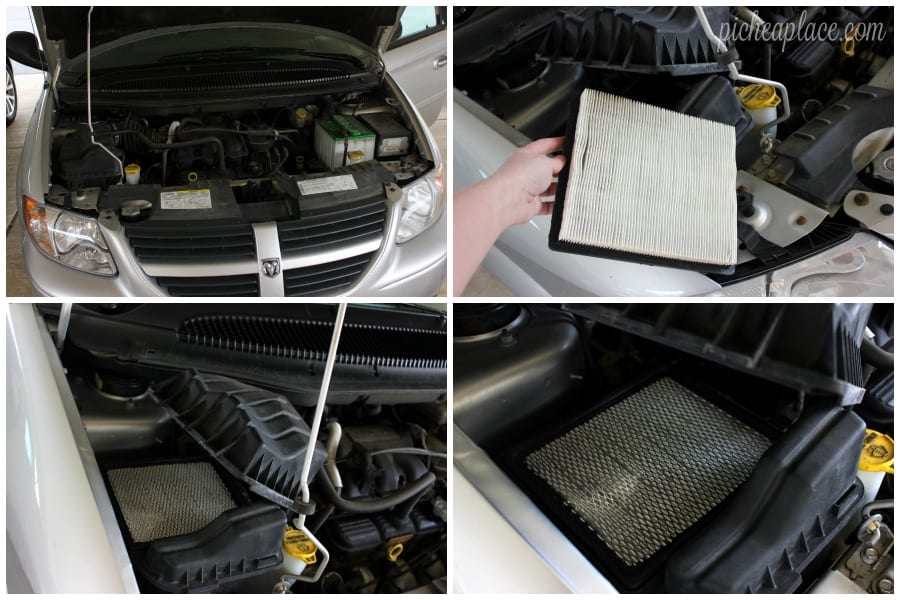 Step Three: fill the windshield washer fluid tank
While you're under the hood, be sure to top off your windshield washer fluid tank. Summer time means lots of dead bugs on the windshield (at least in Michigan), and you don't want to find yourself driving down the highway without an ample supply of windshield washer fluid to help clear said bugs for the best visibility possible.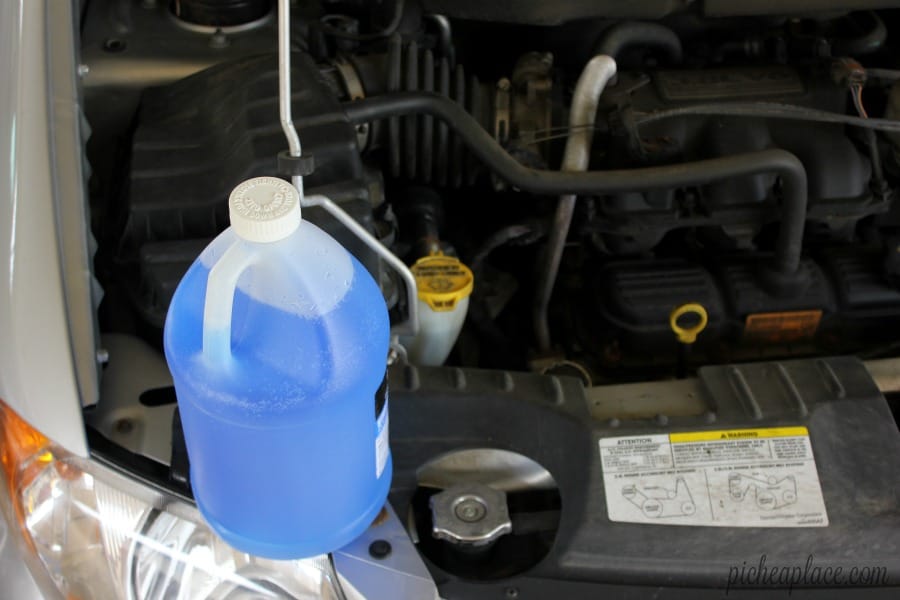 Step Four: clean the inside of the vehicle
The first thing I do when cleaning out the inside of my van is to remove all the clutter and trash. If you're a busy mom like me, you know how quickly this can accumulate with kids.
Tip: I aim to do a clutter/trash removal at least once a week during the summer to keep the car from becoming a mess.
Next, using the cleaning wipes and glass wipes I picked up at Walmart, I wipe down all the hard surfaces on the inside of the van.
Tip: This is a great task to have kids help with – my 2yo loves helping me wipe down the windows and doors!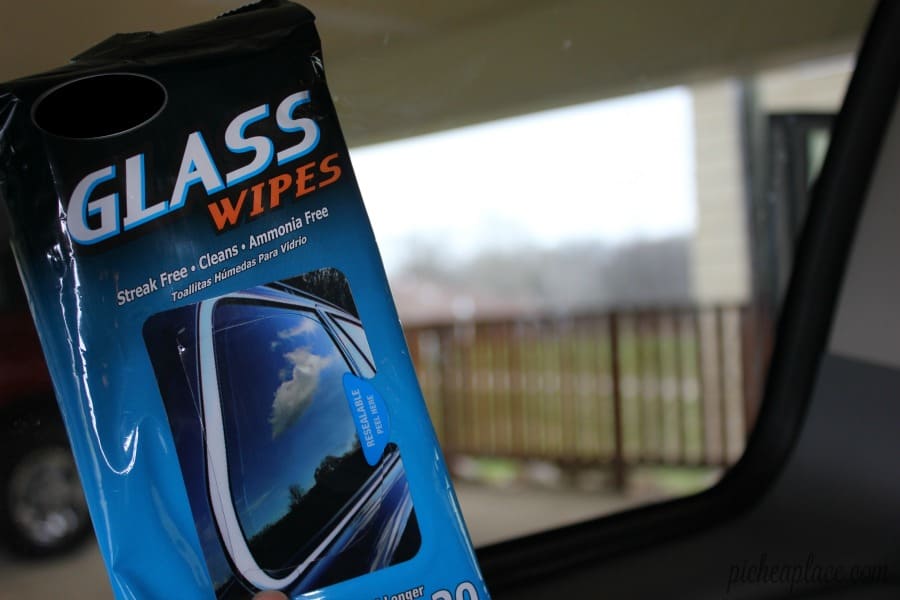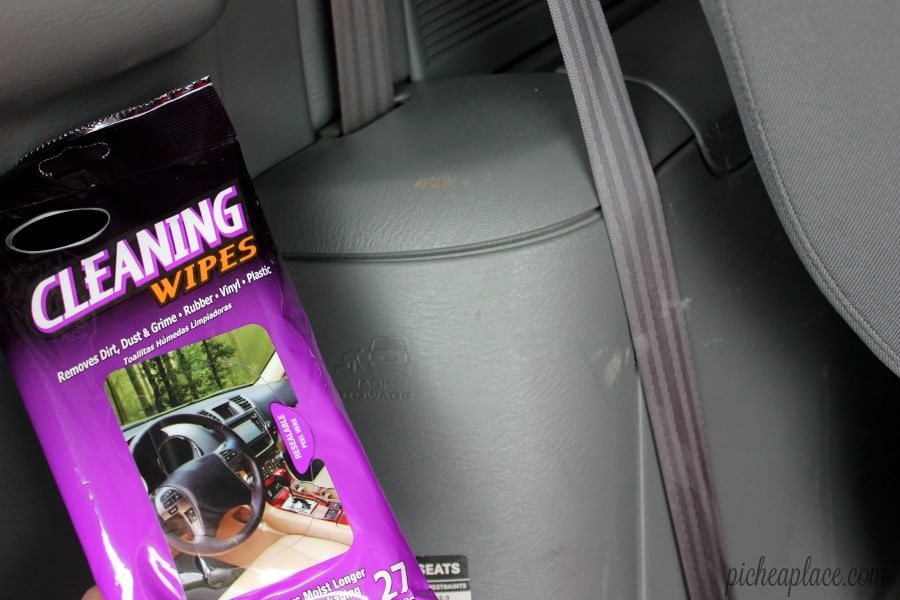 Lastly, I grab the ShopVac and vacuum out the entire van. It's amazing how quickly dirt, sand, and crumbs accumulate throughout the year, but especially during the summer months when we travel more often. I think I might invest in a smaller ShopVac this summer to keep in the van to help keep messes cleaned up more regularly, but currently I try to make a point to vacuum the van at least monthly.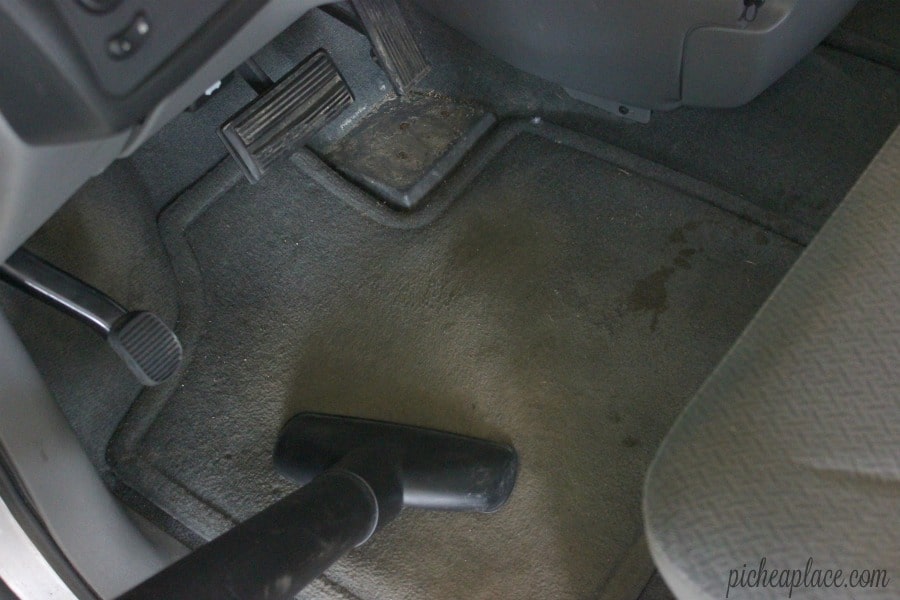 Step Five: create a car cleaning kit
Once my van is cleaned up and ready for the summer, I take my leftover cleaning supplies plus a few plastic grocery bags (for trash) and microfiber cloths (for cleaning up spills) and put them in a small plastic tote to be kept in my trunk for future cleaning. By having the cleaning supplies in the van, I'm much more likely to take ten minutes once every other week (or as necessary) to wipe down all the hard surfaces and declutter the vehicle, helping to keep it clean all summer long!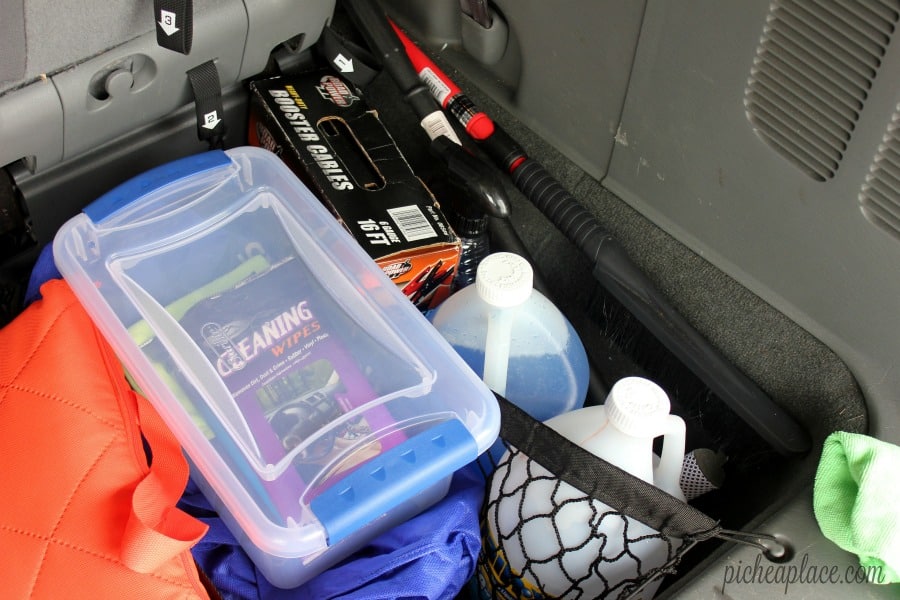 How do you prepare your vehicle for summer?
Do you have a car cleaning kit in your trunk? When's the last time you "got under the hood" to change your air filter and fill your windshield washer fluid tank? Are you an "anti-mess mom" like me or do your friends cringe when they ride in your vehicle?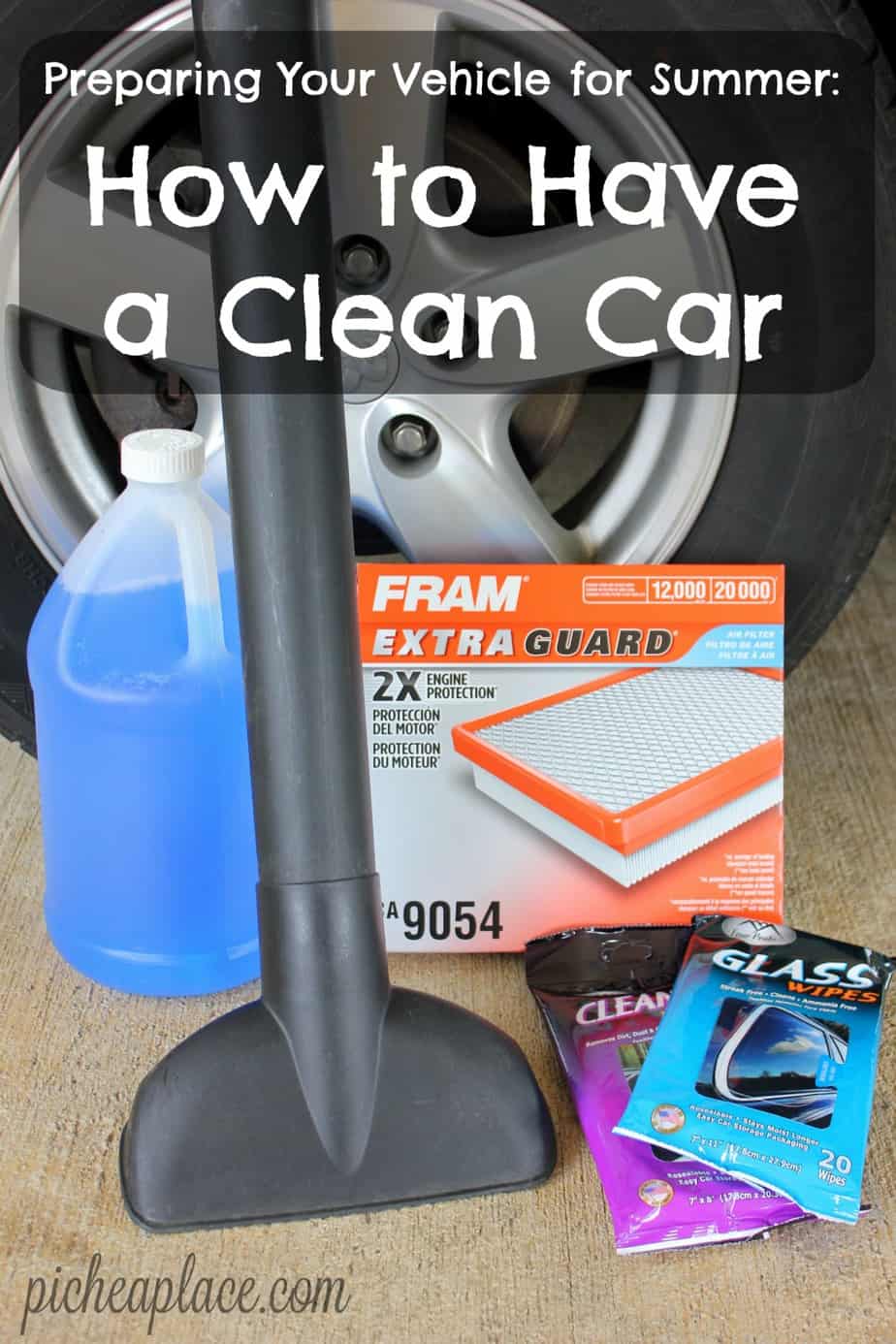 Other Car Organization Tips: