Breakfast is the most important meal of the day… and often the most neglected. Evidence suggests that your body and mind will suffer unless you have a healthy breakfast each morning. (And no, a bowl of that sugary cereal you love doesn't count.) If you take a few moments to plan ahead, it isn't difficult to eat a quick and healthy breakfast each morning of the week.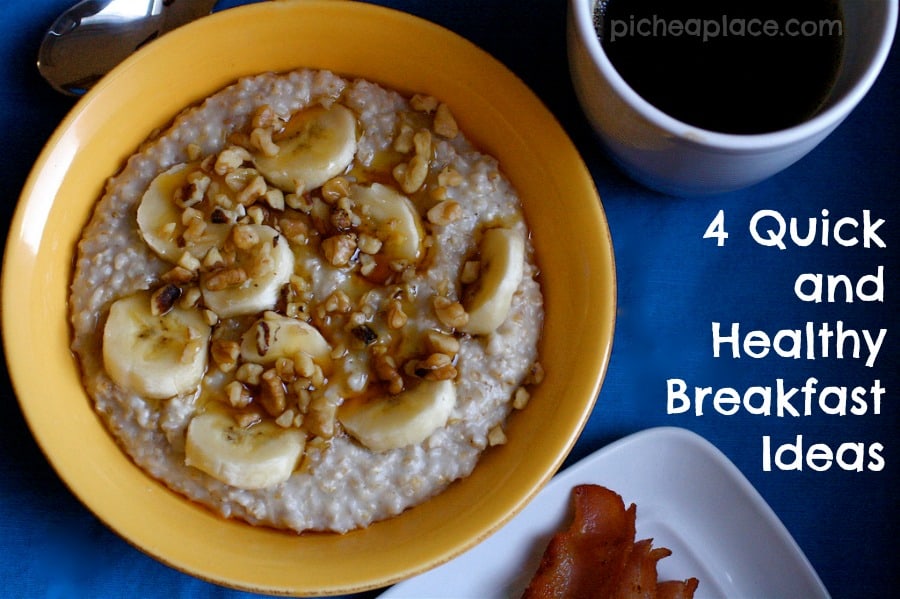 You spend six to eight hours sleeping.  After that time, your body needs fuel to keep going.  Without breakfast at home, your options for on the run nutrition may amount to too much fat, too much sugar, and too many carbs.  And, that convenient run to the fast food joint is not as convenient and time saving as you think if everyone else has the same idea.  The fifteen or twenty minutes spent in line could have been used to fill your belly with something good at home.
If you are the type to skip breakfast, here are four quick and healthy breakfast ideas which will help you keep hunger in check as well as give you the natural energy boost to start your day.
1. Oatmeal
This food makes a good hot meal that contains lots of filling fiber to keep you from getting hungry later on in the morning.  Depending on your taste, you can take five minutes to fix it on the stove or use the microwave for instant oatmeal.  Kids tend to like the variety of flavors that come with instant oatmeal.  The night before, put together a container of add-ins like blueberries, strawberries, and bananas that can be tossed on top for a bit of antioxidant power.
We like to make a baked oatmeal that you can eat throughout the week.
2. Fruit smoothies
These are good any morning but particularly on a hot day.  You'll have to blend the ingredients together in the morning, but the prep work can be done at night.  Cube your fruit and place it into a container.  Instead of frozen yogurt in the morning, use a cup of plain yogurt.  Add ice cubes, a little water, and blend.
Try this recipe for our favorite Ningxia Red Smoothie.
3. Egg sandwich
The eggs can be cooked the night before and placed in a sealed container.  In the morning, warm up the eggs in the microwave.  If you want, add some chopped veggies or shredded cheese.  Serve on toasted wheat bread.  The night before, place two pieces of bread into a Ziploc bag for each family member.  They can toast their bread as they get up and place the sandwich in the bag for easy transport in the car to work or school.
4. Yogurt with granola and fruit
Some people like to eat yogurt.  But, yogurt by itself won't keep you from being hungry.  Add some granola and a few blueberries to the mix.  This makes a great breakfast idea for those mornings when you are running late.
Tip: Keep small bags of granola and blueberries in the fridge next to the yogurt so you can grab them and run.
Are you fighting the breakfast battle?
To get a filling meal you don't have to opt for too much fat, calories, or carbs.  These quick and easy breakfast ideas can be made within minutes and are a much healthier alternative to skipping breakfast or grabbing a high fat alternative.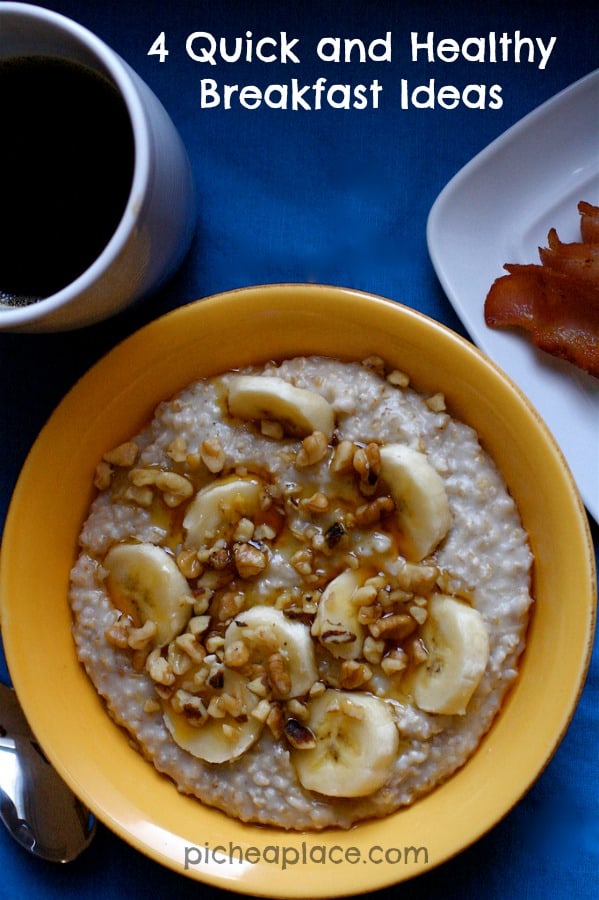 original image credit: https://www.flickr.com/photos/galant/3294687099