I spent the first several weeks of January with my nose stuck in a book… eleven books to be exact. My goal for 2018 is to read 75 books, and I definitely got a good start on that goal!
I've slowed down my reading pace in the last week or so (replacing my reading time with binge-watching a new-to-me show on Netflix), but I thought I'd take a few minutes to share what I read in January with you…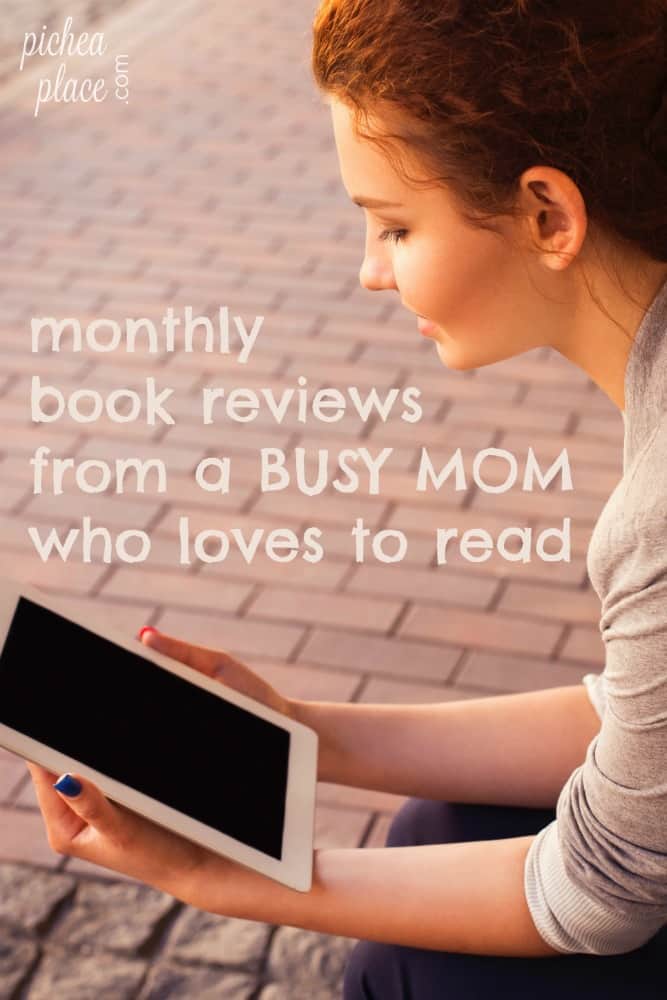 (You can see my thoughts on The Alice Network and A Motion to Kill in my previous book review post.)
I didn't know what to expect when I started reading this book, and I was pleasantly surprised. The plot seemed well-developed, and apart from the "magical" aspects of the story, the characters were relatable.
It read like a youth adult novel (though for a slightly more mature audience due to some intimate details and mild language), but it wasn't annoying.
This is definitely a "part one" of a series as it leaves off on a major cliffhanger, and although I didn't love the actual plot (just not my preference of subject matter), I would be interested to see where it goes.
(Rated: R – detailed intimate scenes and occasional language)
I enjoy historical fiction and this series set in England during the start of the Industrial Revolution made for an enjoyable read.
I thought the characters were well-developed, and the plot was interesting with several twists to keep me turning pages.
The romance was heated and developed naturally instead of feeling forced, making it believable.
I'm looking forward to future books in this series.
While I enjoyed the plot of this book (the second in the series), I didn't care for the amount of intimate scenes between the two main characters. I felt it distracted from the romance rather than added to it.
I am looking forward to reading the next book in the series, though, as I've enjoyed the characters and historical setting.
(Rated: R for detailed intimate scenes)
This was definitely my favorite book of the series so far… Lady Pandora is full of life and energy, and I couldn't help but laugh out loud at times as she found herself in scrapes or voiced her unfiltered thoughts.
I also appreciated that the majority of the intimate scenes in this particular book of the series happened within the context of marriage, unlike the previous two books.
I'm eager to read the next book when it is released!
(Rated: PG-13 due to intimate scenes)
Set mainly in England and Wales during and after the Second World War, this book exposed me to a world I'd never visited before. Written from an English perspective, I learned how the Brits viewed Americans as well as how race played into English society during the War and in the years to follow.
The plot was well-developed and the characters were very likable. The drama was realistic and kept me eager to turn the page.
I will definitely be looking for other titles by this author.
I thoroughly enjoyed this visit to historical England. The plot was light-hearted with just enough twists and turns to keep me on my toes as I read. The characters were likable and well-developed.
Light-hearted romance with a hint of comedy, this book has whet my appetite for future titles by this author.
While I've read plenty of historical fiction set in the time period of the American Revolution, I'd not previously read any set shortly thereafter in the time period of the French Revolution. This novel invited me to explore the world of Philadelphia during the French Revolution.
I found myself absolutely captivated by the characters and plot in this novel – to the point where I even dreamed about them when I had to put he book down to sleep at night. Well-developed and immersed in the historical events of the time period, this was a engaging story that had me engrossed from page one.
I thoroughly enjoyed this story and look forward to reading additional titles by this author.
From start to finish, this book drew me in and kept my attention. Not a fluffy romance but full of real history intertwined with a story of forgiving oneself and letting go of ones need for control, this book was engaging, encouraging, and even challenging at times.
The two main characters were well-developed – each with a past that colored the present – and their chemistry was undeniable. The plot was thorough and never felt rushed or drawn out. The story itself stayed true to the history that actually happened while providing an interesting perspective on the events surrounding D-Day.
I thoroughly enjoyed reading this book and am eager to read the next book in the series.
My 11yo daughter picked this book up from the YA section at the library last week, and as I was unfamiliar with it, I took the time to read it before giving her the green light to do so.
I found myself instantly engaged in the story, the characters and scenarios becoming quite real as I read. The historical setting of London in 1725 was intriguing, especially as it was written from the perspective of those living on the streets rather than the upper-class as most books I've previously read in that time period have been.
The plot was well-developed and flowed nicely. It had plenty of twists with suspense and anticipation to keep me wanting to read on.
I'm excited to see if my daughter enjoys this title as much as I did, and I'll be looking for additional titles by this author.
---
*Disclosure: I received a free pre-release electronic copy of this title for review purposes from the publisher.