I don't like clean, so when it's time to spring clean my house, I like to have a few tips and tricks up my sleeve to help me get it done quickly and efficiently.
As a part of the Ultimate Homemaking Bundle, I was able to get my hands on a few eBooks that have made Spring Cleaning a bit more bearable this year.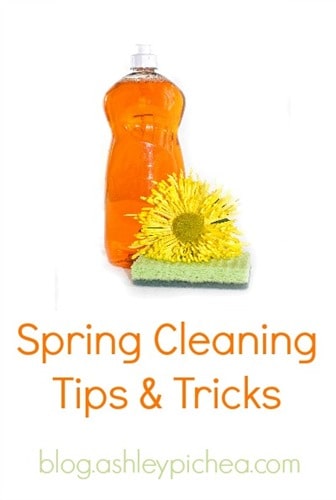 Tip #1: Make Your Own Natural Cleaning Products
I'm so excited to be able to use the recipes in DIY Natural Household Cleaners and my essential oils to make my own natural cleaners. If I'm going to clean, I want to do so in a way that is safe for my kids to help, and using chemical-free cleaners is a great way to do so!
Tip #2: Spring Clean the Laundry Room
I don't know about you, but I hate doing laundry in a messy and/or dirty laundry room. It just seems completely counter-intuitive to me to attempt Taming the Laundry Monster before having a clean laundry room.
Tip #3: Spring Cleaning Starts with the Heart
Because cleaning is a chore I don't enjoy, I need to approach spring cleaning with prayer. I need to ask God to focus my heart and remind me that spring cleaning is a way to bless my family. I love Filling Hearts While Cleaning Homes: Five Minute Devotionals for Families for helping to point my heart in the right direction.
What tips do you have for spring cleaning?