This shop has been compensated by Collective Bias, Inc. and Walmart Family Mobile. All opinions are mine alone. #DataAndAMovie #CollectiveBias
This is our kids' first season of playing basketball, and that means multiple nights a week spent waiting for them at practices plus games every Saturday. With family and friends not living locally but wanting to be a part of cheering them on, we need an affordable phone and data plan that allows us to stay connected, sharing all the highlights on Facebook and Instagram and even streaming the games live.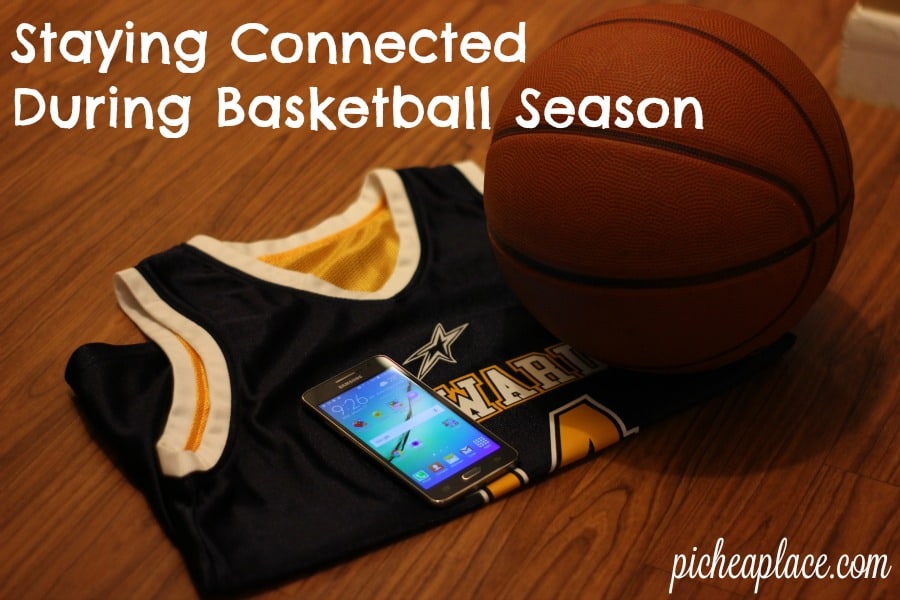 With our current cell phone plan, we have four lines sharing 1G of data each month. It's not exactly ideal for a busy family who is constantly on-the-go. We have a to keep a close eye on our data usage, limiting our sharing of photos and video when we're not on a Wi-Fi network. It's a major inconvenience, especially when we want to be able to include our family and friends (who don't live locally) in cheering on our kids at their basketball games each weekend.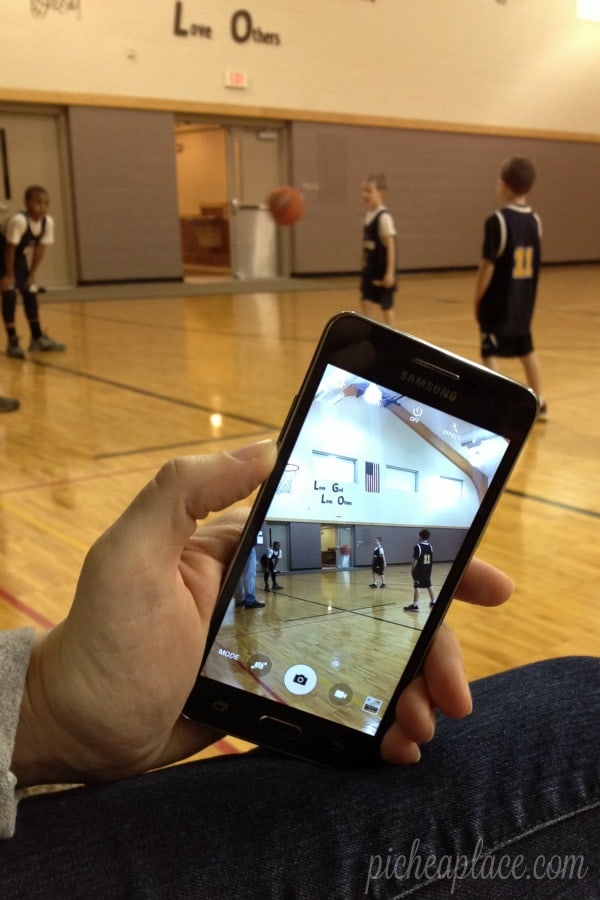 Our current cell phone plan expires this spring, and we've been shopping for a replacement plan because the one we have is far too costly for the amount of data we have access to each billing cycle. When I discovered that the newly launched Walmart Family Mobile PLUS offered an affordable option (only $49.88/month per line) with unlimited text, talk, and data (including 10x the amount of 4G LTE data for less than we were currently paying per line for our shared 1G of 4G data) PLUS a free movie on VUDU ($7 value) every month, I was instantly intrigued.
No more having to closely monitor our data usage when we're out of Wi-Fi range?
Being able to stay connected with family and friends – like sharing photos of our kids' basketball games or even streaming the games live?
Being able to add additional lines at a discount when our current phone plan expires?
A free VUDU new release movie rental every month – perfect for an at-home date night?
This was a phone plan that I decided I needed to further investigate as it sounded like a great answer for our busy family's needs.
I headed to my local Walmart store to do some more research, and the associate I met in the electronics department was super helpful in answering all of my questions.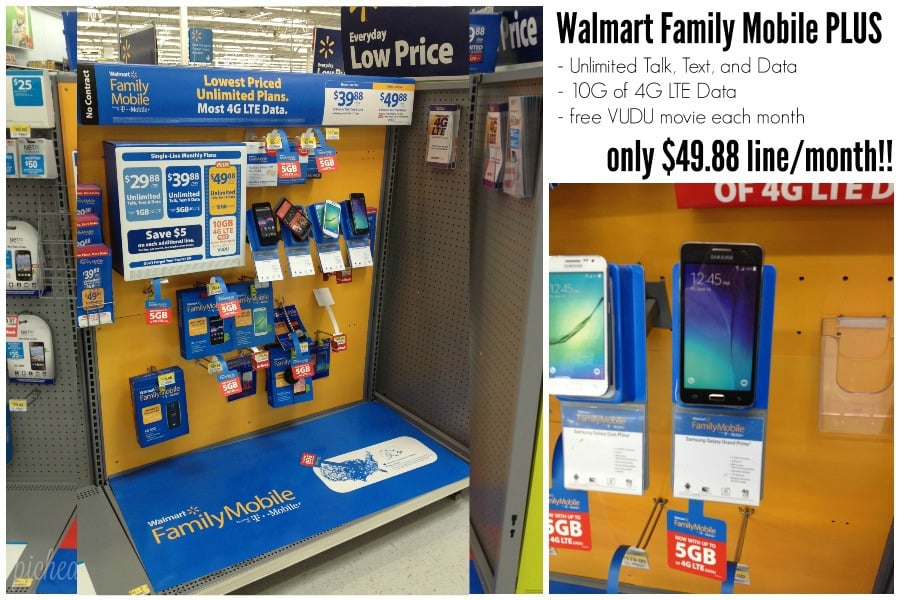 While the Walmart Family Mobile PLUS plan allows you to bring your own (unlocked compatible GSM) phone, we needed to add a phone to our family's collection. We've been needing a "family phone" – one that is available in case of emergency when the kids are home alone or out with friends (because we're not at the point of wanting them to have phones of their own).
At the store, I was able to choose from several phones. After looking over the features of each, I chose the Samsung GALAXY GRAND Prime (on sale for $99.00 at the time of this post). I liked its larger touchscreen (5″ qHD), the fact that it had a high quality camera on front and back (8MP on back and 5MP on front), and an "Ultra Power Saving Mode."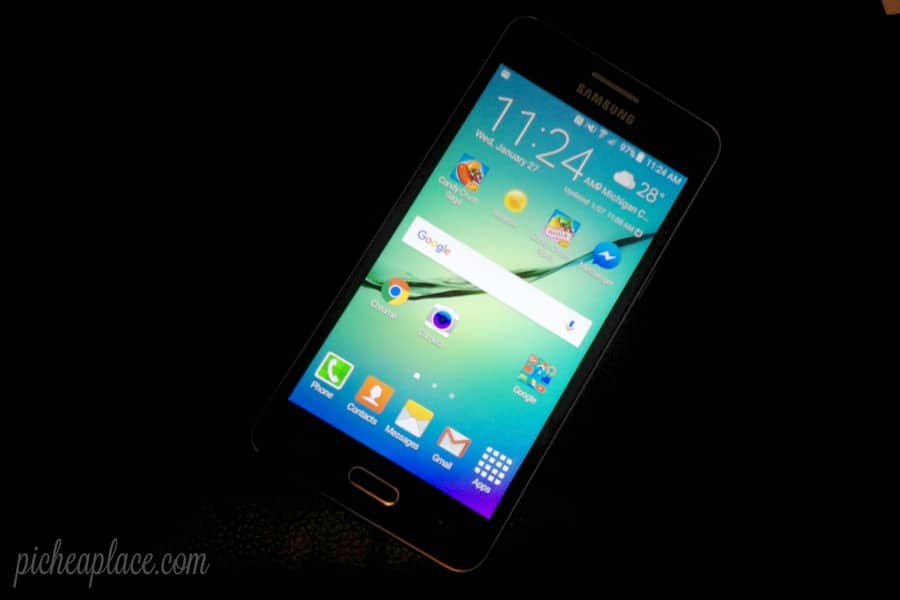 I also picked up a Walmart Family Mobile Starter Kit for $25 (includes the SIM card necessary to add a phone to the plan) in order to activate my new phone using the MyFamilyMobile.com website.
When I got home, the whole family was excited to check out the new phone and learn more about our new mobile plan. The kids were all begging to take turns downloading their favorite apps to the phone – they were excited that we finally have a phone that I'll let them play on when we're not at home (due to the unlimited data available on the Walmart Family Mobile PLUS plan) – perfect for entertaining them at basketball games on Saturdays when it's not their turn to play!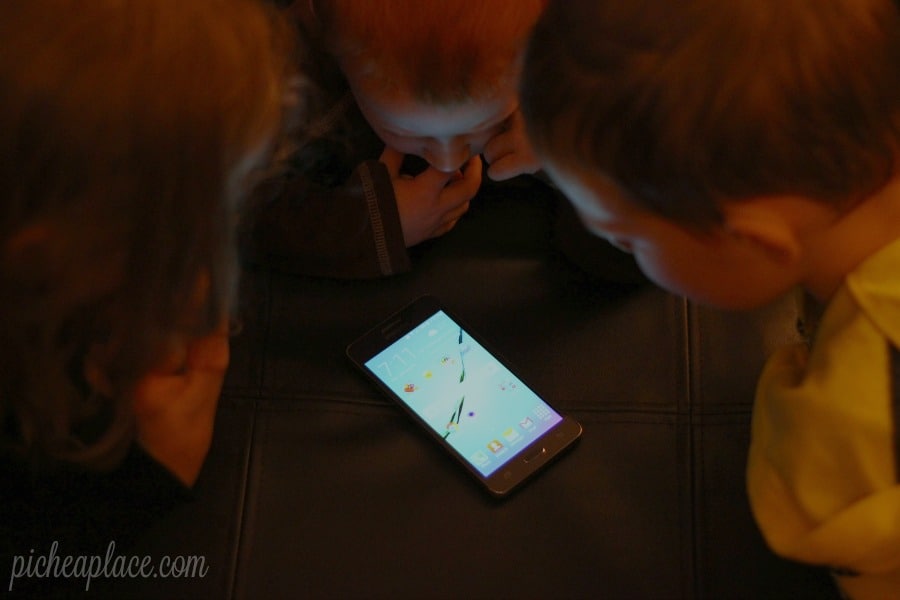 And since I had an hour to kill at David's basketball practice Tuesday night, I wasted no time in downloading my favorite apps (Pinterest, Candy Crush Saga, Facebook, Gmail, etc.) so I could stay connected while watching a bunch of 1st and 2nd grade boys run basketball drills and scrimmage one another.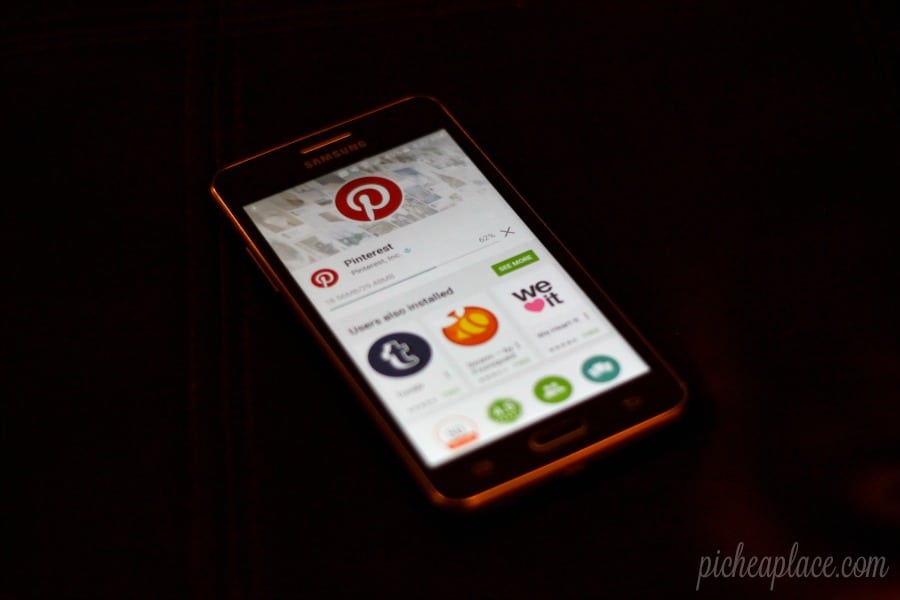 I'm excited to be able to stay better connected for less this basketball season thanks to Walmart Family Mobile PLUS and my new Samsung GALAXY GRAND Prime phone!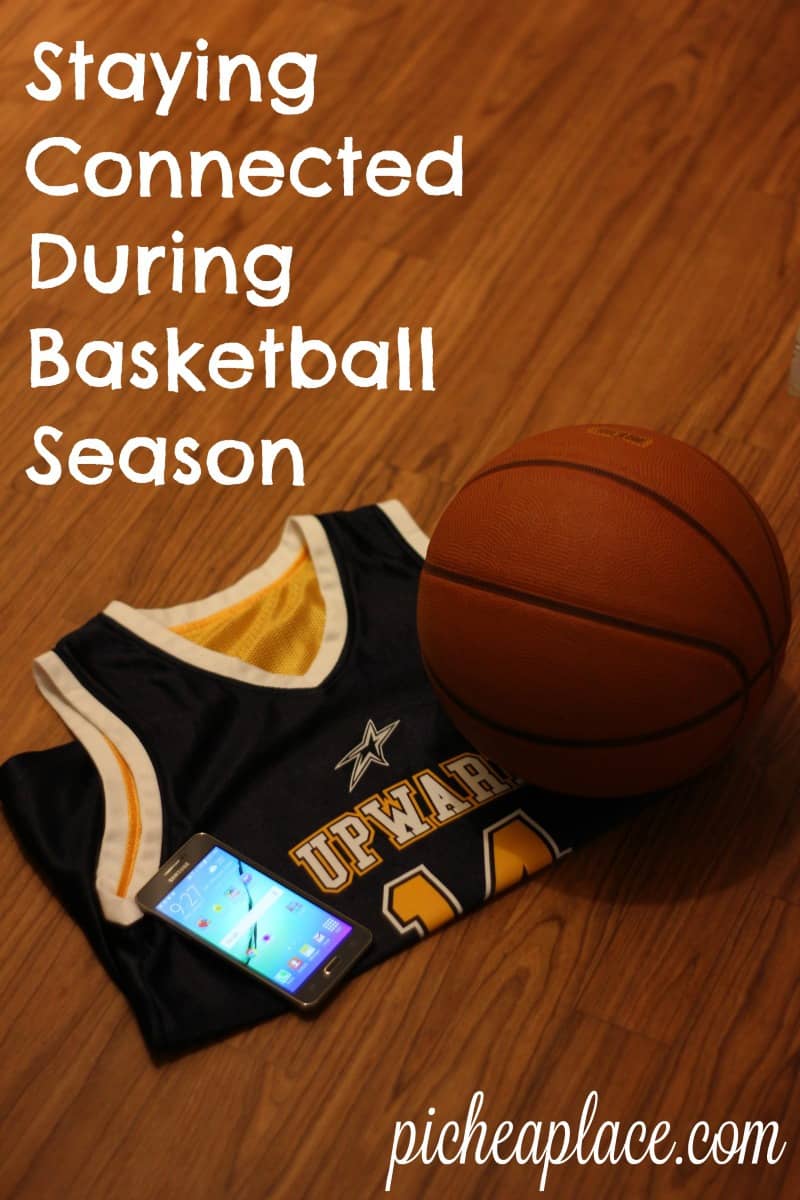 Disclaimer: All prices for phones and plans included in this post are accurate as of the date of posting; however, these prices are subject to change. Please refer to http://cbi.as/28aqc or your local Walmart for current pricing.