Growing up my parents instilled a love of camping in my brothers and I. When other families were going to theme parks, we were hiking mountains, fishing in streams, mountain biking and enjoying s'mores by the campfire at night.
As a mom, I'm striving to instill a love of the outdoors in my children as well. I want this family passion and tradition to continue to pass on from generation to generation.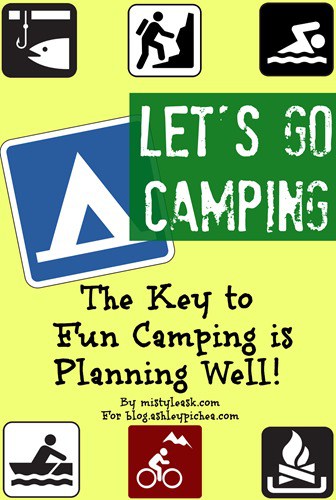 Last year a friend and her boys joined my children and I on a camping trip to the White Mountains in New Hampshire. We were thrilled to have the opportunity to hike part of the Appalachian Trail, to check out some local cavers and the kids spent time wading in the creek next to our campsite.
Camping Options
There are two ways to go camping:
Away from home
In your own backyard (or in your living room)
Going camping away from home takes quite a bit of planning and prep. From groceries to campsite necessities, to bug spray and ice. It's easy to forget one (or more) items that you will really need.
Backyard camping is a lot of fun and it is a nice to do throughout summer when it's impossible to get away. It takes a lot less prep and if the weather turns bad, you have the opportunity to escape.
Fun Camping Requires Planning
You'll need to make is to decide when you're going camping.
Holiday weekends will be the busy at campgrounds while early fall and late spring are great for those wanting a bit more peace and solitude.
Summer time is the busiest and loudest part of the camping season. Many campgrounds have concerts on the weekend that last until 10-11pm.
You'll need to decide where you want to go camping.
Is there a location you've always wanted to discover?
A magnificent view you want to take in?
Are funds tight and your backyard will be your weekend/week long oasis?
How are you going to camp?
Will you be taking a tent and "roughing" it? (If you do, ensure you seal the seams to prevent leaks!)
Do you prefer renting a cabin? (If you choose to rent a cabin, keep in mind you'll have to clean it before you leave.
Would you like to take an RV?
Personally, I prefer tent camping and a nice air mattress can bring a bit of comfort to your back at the end of a long day. My husband prefers a cabin so each year we for Father's Day Weekend, we rent a cabin and go on our annual family camping trip.
If you've decided on camping away from home, you'll need to locate a campground.
Look for one that has the amenities that you'd like to have available to you and that is near some sites and/or activities you'd like to do while on your trip.
Next, you'll need to make your camping reservations.
Keep in mind that in the summer months, most campgrounds have a 2 (if not a 3) night minimum on tent sites and some cabin rentals require a week long stay.
Tent sites tend to range from $20-50/night, cabins cost $125-?/night and weekly cabin rates average about $500-600. *This weekly rate does not include an approx. $200 security deposit.
Activities require research.
Typically, upon choosing your location you know of a few things you already want to do.
Take time to look into the cost, open dates, distance from your campground and how long each activity will take.
From there you'll need to decide which activities you family will do on this trip.
More than likely there will be more activities than you have time for.
Involve your family and all together pick and choose what you'll do.
Planning your meals takes a little bit of work, especially if you're tent camping.
You'll need to make a list of all the meals you will make. Plan on hearty breakfasts, quick, easy lunches, belly filling dinners and several snacks throughout the day. Being outside all day creates large appetites in kids and adults alike.
If you're renting a cabin or taking an RV, don't forget kitchenware and bedding. Often these items are not included in rentals or kept in RVs year round.
Once the planning stages and your camping trip is 1-2 weeks away you'll need to begin packing.
Below you'll find checklist printables that I've created to help ensure you forget as little as possible, if you don't forget anything at all it will truly be a miracle!
>>> Download your free camping checklist printables here! <<<
As you plan this trip keep in mind camping is supposed to be fun and relaxing. Don't jam pack your days without allowing for downtime. A relaxing camping trip with discoveries along the way is much more fun than one where there's too much to do each day and exhaustion brings on crankiness in everyone. The beauty of camping is fun filled family time!
---
About the Author: Misty is a Daughter of THE King, Texas girl always, Navy brat at heart, loving Fisherman's wife, blessed mother of 2 and author of Beautiful Ashes. She is passionate about being real throughout all of life's struggles, successes and dreams. Her heart is full of ideas and passions, but the hours in her day never multiply to get it all done. Misty loves writing and reading in her spare time. Music and photography are favorite past times of hers as well.