How to Make Cloud Dough
Thanks to Pinterest, I've discovered loads of boredom busters. One of the activities that my children have loved this summer is Cloud Dough.
Supplies:
Flour
Baby oil
Large mixing bowl
Shallow flat container or cookie sheet
Mixing cups/spoon
Cookie cutters
Silicone Molds
Step 1: Combine the oil and flour
You could use a pastry cutter, a wisk, or even your hands. Personally, I think using your hands is the easiest, and the most fun!
Step 2: Mix Well
Put your kids to work mixing up the dough!
Step 3: Have fun!
Let your kids have fun! We use measuring cups, spoons, cookie cutters and silicone molds. The boys even run their cars through the cloud dough for kicks.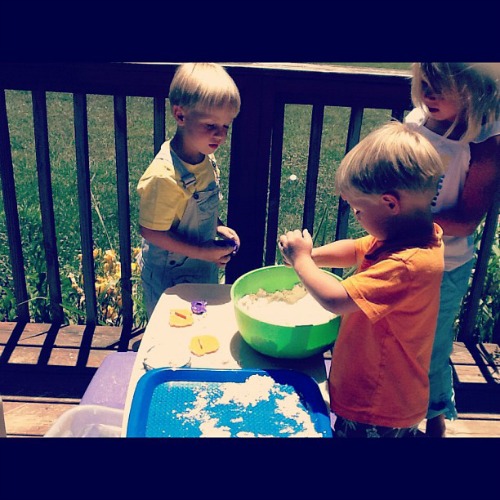 Have you made cloud dough at home?
Did your kids enjoy it? Be sure and leave a comment!
—
Dianna is the newly minted mother of five. You'll find her over at The Kennedy Adventures, where she writes about her adventures in homeschooling, faith, and trying to stay fit while running a large family. Connect with her on Twitter, Facebook, or Pinterest.
---
This post is part of the Summer Bucket List series… be sure to subscribe to LIFE by Ashley Pichea so you don't miss a post!
—
This post will be linked up to Works for Me Wednesdays, The Mommy Club, Domestically Divine Tuesdays, Big Family Fridays, and more!
This post may contain affiliate links – thanks for your support!