My children have always loved the backyard. It's like our little oasis. Part playground. Part secret garden.
It's a safe place where we can spend time as a family or invite friends to escape the busyness of life.
In the summer, we spend lots of time here.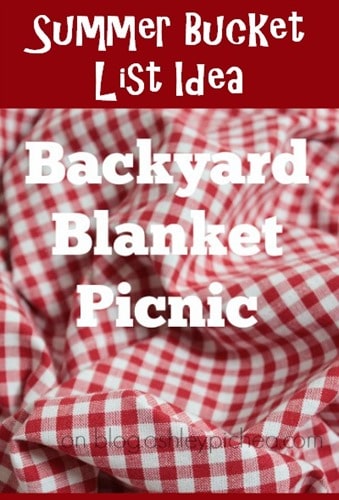 Summer Bucket List Idea: Backyard Blanket Picnic
One of the kids' favorite backyard activities is the backyard blanket picnic. Ever since my first born was first able to run around the yard, we have had those picnics and the kids still look forward to having them each summer.
There is something about spreading a blanket on the ground that gets the kids to stop what they are doing and gather into one little spot. We eat. We read. We watch bugs. We look for pictures in the clouds. Most importantly, we slow down and spend time together.
Sometimes, we plan ahead for our backyard blanket picnics and make sure we have our favorite picnic foods on hand. Other times, we have spur of the moment picnics with whatever we can find.  Both turn out great.
I always want to be careful we don't get too busy for our backyard picnics. It would be a shame to let a summer slip away without this tradition. I add it to our summer bucket list just to be sure.
Plan your own backyard blanket picnic or just grab a blanket, some goldfish crackers and juice boxes and head outside!
---
About the Author: Marci Goodwin is the author of The Homeschool Scientist where she equips and encourages homeschool parents by taking the fear out of and putting the fun into science education.