A scavenger hunt should be on every kid's summer bucket list for the summer. Children of all ages like doing scavenger hunts. Sometimes, if you are lucky, you can even get teenagers off their cell phones and devices long enough to do one.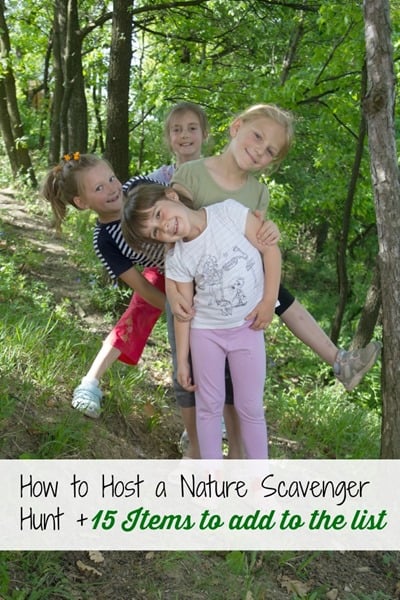 Summer Bucket List Idea: Host a Nature Scavenger Hunt
I participated in numerous scavenger hunts over the course of my childhood. Some were nature based, some were even inside and meant to keep me occupied on rainy days and others were a large competition between myself and others or we were broken down into groups.
There is something about a good old fashioned scavenger hunt to bring out the competitor in all of us. We all want to be the person that finds that one rare item on the list.
If you are trying to put together a scavenger hunt this summer, here are some things to add to your list. If some of these are not available in your area, add something that is more regional. Also, keep in mind the age you are doing this for. For very young children (under the age of 7 or so), don't make it too hard and make sure you are adding things they will be able to identify and keep the riddles simple. Make it more challenging as you go up in age. I made this list as if you were having an outdoor hunt.
15 Items to Include in your Scavenger Hunt:
Something smooth
Something blue
4 Different kinds of leaves
A flat skipping rock
"Y" shaped twig
Something that doesn't belong in nature
A berry or type of fruit
Something round
A leaf that is not green
Something rough
The largest leaf you can find
A seed or pod
Something that has a pleasant scent
Something that has a hole in it
A leaf that was lunch for an insect
---
About the Author: Kristi is a go with the flow mom of 2 preteen boys that's a little creative, organized enough and gets dinner on the table in a hurry. She divulges her favorite household tips and fires up the stove to share fabulous family recipes on her blog, Moms Confession. Strike up a conversation on any social media…she love to make new friends online!