Happy Summer, everyone! We are enjoying all the fun and goodies that summer offers. Relaxing by the pool, morning runs, and catching fireflies at sundown are frequent happenings.
Amidst all of our fun, I still hope to provide a learning environment in our home. What better way than to read?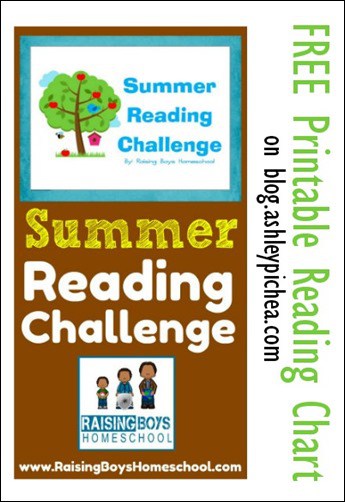 We participate in a host of summer reading programs so we can enjoy free pizza, basketball tickets, and books by the end of the summer. However, I desire my own "reading program" for my boys to promote more reading enjoyment. Besides, it's not against the rules to "double up" on books; so my kids usually read from my reading list and then handwrite those books on the booklists for each program.
Summer Reading Challenge
I'd like to share our Summer Reading Challenge with you today! The Challenge is intended for rising 2nd-4th graders. (Use your personal judgments for your kids according to their reading ability.)
Here's how it works:
Reading Challenge Chart: The chart includes 25 boxes. The child can choose a row to begin. He/she can read any book within that row, in any order, but cannot move onto another until it's completed.
As they finish a book, cross out the square and record the book title and the date in the "Reading Log" chart. Mom or Dad can initial the box to mark it complete.
At the end of the summer, the child can present the Challenge Chart and the Reading Log to their parents for a nice summer treat.
Parents, a trip to the library is highly recommended before you begin. Place library books in a nice basket the child can access all summer long. Of course, they can read books they own too. There's lots of flexibility with this chart.
Enjoy your summer and Happy Reading Challenge to you all!
---
About the Author: Joyice is a southern girl whose in love with Jesus! She's a happy wife and joyful mother of her MITs (men-in-training). Professionally, she's a newbie blogger, an enthusiastic home educator, and a former public school & substitute teacher. She loves to edit and proofread like nobody's business and is always on the hunt for a good recipe and an "OMG-I-cannot-wait-to-teach-this" curriculum. Connect with Joyice at Raising Boys Homeschool.