No matter where you live, summer is the season for outdoor fun in the sun. This is the time of year when precious memories are made during family vacations and backyard get-togethers with friends. Make a list of outdoor activities to do with your family, and enjoy making memories together!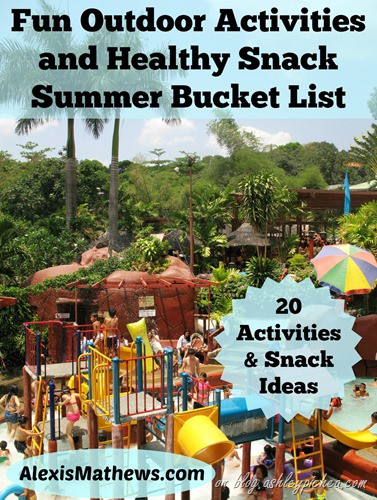 Make the most of this summer by creating a summer bucket list of outdoor activities to do as a family. Bucket lists are a great way to make sure you do and see everything you would like to accomplish this summer.
Of course summer fun isn't complete without healthy and delicious snacks, so I've included a healthy snack idea with each activity.
Here's a list of fun summer outdoor activities and a healthy snack to accompany each.
Backyard BBQ
Backyard cookouts are the quintessential gathering during warm summer evenings.
The next time we fire up the grill I will prepare a hefty serving of grilled veggies to accompany our grilled veggie burgers.
Walk on the Beach
A walk on the beach or along a river is a fun and relaxing summertime outdoor activity.
For our walk along the beach this summer I plan on bringing crackers and dip. Our crackers will be gluten free and the dip will be dairy free, but any combination of your favorite crackers and dip will be a great treat to accompany a fun walk along the water.
Watch the Sunset
No matter where in the country you are watching the sunset from your favorite place is a fun and memorable summer activity. The evening air is warm so you can relax and enjoy the night well after the sun has set.
I plan on packing an assortment of fresh raw vegetables and homemade hummus for our sunset watching adventure.
Related: Summer Date Ideas
Family Bike Ride
Nothing says summer like a fun family bike ride. Get the whole family outside and on an adventure around your neighborhood.
Be sure to pack plenty of water and apple slices with homemade almond butter.
Teach your child to swim or help them improve swimming skills
Swimming is not only a fun summertime activity it is also a life skill that every child should learn from a young age. My children love to swim so we enjoy the water nearly everyday during the summer months. I always make sure they are not only having fun but have plenty of opportunities to improve their swimming skills.
Our favorite post swim snack is a bucket full of fresh strawberries.
Related: Sun Safety For Kids: 4 Ways To Protect Your Kids From The Sun
Family Water Balloon Fight
It takes longer to fill the balloons up than it does to have fun throwing them and watching them explode all over the place. The memories, laughs, and family fun are worth every minute of filling and tying off those little balloons. Be sure and take plenty of pictures during this bucket list activity, the photos turn out great and it is a fun way to remember this memory making family fun event.
After water balloon fights my family and I enjoy fresh cut watermelon. It is a great treat on a hot summer day.
Related: Backyard Water Play for Family and Friends
Picnic in the Park
Pack up your family and a basket full of healthy food and head out to your local park. Bring a blanket and some fun family games and you have yourself a perfect summer outdoor family fun event.
Colorful raw quinoa salad will be in our picnic basket.
Related: Backyard Blanket Picnics
Go Fishing
My children absolutely love fishing even though we don't get to go nearly as often as they would like to. I am making it a point to get out the fishing poles and head to a local lake so they can make some fun childhood summer memories casting their lines. Even if they don't catch anything my kids absolutely love fishing.
To keep their appetites quenched I always pack along a large lunch with almond butter sandwiches, fresh fruit, and raw nuts and seeds such as cashews, almonds, sunflower seeds and pumpkin seeds.
Related: 5 Summer Activities for Kids to Do with Dad
Plant a Tree
Planting a tree is a great way to get outside and enjoy the beautiful summer weather. Not only are you making your home or community look better but you are also helping the environment. Be sure to drink plenty of water while you work.
After your new plant is safely in the ground sit back and enjoy your new tree with a loaded garden salad. Top your favorite greens with a wide variety of veggies, beans and seeds.
Outdoor Tea Party
My daughters and I look forward to our outdoor tea party tradition every year.
After we set out our favorite tea set and decorate the table just right, my girls and I enjoy sitting down and enjoying cucumber sandwiches and sugar free cookies.
Related: Mother & Daughter Bonding Ideas
Bonfire with Friends
Warm summer evenings are wrapped up perfectly around a cozy bonfire sharing stories and memories with dear friends and family.
Instead of the typical s'mores campfire treat slice open the peel of a banana to make a boat. Peel back the banana peel and stuff with homemade almond butter, Enjoy Life chocolate chips, homemade marshmallows, or shredded coconut. Then wrap in foil and place near the fire to melt the toppings inside. Open the banana and enjoy!
Outdoor Movie Night
Outdoor movie screens and projectors (grab them here –> screen & projector) are very popular this year. They are now incredibly affordable and for the price you just can't beat the amazing memories you will make this summer with your family and friends.
Pick out your favorite family movie, grab some lawn chairs and blankets, and curl up with a hot bowl of fresh popped popcorn. Keep the toppings light so you can enjoy the true taste of the fresh popcorn.
Related: How to Have a Backyard Movie Date Night
Neighborhood Block Party
Organize a neighborhood block party this summer! Not only will you get to know your neighbors better but you and your children will make precious memories and lifelong friends.
Make it a potluck and enjoy a meal with everyone. Bring a no-mayo potato salad or a festive fruit plate for a healthy contribution to the potluck meal.
Related: How to Throw an End of Summer Party
Volunteer to Clean Up Your Community
This is something my family and I really enjoy doing. We help clean our community not just during the summer but year round. The beautiful summer days make working outside so enjoyable. Call your local parks and recreation office to find out about any clean up events they might have planned or simply plan a day on your own. Grab a trash bag and some gloves and clean up any trash you find around your neighborhood.
After all of your hard work be sure and treat yourself to plenty of fresh fruit, nuts, and seeds. I plan on also treating my kids to an all fruit bar that our local health food store sells, they love those things and they are a special treat for jobs well done.
Related: Giving Back to the Community: 7 Ways You Can Help Others
Go Hiking
Summer is the perfect time to lace up those neglected hiking boots and venture out on your favorite hiking path. Hiking can take you to parts of your town that you've never seen before. Perched high on a hill you will have an amazing view of your community. Or hike with your family into the woods and enjoy the local wildlife and sights. Be sure to protect yourself from ticks and mosquitoes.
After a nice long hike recharge with homemade protein bars and plenty of water.
Visit a Local Nature Center
My children and I love discovering new nature and science centers in our area. If you are lucky enough to visit on a quiet afternoon the docent or park ranger will likely be able to give you a personal tour and educational experience. Watch your children's eyes come alive as they learn about topics such a wildlife and conservation.
After a fun day at the nature center enjoy almond butter and banana sandwiches, fresh veggie slices and fruit, and don't forget, toasted maple almonds for desert.
Visit a County Fair
Summertime equals fair time around the country. My kids are already asking when our local fair starts; very soon thankfully! Precious summertime childhood memories are made at the top of the Ferris wheel, finding their way through the maze of mirrors, and being spun around in circles as fast as possible.
Instead of the fattening fried fair food, I plan on packing a cooler full of protein packed snacks such as trail mix, apple slices with almond butter, seaweed snack packs, watermelon slices, and plenty of other healthy treats to keep my children's appetites satisfied so they have plenty of energy to enjoy the fair rides and attractions to the fullest.
Related: 10 Summer Staycation Ideas for Battle Creek, MI
Waterpark
Almost daily my children are asking to visit a waterpark that recently opened in our county. Making a day of it at the waterpark is definitely on our summer bucket list. They will slide and swim and run until their hearts' content.
Like many of our other outings, I plan on packing a lunch full of delicious, nutritious, and healthy food for my crew to enjoy while they have fun at the waterpark. For this adventure I will also pack plenty of fresh sliced melon. Melon is convenient for my kids to pop in their mouth as they run by on their way to another water park attraction.
Related: Family Friendly Fun at Michigan's Adventure
Learn to Surf
Learning to surf is high on my son's summer fun bucket list. Fortunately for us there are plenty of local surf schools and opportunities for him to learn. However, even if you don't live on a coast there are plenty of other fun water activities you and your children can learn to do. Consider water skiing on the lake, kayaking down the river, or any other fun local water activity that is available in your area.
Rainbow colored fruit kabobs and almond butter kiwi sandwiches are on my list to bring to the beach for after surf lessons.
Visit Your Local Zoo
There is something magical about taking children to the zoo. The wonder and excitement in their eyes as they watch animals they haven't seen before or as they get to see a new animal behavior from one of their favorites is so special.
To keep their energy level up I plan on bringing a variety of snacks as well as whole wheat tortillas wrapped with protein packed cashew cream lettuce, cucumbers, and tomato slices.
Related: Going to the Zoo with Apologia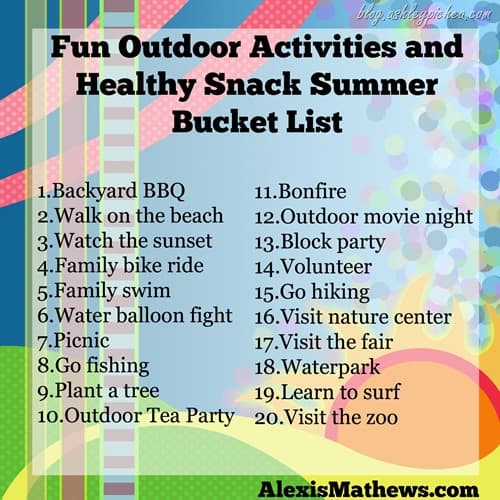 ---
About the Author: Alexis is a veteran homeschooling mom of 7 who enjoys gluten free and vegan cooking. When she isn't homeschooling or caring for her large family she enjoys blogging about healthy living at Health Matters with Alexis Mathews. In her spare time she enjoys photography, the beach, and a good book.