Set in the year 1904, Surprised by Love continues the story of the McClare family, focusing this time on Megan who has just arrived home from a year abroad in France. When Bram sees the "new and improved" Megan, he finds himself faced with a dilemma – the comfortable brother-sister relationship they've had for so many years is in jeopardy as he is surprised by love in Julie Lessman's latest novel.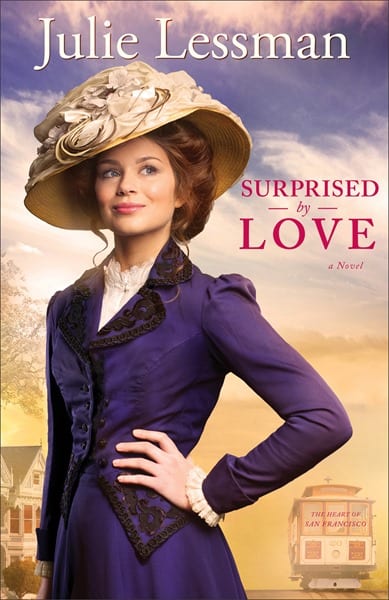 She can turn the head of the man who spurned her–but can she turn his heart?
When Megan McClare left San Francisco to study in Paris, no one would accuse her of being poised and pretty. But on the other side of the Atlantic, this wallflower blossomed into a beauty with big dreams. When she returns to California and accepts an internship at the district attorney's office, she's thrilled that her life is taking shape. But the exciting opportunity quickly loses its glow when she discovers she'll be working alongside Devin Caldwell, who mercilessly mocked her at school–and with whom she was hopelessly enamored.
Bram Hughes is the best friend to whom Megan has always turned for support and advice. But when she seeks his counsel about working with Devin Caldwell, Bram's vision is clouded by his sudden unwelcome attraction to a girl he had always thought of as a little sister. He advises forgiveness, but can he forgive himself for pushing the woman he loves into the arms of another man?
Author Julie Lessman draws a romantic triangle that will touch your heart in this glittering Gilded Age tale of transforming love.
I absolutely love Julie Lessman's historical romance novels, and I was excited to read book three in The Heart of San Francisco series, Surprised by Love. I have loved reading about the McClare family and their friends over the last several books, and I was thrilled to find this family's stories coming to a decisive conclusion throughout this book.
[While I won't spoil the ending, I will say that the book does not leave room for another plot twist, making it a perfect conclusion to this great series.]
One of the things I most appreciate about Julie Lessman's writing is her ability to make me almost audibly react to the drama unfolding in the pages of her books, and Surprised by Love was no different. As I read, I had to restrain myself from loudly engaging with the story – I was completely sucked into it!
I would highly recommend adding Surprised by Love to your reading queue – I give it 5 stars.
—
Disclosure: I requested and received a free copy of Surprised by Love from Revell, a division Baker Publishing Group, in exchange for my honest review. You can buy a copy on Amazon or at your local bookseller.