I'm a coffee drinker. I love my coffee. But sometimes, I'm in the mood for something hot to drink that isn't coffee, so I reach for hot tea. My husband generally drinks coffee in the mornings, but prefers tea in the evenings. And when we have sore throats, hot tea is our cup of choice.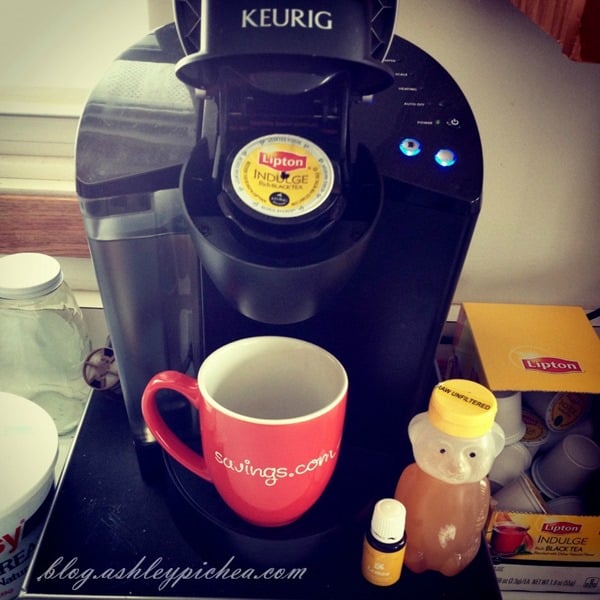 This post is sponsored by Lipton®.
With the weather turning cooler – I mean, COLD – sore throats have been making their way around our household. We were recently asked to try a box of Lipton Indulge Black Tea K-Cups, and the timing couldn't have been better.
What I Like About the Lipton K-Cups
FAST. Normally when I brew a cup of tea, it takes at least 3-5 minutes for the bag of tea leaves to brew a strong enough cup. The Lipton K-Cups have my cup of tea ready to drink in under 60 seconds.
SMOOTH. While I'm not normally a big fan of black tea (I prefer mint teas), the flavor of the Lipton Indulge Black Tea was incredibly smooth – if I was going to drink black tea regularly, I can see this brand being a favorite.
EASY. Brewing a cup of tea with my Keurig makes for easy clean up. Just take the Lipton K-Cup out of the Keurig and pitch it when you're done brewing – no wet bag to handle and avoid dripping all over the floor.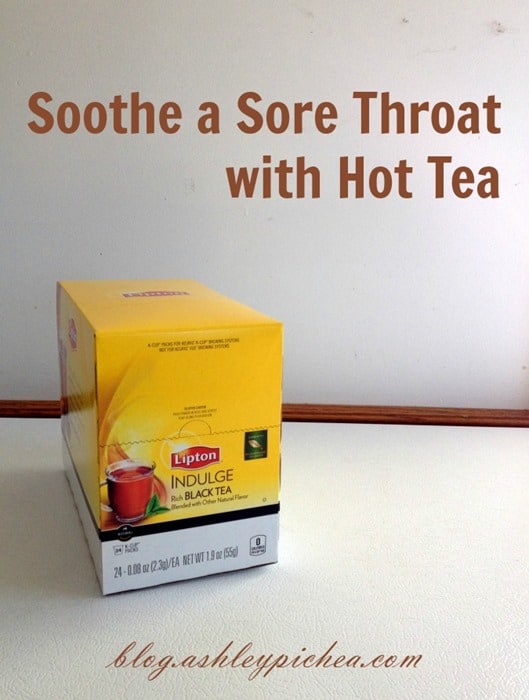 Soothing a Sore Throat
Since my husband and I have both experienced sore throats this month, our Lipton K-Cups have been frequent fliers in the Keurig. Hot tea soothes a sore throat like very few other hot drinks can.
We also like to add a spoonful of local raw honey and a drop of lemon essential oil to our cup of tea to help to soothe our sore throats and to add an extra boost of flavor to the black tea.
How do you soothe a sore throat?
—
What's your favorite tea?
Tea is sweeter with discounts! SAVE $2 on any Lipton K-Cup Packs now through 12/31. Print the coupon now. #TeaTimeSavings
—