When I was growing up, I was expected to work. When it was house cleaning day (i.e. company was coming over), I had to help clean the bathroom, pick up the living room, and (of course) clean my own room. If my parents were working out in the yard, I was expected to be outside with them doing my share of picking up sticks or raking leaves.
Very rarely did I get "paid" for my work. It was my way of contributing to the household as a part of the family. It wasn't a "chore" – it was just life. It wasn't necessarily fun (although sometimes it was), but it wasn't meant to be. It was work. And work is a part of life.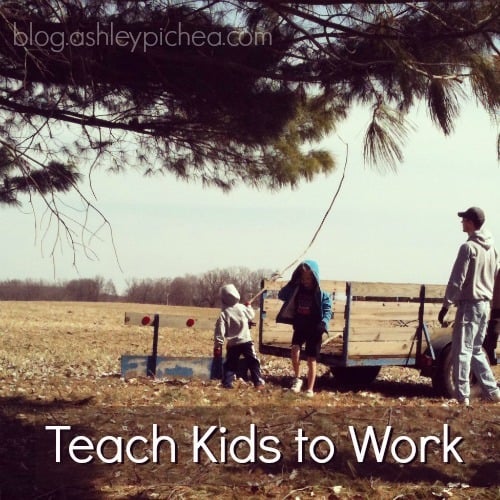 Kids Don't Know How to Work
I'm afraid, however, that most people in my generation didn't grow up with this expectation of contribution without compensation. Most of my peers had "chores" that they did and then received an allowance based on their participation. Or, their parents just did everything for them, allowing them to grow up without learning that work was a natural part of life.
And now, my generation is passing this lack of work ethic to our kids. I've seen it too many times – parents busy doing something around the house or yard and their kids sucked into their electronic devices or other personal pursuit. I've even seen it with adults in my generation – others around them busy working while they sit completely unaware of the work happening around them. They've been conditioned to think things are just going to be done FOR them rather than having an expectation of chipping in to help the work happen faster.
I'm not going to let my kids slide into adulthood without learning the value of hard work. I want kids who look for opportunities to help others and who aren't to self-absorbed to pitch in and help when they see others working.
Teaching My Kids to Work
Last Saturday, we had an opportunity to teach our kids to work. My dad had called me earlier in the week to see if J might be available to help him with some yard work for a few hours. Knowing the amount and type of yard work he was talking about (cleaning up several LARGE piles of tree limbs and branches that had come down during the ice storms this winter), I knew it'd be a great activity for the whole family to do together.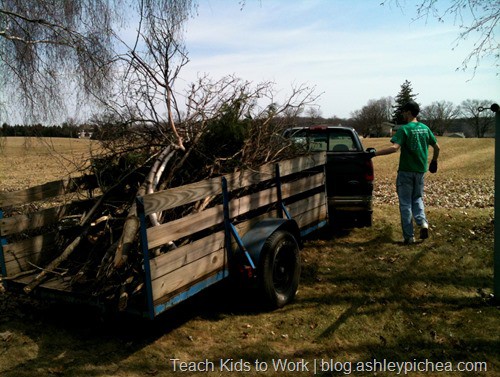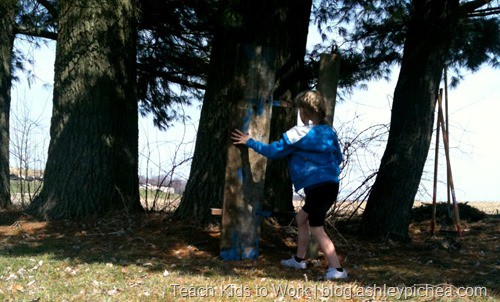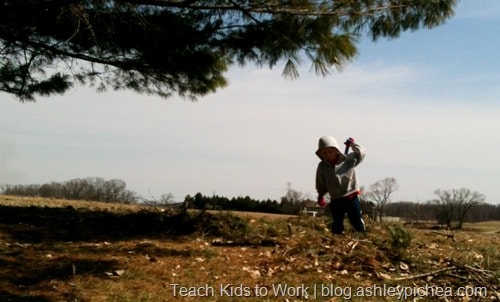 With the exception of Chris (he supervised from the stroller), we all spent the late morning and early afternoon helping Grandpa clean up the yard. It was rewarding work and a great opportunity to teach the kids that working together as a family is "expected" and a "normal" occurrence.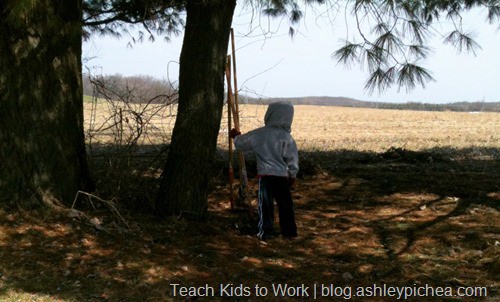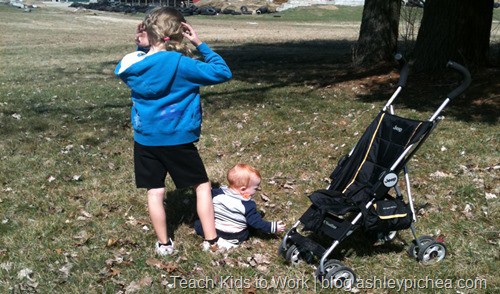 When Work is Rewarded
Grandma gave the kids a chance to earn a bit of money after lunch.
They each earned $1.20 for picking up sticks, and Grandma gave them a "cheat sheet" so they knew how to "spend" the money:

$0.12 to put in the offering on Sunday for their tithe
$1.00 to spend in the dollar section at Target + $0.06 for sales tax
and $0.02 to put in their piggy banks.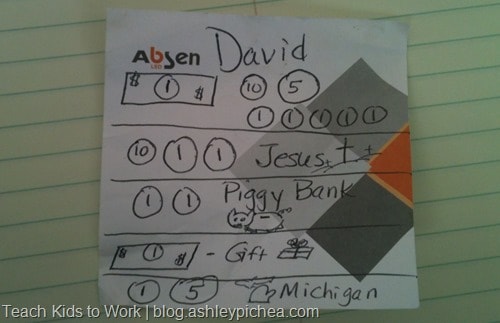 Not only did my kids learn the value of hard work, but they also were reminded of the importance of managing their money wisely. [For more on how to teach kids to manage their money, check out Three Cups.]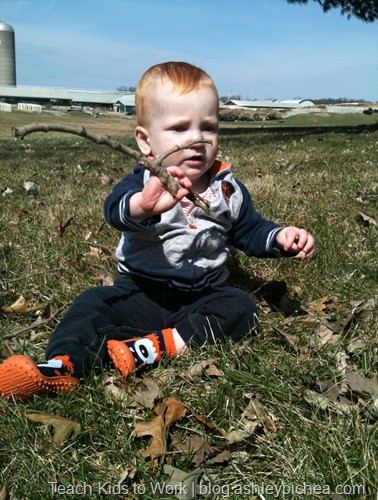 How do you teach your kids to work?